Flat garden hose is a more compact one compared to other types of hoses except coiled garden or spring types. It typically made of flexible materials is easily flattened and wound into a tight coil for storage. You can find this type of garden hose is available in many different sizes.
How To Measure Flat Garden Hose Length Needed?
You need to know the longest length that will be needed to reach the far most corner in your garden. If the source of the water is away from the garden, then that length also needs to be taken into consideration. Add a few extra feet for ease of manipulation and you have the length of garden hose needed. Don't buy too much more than you need. The flat one tend to kink easily and this stops water flow. Having it slightly taut is important for pleasant experience with this sort of garden hoses. Too much play causes the flat hose to kink and this can cause frustration as you need to remove the kink before water will flow.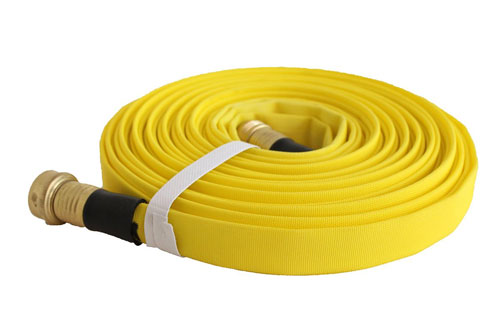 Suppose you garden is rectangular and water supply is set at one corner of the rectangle then measure your garden diagonally to get the longest length, add an few feet extra for ease of manipulation and that will be the required length of flat garden hose needed. This type of equipment can be bought for any length you wish. Though there are standard sizes like flat garden hose 100 feet length are also available. The local hardware store will measure out the length you need instead of whole 100 feet. Another option is you buy the standard length and use it for a couple of days to know which is the maximum length you need and comfort of use. You can easily the required length using the pocket knife. Use the rest for watering short distances.
Flat Garden Hose Reel For Storage
If the one that you bought is very long and needs to be stored without it getting tangled and a mess a flat garden hose reel is an useful device. It can be wound around the reel and the hose stored away. When reeled in it just occupies very little space and can be taken out on camping trips, while boating and travelling. It's handy and convenient too.
If you visit the various gardening websites you will come across flat garden hose reviews, as well as reviews and feedback on other types of garden hoses too. Go through the reviews and check out the feedback and make an assessment on the type that most suited to your needs. If storage is a problem then regular garden hoses which need large storage area like a big pot or a cabinet is out of question. Depending on the length needed, your budget, the storage issues, the feedback on the best one, pick either flat garden hose from a reputable manufacturer. It's important to good quality one as they can last a long time and bad quality one means you will need to replace frequently.