A garden hose reel is a must when you have large garden or acres of lawns with a lengthy garden hose. Without the reel, it can get tangled and using it the next time would involve a lot of time trying to untangle it. With the use of the reel, it becomes easy to roll them up when not in use and pulling them out when needed.
Hose or Sprinkler?
Usually sprinklers are used to water large areas. These sprinklers are laid out using small diameter piping through the length and breadth of the lawns. When the tap is opened the water travels through the pipes and at various intervals where sprinkler outlets are provided the water comes out and is gently sprayed out over large areas of the lawn. You will need a sprinkler attachment at the end of your garden hose to achieve the same effect. Laying out the pipe may be an expensive option or may not be feasible for various reasons. In such a situation a garden hose reel is extremely handy. It can be a stationery reel where it is paid out as you tug at it.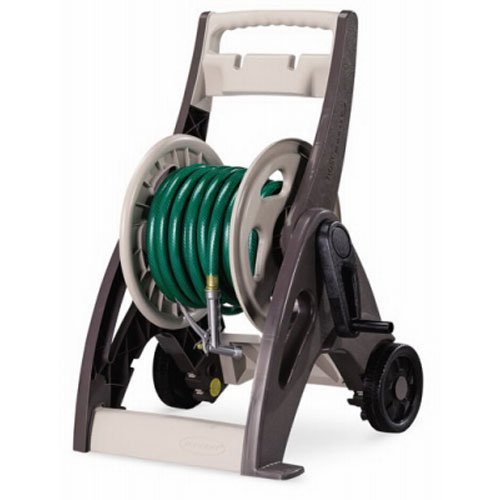 With a long enough hose you can water any part of the lawn with ease. Else, go for the reel that can be moved around on wheels. This allows for greater mobility and flexibility while you move around in your garden hosing and sprinkling the lawns and gardens.
Different Capacities and Sizes
Garden hose reel comes in different capacities or sizes and styles. It is made of plastic, fiberglass or metal. It is used to store the equipment.The reel can be automatic or hand-driven. With the automatic reel, with the push of button it can be reeled in immediately. In an hand-driven reel, a crank or handle lever is used to rotate and reel the hose in. They can be stationery or wheeled around or can be attached to truck or trailer.
Various Types Solutions
There are a different types of storage solutions available. There are holders which are wall-mounted or there are also some storage holders which are designed like garden pots or storage cabinets that look like garden furniture. These pots or storage cabinets with convenient openings for the hose to come out are just a few of hundreds of options available on the market. Then there are wheel barrow type of garden hose reel storage solution that can be wheeled around and stored in any location you wish.
Buy a reel that is suitable to your garden's needs. There are functional one that just stand in one corner of your garden and don't boast too much about aesthetics. Then there are other reels that are both functional and just blend with the surroundings. You wouldn't know it was hose reel unless you specifically look for it. This is because the garden hose reel and the storage solution are both designed to look part of the garden like a pot or a piece of furniture.