There is something very regal and fine when it comes to wrought iron. It brings with it the thought of the old world when blacksmiths of the day heated the metal and turned it into wonderful useful décor. The only thing that has changed is the method the pieces are made as beauty of any kind is always useful.
Add Stylish Decor To Your Garden
With the weather beautiful people want to spend more time outside in their gardens, either working in them, or entertaining in them. There is no better way to add style and sophistication to an already beautiful garden then by adding a few touches of wrought iron garden decor. Even if your garden is in the beginning stages, wrought iron provides beauty on it's own.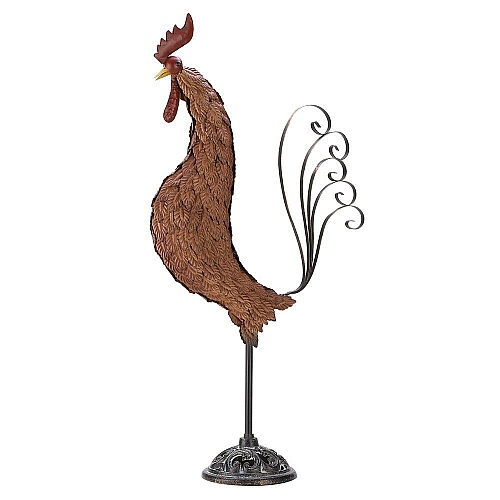 A wrought iron trellis, waiting for the ivy or grape vines to grow is simply a beautiful touch of charm and grace and can be used to add privacy to your landscape. Once the plants of your choice have covered the wrought iron trellis, it still maintains its form, standing straight and withstanding the weather and multiple waterings without complaint. Several years can be enjoyed without even having to place it in shelter for the winter months making a striking pattern against the snow covered plants.
You will never have a tangled hose again when employing a wrought iron hose holder. When used in conjunction with a few hose guides, you won't have a concern about your garden plants being snapped off by an unruly garden hose. The hose holders come in various styles that can be freestanding or mounted to a wall, in simple or more decorative designs to match your home and garden. The hose holders are simple loops of wrought iron that stake into the ground at various points to guide the house around tough spots yet allow for ease of movement.
Wrought Iron For Hanging Plant
With the various plant holders, any hanging plant either on a shepherd's hook or tripod, will stand out or function as a focal point in your garden. Place it where you need a little height and just don't have any tall plants, or use them as a moving attraction as they sway in the breeze along a garden path. Even as the only wrought iron garden decor in your yard, they make a graceful, elegant statement and add style and warmth to the surroundings.
If you have a large garden with several plants, you may have difficulty remembering the individual names of the plants or the exact locations you planted them until they sprout. With a beautiful garden stake, your memory will never fail, and you'll never run your seedlings over with the lawn mower again. Many of these have a rusted appearance to them making them look as thought they have been in use for many years inviting guests to wonder over the nostalgia and notice the plants they direct the eye to.