The yard and garden area you get when purchasing a new home is never what you envision, no matter how nice it might be. There are always changes to be made and many are quick and easy.
In the beginning we are so consumed with the interior of the home that we often miss what can be done on the outside to make the whole place seems warm and yours. Take a good look at your new yard and start making those changes as you can with garden décor.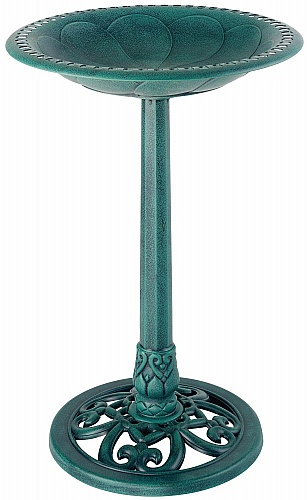 So you've just moved into your new home and it's time to put those finishing touches to the house. You're not quite happy with the front garden or the back. It's rather bland and boring. But where do you begin? What separates an average garden from a super one?
Taking Care of Your Lawn Would Be The First Priority
Step one is to take care of the lawn first. Get a landscaper in if necessary and make sure your grass is well fed and primed to grow green. Having healthy grass is always the first important impression. You can do it yourself by feeding it the right nutrients and watering it with care and regularity.
Step two is to upgrade your garden paths. It's worth paying a little bit extra for a solid garden path. Think cobble stones and curbs. You need a solid platform to work with in navigating your outdoors.
Then the fun starts. Water features are the number one attractions in top gardens. There's nothing more tranquil than the sound of fresh running water. The closer your garden feels to the great outdoors the better. A fish pond can help add life to it, but requires maintenance. Add a bridge over water for a more mystical feel.
More Garden Decor That You Can Have
A bird bath or two is another beautiful ornament for your garden. Help make your gardens look like the Victorians of old or even go for a more modern look. There are numerous options and styles you can go for in terms of water features and bird baths, so make sure you have a big budget if you're planning anything extravagant.
Garden arbors provide a welcoming touch and are good for the entrance to your garden, preferably over the main path. Garden benches are always welcome in shady and sunny areas, depending on the weather and your mood. A wooden and well-crafted gazebo can add a romantic addition to your garden, while a simple modern one can prove to be functional for those outdoor breakfasts and lunches.
Finally you get to the finishing touches. Garden gnomes are quite popular although they are not for everybody. Some people find them creepy, so maybe more generic statues are a better way to go. You can find all sorts of optional extras like artificial rocks, wall clocks or decorative finials, but lighting is the final flourish. Some pretty candle lanterns or tiki torches always set the mood at night, while more modern lighting on face brick walls can add a beautiful nocturnal effect.
By Shirley Patterson