There's just nothing as beautiful as a wooden fence to finish off a wonderful, natural yard. Wood fences have many different cuts, shapes and sizes and set off your yard as traditionally stunning.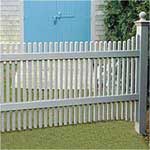 Combining wood fences with a natural wood arbor or pergola can create that picture perfect yard you have always dreamed of. After installing your fencing choice, plant your favorite plants and blooms, craft a patio or walkway and viola, a masterfully done garden or yard of your dreams! The only question is; what are you waiting for?
Backer Rail
Whether replacing a broken backer rail or just building a shorter section of fence, these backer rails are the same as the ones used in the pre-build Picket Fence System sections.
Fence Pickets
Whether you need to replace a few broken pickets, or build a shorter section, these pickets, sold in bundles of 12, are the same as the ones used in the pre-built Picket Fence System sections.
Green Mountain Fence Section
Classic, gently sloping lines make this beautiful wood fence section an easy choice for your yard or garden.
Lattice Fence Section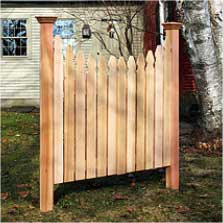 Nothing says fine living and sophistication like lattice fencing. These Lattice Fence Sections really declare your love for beautiful symmetry, which is exactly what these will bring to your yard or garden area. Perfect for scarlett runner beans or moon flowers to meander across, you will just love the gorgeous possibilities every year for years to come!
Picket Fence Section
An always-charming, always popular style, picket fences are imprinted on the American cultural mindset like apple pie. Every yard or garden could benefit from the clean and open lines of this wood fence section.