If you have climbing vines then you have to have a great garden trellis. There is nothing better than experiencing the beauty of a trellis whether it be attached to a wall, within a fence or in your yard or garden.
Trellises are the perfect solution for tomato plants, cucumbers and other climbing vegetables as well as roses and the many varieties of climbing vines. Incorporating a trellis into a fencing structure and letting the vines create a natural barrier is a great and inexpensive way to put up a boundary around a yard or garden.
You can find trellises in wood, aluminum, wrought iron and vinyl on the market which have a large selection for you to choose from.
Leaf Tower I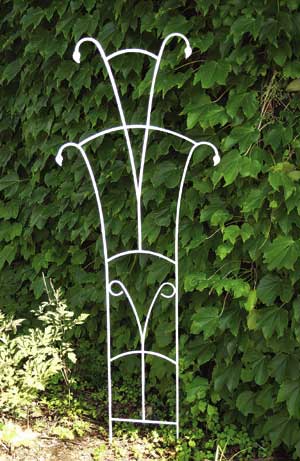 When you are in need of a unique trellis this Leaf Trellis I fits the bill. It is simple yet delightfully playful and will bring an air of fun to your garden. It is 22″W x 71″H and looks as if water is squirting from one layer to the next. You will love this trellis!
Orangery Trellis
With the Orangery Trellis you can establish a privacy fence out in your yard or garden. This charming trellis has multiple arches and lovely wrought iron designs throughout for you to enjoy.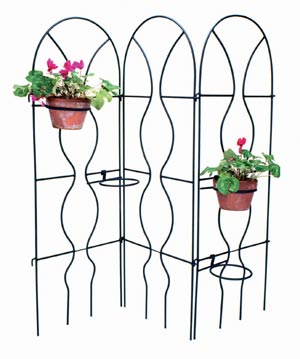 You can also add ring holders and add flower pots as well and have climbing vines and plants growing up with beautiful blooms coming out of the pots. The trellis is wonderfully different and will deliver a totally unique look in your yard.
Palladian Trellis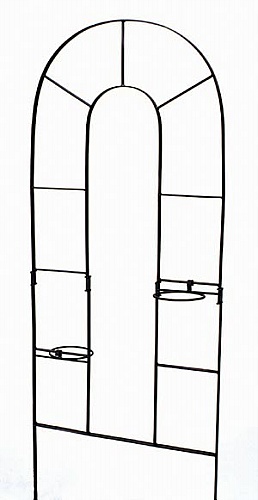 The simple Palladian Trellis with its high arch that can be used against the side of your house or as a stand alone in your garden. You can add pot rings to hang multiple flower pots throughout the trellis and give it a wonderful new look.
This black wrought iron trellis is perfect for places where simple is superb.
Quatrefoil Trellis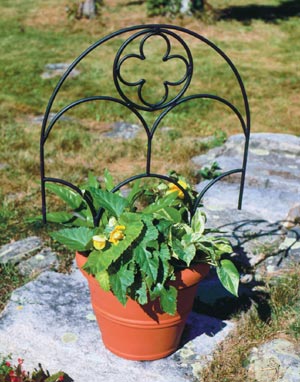 This little Quatrefoil Trellis is perfect for your flower pots and planters. You won't be afraid to plant those lovely climbing vines and vegetables in pots now that you have a great little trellis for them to climb on.
The small black powder coated frame, 24″W x 48″H, is sturdy and you will get a number of years use out of this one.
Square on Squares Trellis I
This exceptional geometric Squares on Squares Trellis I design goes well in a traditional garden as well as an oriental styled garden. Wrought iron and powder coated with juniper, this trellis stands out from all the others.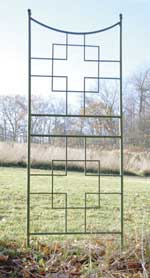 Standing at 86″H x 31.5″W, this trellis is perfect for any climbing vine you have in mind. Designed to be joined together, this trellis can cover a very large wall or area.
Square on Squares Trellis II
Looking for something different, unique or rare? Well check out the Square on Squares Trellis II with the squares on squares design with flanges on either side to hang gorgeous floral baskets to the delight of any gardener.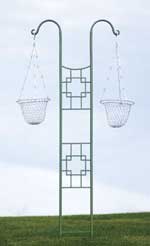 Tall and sleek, 31.5″W x 83.5″, with a juniper powder coat to give this trellis that little extra something to set if off from the rest. Combine that with the ability to hang plants, lights or party favors from the flanges and it will fit in with any function or fun.
Cedar Trellis

This is natural wood cedar trellis panels. These outdoor garden trellis' are made of solid red cedar and include an intra-grid construction that is guaranteed for a lifetime.
The slats are 1 ½" wide, ¾" thick with a 4" opening on all wood trellis panels. These garden and building trellis panels are very easily installed with basic hardware and tools. They are lightweight so it only takes one person to carry and install.
All wood trellis' are sold and come in a natural state. They will require a sealer to be applied BEFORE they are installed in order to ensure a long lifetime of use. You will find these trellis' to be of the finest quality and be beyond compare.
Waves Trellis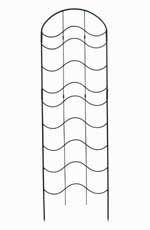 The playful wave pattern throughout this vine trellis is inviting and fun. Mounted in the ground, the Wave Trellis provides stable support as your climbing vines rise up from wave to wave. Finished in a powder coated black, this trellis is designed to last through the seasons for many years.
You will love the way this looks in your yard and how versatile and easy this trellis is to move and use. Just pull up the 12″ ground stakes and you will be ready to go to a new location.
Jardiniere Trellis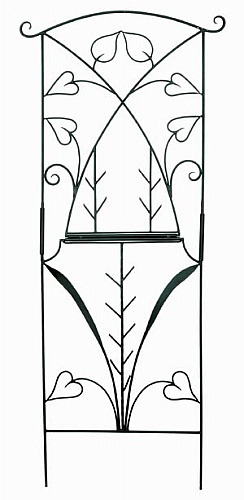 This beautiful Jardiniere Trellis is a stand out among trellises with floral and heart filigree woven into a charming design. A 27.75″W x 86″H rectangle looks great up against a wall or fence. Black powder coated to last, you won't find a more suitable trellis anywhere.