Beneficial for urban gardeners who want to save space, the use of garden obelisks is an ideal way to grow vining crops in the vegetable garden. Plant a dozen pole beans around the base of an obelisk and watch the vines twine around it as they reach for the sky. Grow melons on taller garden obelisks, their perfectly shaped, unblemished fruits will remain well out of the reach of small animals and confuse insect pests in their new vertical location.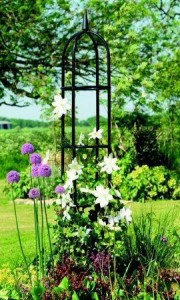 Obelisks can be used to support a climbing rose, a bougainvillea or other perennial flowering vines. Annuals such as morning glories or moonflowers will quickly cover a garden obelisk and contribute their blooms and haunting fragrance at the appropriate time of day. A shorter obelisk can be put to use in the vegetable garden on which Malabar spinach will happily climb for an entire growing season.
Originally fashioned of stone and used to mark the tombs of Egyptian kings, stone obelisks were characterized by a square column with a four-sided pyramid on top. They were often carved with stories of the kings they represent.
Stone obelisks have morphed into a modern-day outdoor sculpture, known as garden obelisks. They are used as functional and decorative garden structures. Garden obelisks are usually made of metal and can be displayed bare as a sculpture, as well as used to support vining flowers, fruits, vegetables or ornamentals.
Garden obelisks are usually between five and eight feet high, although some are shorter or taller, while their historical stone counterparts were at least 70 feet high and some were over 90 feet high.
Whether you choose rustic iron, modern stainless steel or ornamental copper, a garden obelisk will add both function and decorative character to your landscape.