Used to grow everything from grapes, to beans, to flowers, to purely ornamental vines, garden trellises expand your garden up off the ground and into the air. Garden trellises can be free standing or attached to a fence, wall or building.
Although many plant supports are called trellises, a real trellis exists solely to support a vertically-growing plant and to keep it off the ground. They are erected in long rows in vineyards to support grapes grown for wine or in vegetable gardens to support peas or pole beans.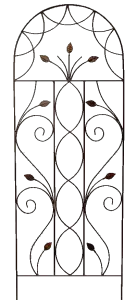 Utilitarian garden trellises are made by driving sturdy wooden posts into the ground at regular intervals along the row of grapes or a chosen row in the vegetable garden. Sturdy wires are attached to the tops of the posts and strung along the row. Another wire is installed about 2 to 3 feet below the top one. As the grapes or other vining crops grow, they are attached to the supporting trellis.
A lattice-work trellis attached to the side of a home or garage is often used to support a climbing rose, clematis or bougainvillea to add their beauty and scent to the home landscape. Lattice-work garden trellises should be installed using brackets to position them 6 to 12 inches away from the wall of the structure. This will help prevent the wall of the house or garage from being damaged by the presence of the plant materials.
Trellises are often confused with arbors, which are intended to frame entryways to yards and gardens. Trellises, on the other hand, are meant solely to support plants in the most functional way.
New styles of trellises are marrying function with beauty and are every bit as desirable in the landscape as the plants are.
In addition to the traditional lattice-work trellis, garden trellises made of metal, bamboo, plastic, wood or recycled items are widely available and used by gardeners.
Garden trellises add beauty and style to your landscape, while they serve a very utilitarian purpose.