The Yard Butler HT-2EZ Garden Hose Truck is one of those products that you either love, or hate. First off, when compared to a plastic garden hose reel, the Yard Butler is definitely an improvement, but, if you do a lot of hose work in your garden, you may want to get something just another notch better. For light duty use this reel is great. It is made from steel and has all-terrain tires; great when you don't have flat ground to push the hose truck across.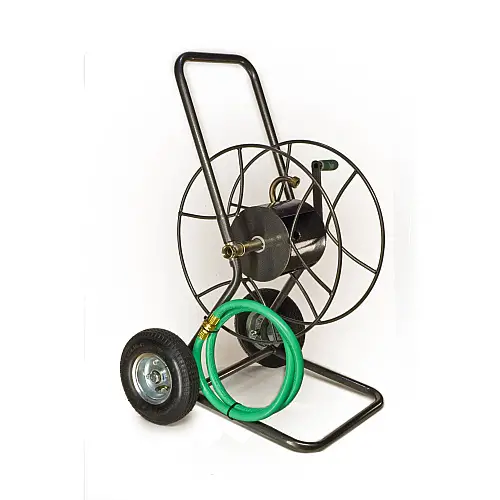 However, if you need to roll up 200 ft of garden hose, the product information is not correct – the capacity of the reel is not sufficient for 200ft of hose. You will easily be able to use 100 ft of garden hose, perhaps even 125ft of narrow gage hose, but if you have 200ft of heavy duty no-kink hose, forget it.
It's hard to understand why the Yard Butler HT-2EZ is such a huge seller. The steel frame rusts, it doesn't hold the declared 200ft hose capacity, it's not easy to put together, and, more often than not, the drip less fittings leak. Perhaps it's popular just because anything is better than the plastic garden hose reels that seem to last only one season. The Yard Butler is certainly affordable, but for a little bit more you can buy an American made product that is far superior.
However, like I said, some people just love this hose reel and if that includes you, here are some tips that will make your life easier:
The wheels need to be inflated so have a bike pump handy.
The nuts have a plastic o-ring recessed so that they don't unscrew – this makes them hard to install so have a couple of adjustable wrenches handy.
Look at the pictures on the box as you are assembling the reel – the instructions are not that great and looking at the pictures will make it much easy to put together.
Product Features and Specifications:
Drip Less Swivel with brass fittings
Anti-Kink Lead Hose
All steel construction
Anti rust finish
Holds up to 200-feet of hose
Easy assembly
All Terrain Pneumatic tires