Growing and nurturing your own plants with high efficient garden watering system can make your gardening jobs easy and also can create lots of fun throughout the process. You can just fill up the sprinklers to make them flow through the rows of plants; irrigating just about every tiny seedling without having worry you need to repeat the same task every day.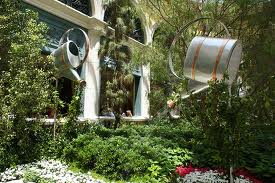 Home gardens are invariably a great choice for you to get away from the stresses and strains that generated from modern life. You can have a very peaceful moment in your own garden and enjoying the atmosphere that you wish to have. However, the task for taking care of your garden can be overwhelmed and tedious if you need to do all of them on daily basis. Thus, if you can DIY and implementing your own garden watering system, you will save yourself plenty of time and you are able to enjoy the place for tranquil contemplation whenever you want. The healthier, stronger, and more prosperous your garden happens to be, the more beneficial it can be for leisure and relaxation.
Basic Steps for Garden Watering System Installation
If you wish to install your own garden watering system but not really know how to do, then you can refer to the following basic steps to help you out.
1. Before implementing your garden watering system, firstly you need to figure out the area and drip depot of your garden that you want to get irrigating. You need to know whether your garden is a farm, home garden or backyard garden?
2. Determine the plants and flowers in your garden. Are there trees within your garden? Is the garden stuffed with shrubs and bushes? You will need to figure out what kind of plants that needs to be watered before installing the garden watering system due to the fact that different plants have different irrigating needs.
3. Buy the necessary materials for making the garden watering system. You may visit your nearby hardware and gardening store, spend some time to seek advice from an expert and experienced professional to get the appropriate materials that you need to set up your irrigation or garden watering system.
4. Draw up a design and layout, then study meticulously on where the spot for you to put the water pipes and plumbing. Find out the location and drip depot where the clean water will come from. If it is possible for you to dig a well, then you should do so as a well will supply sufficient water for the garden. Besides, a well can help to save you plenty of money.
5. Begin the process of building your garden watering system. Follow exactly where your design and layout to implement and joint all the necessary items.
6. Making a thorough checking on the connections, watering pipes, sprinklers, valves, plumbing and etc. You need to ensure that all joints are not getting breaks and leaks.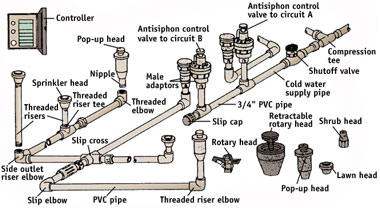 More Tips on Garden Watering System
After following the basic steps that outlined above, below are a few more tips that you will need to know when installing your garden watering system.
– Theoretically, if the plant is larger, then it will need lesser watering and plant care over time.
– When doing watering, you need to ensure that all plants are covered by clean water. You may need to overflow until water flows out from the bottom and repeat the process.
– If the plants are positioned in the shade, then they will not require so much water compare to the plants that expose to sunshine.
– You can use saucers and fill the saucers with water during dry season. By doing so, you will be able to provides plants with additional moisture.
– Employ water retention materials and soil conditioners in the soil of your garden. You can get many varieties in the garden and you need to ensure that you read and follow the instructions.
– Ensure that the watering hoses can be accessed easily by no need to drag and haul them from a far distance each and every time when you want to use them.
– Additionally, in case the plants in your garden are seriously wilted, you will want to move them to a shady area and provide them with decent watering. You are going to save the plants by doing so.
You will find different kits available on the market to cater the different designs of the gardens. Among them are kit for vegetable gardens, gravity feed drip irrigation kit, irrigation kit for raised bed, drip irrigation and microsprinkler kit for landscapes, mainline kits, irrigation kit for dirty water and etc. Other than getting the right kits, some materials that you need to install your garden watering system will include things like 360 degree adjustable spray jet, box wrench or screwdriver, 1/2 perma-loc fittings, 1/4 barb fittings, lawn sprinkler, sprinkler sprays, garden hose, poly pipe, valve parts, drip emitter and etc. The major suppliers for all these materials will be Hunter, Orbit and Rain Bird.
Finally, a garden watering system is not really difficult to assembled, and in many cases even if you think you are not capable at constructing and building, you can still make it happen. As long as you get all the necessary materials, you will build it up in no time. You could buy all the gardening materials from your local gardening store or you may search online if the items that you need is no being sold in the local store or home building store. You are going to get satisfaction and fulfilment once you completely installing your own garden watering system.
Also, installing flow meters would be highly suggested to control water usage in your garden or in other parts of your home."
More watering article:
Build Your Automatic Plant Watering System for Next to Nothing