Automatic plant watering systems are designed to assist people to ease their plants watering task. By having such system in place, it is going to significantly reduce their garden works and they could never need to worry on the subject of missing any day or forgot to watering their plants and flowers. The automatic plant watering system is designed by dripping preset volume of water in a given time period which means your plants and flowers aren't going to be watered excessively or insufficiently.
A specific solution recently happen to be acknowledged as the most effective garden watering system. The solution for such system is given the name of Oasis Plant Garden Automatic Drip System. It works with the combination use of tank, drippers, sprinkler systems, valves and other devices to expedite the irrigating works effectively every day. While there is actually another solution which is known as Smarthome Automatic Plant Watering System that also can do the jobs. The different between the two of them are:
Oasis Automatic Plant Watering System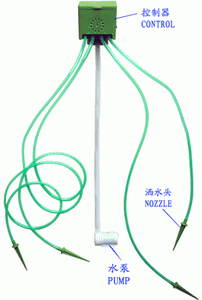 The cost for consumers to own this system is just about $80. This Oasis system is effective at applying water for over 20 plants in around 40 days. This Oasis system can be an excellent product that can help you in a huge way when you are going for holiday. It is also very helpful for consumers who have a great number of plants and flowers but do not have many times to supply water to all of them. The Oasis Automatic Plant Watering system is very easy to build, easy to use, and also easy to clean. It can be the most effective system that you should have for your garden.
Smarthome Automatic Plant Watering System
It will cost you about $70 for you to own the Smarthome Automatic Plant Irrigation System. The system is effective in watering for 14 plants simultaneously. The system also possess with a 7-liter capacity that allows consumers to control the volume of water that going to supply for each plant and flower. This is also a wonderful product that cost you less.
How to Make an Automatic Plant Watering System for Next to Nothing
Purchasing an automatic plant watering system or perhaps drip irrigation sprinkler system will cost you a huge amount of money. Therefore if you do not have the additional cash to invest on one of these fantastic devices, do not apply any stress to yourself as it is still possible for you to have one by do it yourself.
All items that needed for you to construct an automatic watering system is:
– Airline tubing
– An aquarium air pump
– A 4 gallon bucket
– A sprinkler timer
– A check sprinkler valve
– An airline control kit
By making this system follow the same model design that display on the gardening outlet, you will be able to build your own automatic plant watering system and save you a big chunk of money. The automatic plant watering system is eco-friendly and is very effective to produce a great deal of fruit and vegetables in a very compact area. Such systems are become more and more popular nowadays and are greatly being used by many people for planting fruits and vegetables. The last thing that you need to do is that you will need to check on the watering system from time to time to ensure that there is no malfunction or destruction of the system.
More watering system article:
DIY Automatic Plant Watering System for Next-to-Nothing