Garden buildings are more common in the United Kingdom but have great practicality here in the US. They are convenient and add a touch of fun and class to any home.
A garden building can be a place to store equipment, a nice carport, a gazebo, a greenhouse, a play area, or just about any functional and beautiful outbuilding you can imagine. They can be inexpensive or expensive, depending on what you want.
Make One That Matches With Your Lifestyle
If you are looking at a garden building, consider your lifestyle. If you are longer with children, you may want a place where the children can safely play in your backyard. If you are older and enjoy gardening, you may want a nice greenhouse so you can continue gardening during off-seasons.
You can also make a garden building with a hot tub in it to have enjoyment and privacy. You are really only limited to your own imagination when coming up with an idea for your own garden building.
You have options; you can go to a store like Home Depot and purchase a ready-made building or work with a custom builder to find something unique for your needs. Having something custom-made will cost you the most money, but if it's something you will have for years, the value is probably worth it.
Garden buildings can be stand-alone, or they can be an addition to your home, something that allows you a place to go and stay out of the elements. Those attached to the home are often used for entertaining, with a nice feel of both indoors and out. These are often called conservatory buildings in the UK and can be built from wood, aluminum, or both.
Less common usages for garden buildings are things such as dog kennels or chicken coops. Done right, even these types of buildings can add beauty and functionality to your outdoor area.
Garden buildings are fun and functional; they are a great place to find peace or entertain friends and family. Because these buildings will be a part of your home for years to come, do a little research and discover your options. Do a little thought on what you really want from one, plan, and move forward!
One of the best ways to enhance your garden area is quality a covered patio and garden lights. They tend to give the evening hours in your yard that added ambiance.
Tips for Buying a Garden Building
Each garden is different, and if you like taking care of your garden personally rather than outsourcing the work in your garden, you probably bought several tools, supplies, bulbs, garden furniture, and everything else. Possibly, you are out of storage capacity. However, have you ever thought about a garden building, where you can store everything related to your garden?
The reality is that we reach a time when the volume exceeds the capabilities of our home. In short, if this time came for you, you'll need to build or buy a garden building.
The first thing to consider is that you'll need a place that allows flowing air, is easily accessible, secure, and does not interrupt the passage of persons or aesthetically spoil your views. Choose a place where the ground is flat, and you are sure it will not accumulate rainwater.
Drainage must be optimal, and the garden building should have a few hours of sun and shade. Otherwise, it will become a frozen place in winter or an oven in summer.
The questions if you should build from scratch or buy a pre-fabricated module almost always prompt the answer that you should go with the latter. Even if you have advanced DIY abilities, it is often cheaper to buy a module, which yields better results. Choosing to buy a module building means that you'll get pieces that fit perfectly into each other, a solid base, and a roof that will not leak.
When shopping for a garden building, don't go for the cheaper option. Make sure the wood is treated against fire and humidity. Make sure it stands the kind of weather where you live. Remember that the wood will have to stand snow, rain, sunshine, and wind.
If you want the wood to last more than one year, you'll have to go for the quality. Also, don't buy too small, since you'll soon discover that you cannot get enough storage place since your storage needs will also change over time.
Also, check how many people are needed to build the module that you are buying. Some require as little as two, and you can build some small versions alone.
Make sure that you have all the tools necessary for building it. Most vendors offer you everything that you need at the same place. In most cases, building a pre-fabricated garden building doesn't require expensive or unusual tools.
The landscape you create around your garden building, such as garden lights, can create an aesthetically pleasing addition to any garden building. Consider researching. You will come up with some landscape design ideas that are sure to please!
Tips About the Ground Below it
Choose wisely the place where you build your garden building. Preparing the ground below the building is very important. Some garden owners do not consider this last point important, but it is essential if you want a stable garden building. A soft ground below your building can cause ongoing issues.
Check the following points regarding the ground:
As a first step, a good cleaning of the ground is needed. It is necessary to clean grass and especially any roots that can then turn up into a tree. Some people spread salt to avoid anything growing below your garden building.
It would help if you clearly marked the spot where you are going to build the garden building. Normally, the old but always useful method of stakes and string is the best choice. Dig a trench where you will put the concrete sub-floor.
Good depth of the trench is often necessary, something between 10 and 15 inches. Then you throw it into the trench gravel, spread it on equally on the ground.
After completing this step, we recommend placing a plastic membrane that exceeds the size of the trench. An alternative is to pour asphalt on the trench. Proper isolation of the floor is essential to keep the garden building dry since much humidity creeps through the floor. If your garden building is made of wood, then humidity could also damage the material of the building.
Take your time to perform each step. If you used asphalt, wait until it is completely dry before you build anything upon it. Asphalt is only rocked solid after drying completely, which takes a couple of days.
Remember that the base has several functions: thermal insulation, insulation against humidity, being a solid base to build upon, and avoid anything growing below it. Therefore, you'll need to use asphalt instead of plastic in most cases, even if the latter is much cheaper. In the long term, you will not regret spending a little bit more money.
The base of the garden building is as important as the basement of a house. If it is not built properly, the house can collapse. Follow carefully all the recommendations of the materials you use. Different cement types require different drying times. Some are not developed for outside use.
Equally important is choosing the right kind of wood if you are building the garden from scratch. Most woods are not treated for outside use, which can be very harsh, especially in cold or rainy regions.
Once you're done with your building, make sure to accentuate it with superior outdoor patio lighting, it makes all the difference for an aesthetically pleasing surrounding.
A Small Wooden Building in the Garden
One of the best ways for children to enjoy a nice time in the garden is installing a wooden building on the outside. In addition to giving your garden a rather rustic and cozy atmosphere, these are the perfect place for children to have fun and play. It is amazing how children like little buildings. Possibly because they consider it their place, they also enjoy playing inside it so much.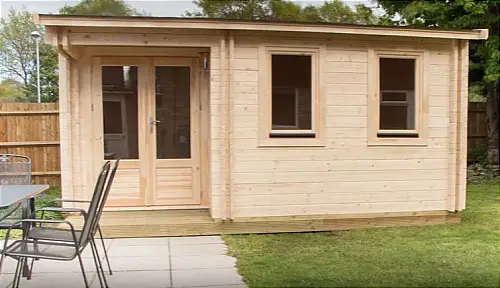 It is very important to consider security measures and ensure that the manufacturer is complying with any regulations. The selected garden building has to be solid, as solid as any building. The wood has to be treated against insects and protected against fire. The better choice for windows is PVC.
Although plastic looks cheap, it is incredibly resistant. Only if you choose a secure garden building will you be able to let your children play in it with peace of mind.
We must also address the quality of the wood since the weather will be merciless with it, as with any window. In many garden buildings, the pieces are made from pine and have a three-year warranty against everything. Beware of vendors who offer a short warranty. Even they know that their products are of little value.
Garden buildings are normally designed to be installed anywhere (beach, mountain, or city), and you should coat the roof with asphalt. Asphalt insulates well, making garden buildings the best place for toy storage, balls, and other objects, like tools.
It isn't easy to see anything other than an asphalt roof. A roof made of wood is mostly a bad idea, especially if you live in a region where it snows. Your garden building won't survive any winter if it has a wooden roof.
The floor is often made of the grid, which allows the air to flow. This prevents the entry of moisture and keeps the garden building intact. Most buildings are made of wood and prefabricated panels. Even the window, doors, and floors are prefabricated. Mostly you will only have to screw the parts together, which is quite easy, even for the most inexperienced person.
Regarding the decision of buying or building yourself, it is almost certain that you will necessarily have to buy the parts and build them. There is no point in building it from scratch. There are plenty of manufacturers who offer any size, shape, and price of garden buildings. Making a good garden building is more difficult than it seems, especially making one that can stand the onslaught of weather.
Small Garden Buildings for Organizing Tools
If you are one of those who take care of your own garden, you certainly have several tools to do the work, some large, including machinery, lawnmowers, rakes, shovels, and many more. Additionally, you probably also need a place to store bulbs, fertilizers, and a hose.
Clearly, it is essential to have a place to keep all this in an organized way. It could be the garage, but sometimes there is not enough space for the car and the tools. In addition to the lack of space, it is better to keep things at hand since we never know exactly what we will need at a specific time.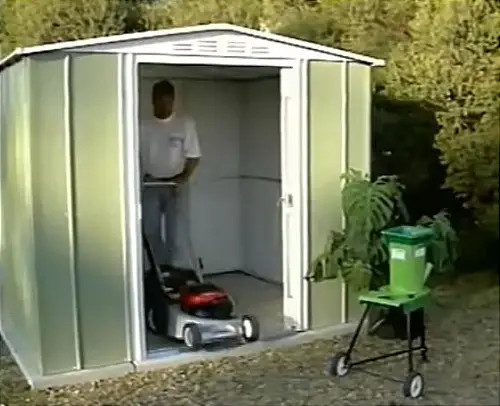 If you also don't have a big garden you could always buy a small garden building. Some garden buildings are as small as a telephone booth. Even in this case, if it is well organized, there will be plenty of space to store everything that you need for your garden.
Before buying it, check if it has enough racks and shelves, even if you can build the shelves according to your need. Thus we will always have everything at hand and in an orderly and accessible way. Even if you buy one of the smaller models, it is still possible to store a number of tools. The most important is that you keep everything neatly organized.
There are small garden buildings of plastic and others made of wood. The latter is more expensive. The former is cheaper and easier to build. Plastic definitely doesn't look as good, but it lasts almost forever. There is not much you can do wrong when buying a plastic garden building.
Even the cheapest is tough enough, even under harshest weather. However, do not underestimate how long a wooden garden building can last. If the wood is of quality and treated properly against fire, insects, and humidity, it can also last for a long time. And by a long time, I mean several years.
However, if you take pride in the atmosphere of your garden, then you'll want to go with the wooden building. The garden building is an element that needs to integrate seamlessly into your garden.
The resulting garden building is even a decorative complement to the landscape as a whole. Since manufacturers know that garden owners buy a wooden garden building for aesthetic reasons, they also offer various beautiful garden buildings.