Professional landscaping can increase the value of a home by up to 20 percent, reports Bob Vila. However, before you shy away from a poorly landscaped home, there may be a few things you should keep in mind. Bad landscaping can lower property values, but it's also usually fairly easy to fix.
You may be able to get a great steal on a home by purchasing one that is poorly landscaped and then developing it on your own or hiring a professional landscaper. At the same time, you need to be able to identify landscaping issues that will require more time and effort than is worthwhile.
Why is Landscaping Important?
Landscaping affects a home's curb appeal, the first impression that home buyers get when they drive up to the home. It's very difficult for a seller to shake a negative first impression even if the interior of a home is gorgeous. Many distressed properties, such as bank repossessions, will have poor curb appeal and their values will reflect this. According to Beyond Curb Appeal, buyers often formulate their opinions of a home within 30 seconds of entering.
Identifying Easy Fixes and Hard Roads
Some landscaping issues are easily fixed and others may take more time and money due to the severity of the problems. Before deciding on a home purchase, you should first determine how much work will need to be put into the landscaping. This includes both time and energy.
If the grass around the home is overgrown or dead, you may simply be looking at a few months of careful grooming and watering. If there are holes throughout the yard and uneven terrain, you may instead need a backhoe rental and some extensive pest control.
Septic tanks, irrigation systems, and large trees may be fairly extensive to replace or repair. Surface issues such as dying plants and flowers are usually fairly easy. You should factor the estimated cost of these changes into the home's purchase price when determining whether the purchase is worthwhile.
The Best Return on Investment
When investing in landscaping, it's often best to focus on the areas that offer the best return on investment first. Messenger's Landscape reports that hardscapes, structures within the yard area, have the highest return on investment. The same report also notes that well-positioned trees can significantly decrease a household's utility bills.
Privacy fences and rock walls are extremely popular and should be installed first. In general, any permanent addition that requires very low maintenance will be beneficial to your property value. After privacy fences and rock walls, improvements that increase living space are usually preferred. These include outdoor kitchens, BBQ areas, and bars.
Common Landscaping Mistakes
When landscaping to sell a home, avoid anything that is prohibitively difficult to maintain. This includes rose bushes, impeccably trimmed hedges, vegetable gardens, and other features that require daily attention. MSN Real Estate notes that high-maintenance landscaping may initially seem attractive but may scare off buyers who don't want such a significant commitment.
Landscaping that looks dated can also scare away buyers and make the home seem older than it is. Instead, you should focus on very hardy plants that are easy to maintain and put in thick, healthy grass. You should also avoid personalizing your yard too much, as this may alienate a buyer and make it difficult for them to envision themselves and their family in your home.
Finally, luxury items such as fountains and even swimming pools may turn a prospective buyer off. Homebuyers know how difficult water features can be to maintain.
Many fantastic deals in the real estate market, such as foreclosed homes and short sales, often have terrible landscaping. You should keep in mind that this is an impermanent situation and can be fixed. However, you may want to hesitate if your neighbors have poor landscaping, as well. This is less easily fixed and maybe detrimental when you later attempt to sell your home.
Landscaping Projects That Add Value to Your Home
According to a Summer Home Improvement Trend and Spending Survey conducted by Zillow Digs, 60 percent of American homeowners plan to do some kind of home remodeling project this summer. This survey indicates that 17 percent of homeowners will remodel their bathrooms and a whopping 40 percent work on their outdoor spaces during the summer. Below are some home improvement projects that all homeowners should consider.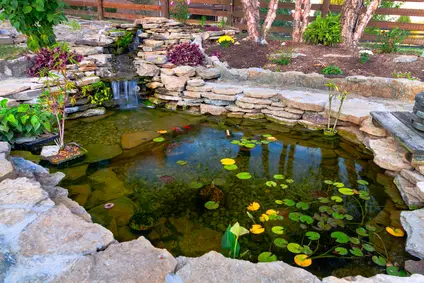 1. Replace Dilapidated Plants
Sometimes one of the best ways to improve the outdoor look of your home is to cut out the old trees, shrubs, and landscaping that have lost their grandeur. Replace these with plants that thrive in the local climate during summer to save time and money.
2. Install a Watering System
Installing a programmable watering system ensures that your plants are given the optimal chance of survival. Plants need to be watered before the sun rises, otherwise, the water evaporates and the plants do not benefit from the watering process. Some watering systems even can monitor the weather and check the soil's water saturation.
3. Build a Deck
Use a deck to extend your living space. The many products available for creating these outdoor spaces give them almost year-round appeal; fireplaces, seating arrangements, and outdoor dining sets turn any deck into a place to entertain. A deck is also a great investment, according to the National Association of Realtors and Remodeling Magazine's 2010-11 Cost versus Value Report a wooden deck retains 72.8 percent of its cost with the sale of the home.
4. Never be Afraid to Paint
Painting is probably one of the easiest ways to remodel the home. Light paint colors can be used to make a room look larger and pastel colors in a bedroom can make it a more cozy living space.
Painting plaster walls decreases dirt and dust in the home. Painting interior walls using a zero or low VOC (volatile organic compound) earth-friendly paint helps promote quality indoor air quality.