The yard and garden area you get when purchasing a new home are never what you envision, no matter how nice it might be. There are always changes to be made, and many are quick and easy.
In the beginning, we are so consumed with the home's interior that we often miss what can be done on the outside to make the whole place seem warm and yours. Take a good look at your new yard and start making those changes as you can with garden décor.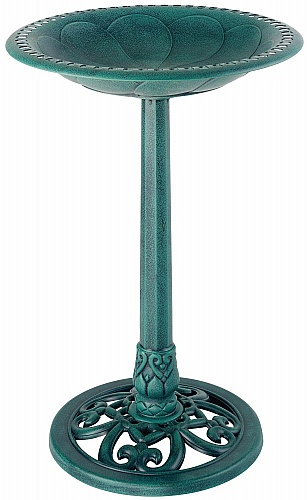 So you've just moved into your new home, and it's time to put those finishing touches on the house. You're not quite happy with the front garden or the back. It's rather bland. But where do you begin? What separates an average garden from a super one?
Taking Care of Your Lawn Would Be The First Priority
Step one is to take care of the lawn first. If necessary, get a landscaper in and make sure your grass is well fed and primed to grow green. Having healthy grass is always the first important impression. You can do it yourself by feeding it the right nutrients and watering it with care and regularity.
Step two is to upgrade your garden paths. It's worth paying a little bit extra for a solid garden path. Think cobblestones and curbs. You need a solid platform to work within navigating your outdoors.
Then the fun starts. Water features are the number one attraction in top gardens. There's nothing more tranquil than the sound of fresh running water. The closer your garden feels to the great outdoors, the better. A fish pond can help add life to it but requires maintenance. Add a bridge over water for a more mystical feel.
More Garden Decor That You Can Have
A birdbath or two is another beautiful ornament for your garden. Help make your gardens look like the Victorians of old or even go for a more modern look. There are numerous options and styles you can go for in terms of water features and birdbaths, so make sure you have a big budget if you're planning anything extravagant.
Garden arbors provide a welcoming touch and are good for the entrance to your garden, preferably over the main path. Garden benches are always welcome in shady and sunny areas, depending on the weather and your mood. A wooden and well-crafted gazebo can add a romantic addition to your garden, while a simple modern one can prove to be functional for those outdoor breakfasts and lunches.
Finally, you get to the finishing touches. Garden gnomes are quite popular, although they are not for everybody. Some people find them creepy, so maybe more generic statues are a better way to go.
You can find all sorts of optional extras like artificial rocks, wall clocks, or decorative finials, but lighting is the final flourish. Some pretty candle lanterns or tiki torches always set the mood at night, while more modern lighting on face brick walls can add a beautiful nocturnal effect.
The Resilience of Wrought Iron Garden Decor
There is something very regal and fine when it comes to wrought iron. It brings with it the thought of the old world when blacksmiths of the day heated the metal and turned it into wonderful useful décor. The only thing that has changed is how the pieces are made, as beauty of any kind is always useful.
Add Stylish Decor To Your Garden
Beautiful people want to spend more time outside in their gardens with the weather, either working in them or entertaining in them. There is no better way to add style and sophistication to an already beautiful garden than adding a few touches of wrought iron garden decor. Even if your garden is in the beginning stages, wrought iron provides beauty on its own.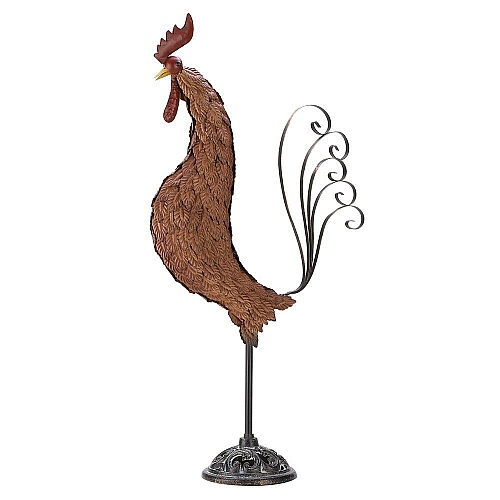 A wrought iron trellis, waiting for the ivy or grapevines to grow is simply a beautiful touch of charm and grace and can be used to add privacy to your landscape. Once the plants of your choice have covered the wrought iron trellis, it still maintains its form, standing straight and withstanding the weather and multiple waterings without complaint. You can enjoy several years without even having to place it in the shelter for the winter months making a striking pattern against the snow-covered plants.
You will never have a tangled hose again when employing a wrought iron hose holder. When used in conjunction with a few hose guides, you won't have a concern about your garden plants being snapped off by an unruly garden hose. The hose holders come in various styles that can be freestanding or mounted to a wall, in simple or more decorative designs to match your home and garden. The hose holders are simple loops of wrought iron that stake into the ground at various points to guide the house around tough spots yet ease movement.
Wrought Iron For Hanging Plant
With the various plant holders, any hanging plant on a shepherd's hook or tripod will stand out or function as a focal point in your garden. Place it where you need a little height and don't have any tall plants, or use them as a moving attraction as they sway in the breeze along a garden path. Even as the only wrought iron garden decor in your yard, they make a graceful, elegant statement and add style and warmth to the surroundings.
If you have a large garden with several plants, you may have difficulty remembering the individual names of the plants or the exact locations you planted them until they sprout. With a beautiful garden stake, your memory will never fail, and you'll never run your seedlings over with the lawnmower again.
Many of these have a rusted appearance, making them look as though they have been in use for many years inviting guests to wonder over the nostalgia and notice the plants they direct the eye too.
Garden Furniture – The Great Debate
When it comes to garden furniture, there are several things you need to take into account to find the right set for your garden. This article looks into those factors to help you make the right choice.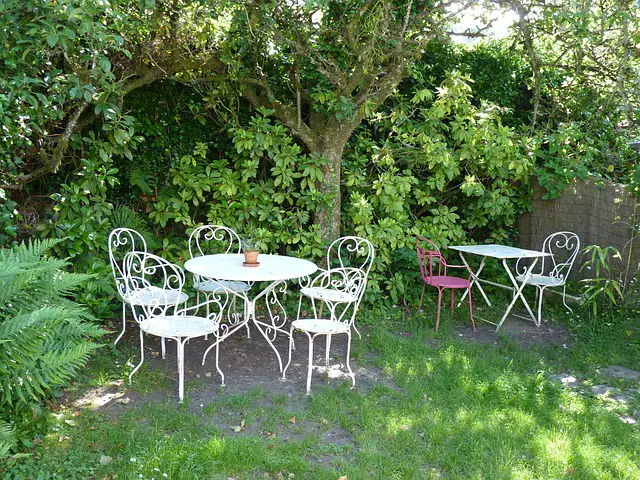 What are the choices?
Garden Furniture generally comes in four main types of material:
Wood
Glass / Metal
Plastic
Wicker / Rattan
Wood
Wooden Garden furniture is classy and comes in various designs and types of wood, from simple Garden benches to full oak tables. The cost can vary, but overall it gives a good natural finish to the garden and last year. Keep it clean and use wood oil once a year, and it will be a very sound investment.
Cost: Medium to High
Quality: Medium to High
Metal and Glass
Metal Garden Furniture is the most popular with supermarkets and large-volume sales. Why? It's simple to manufacture. It can be flat packed easily and produced in a variety of colors.
A glass table seems to be the most popular material for the centerpiece, and it's still a simple and effective way to get outdoor furniture. The main problem with metal is longevity; it tends to rust within a few years and needs to be replaced.
Cost: Low to Medium
Quality: Low to Medium
Plastic
Plastic Outdoor furniture really sits at the bottom of the pile; the quality is relatively low, and when it breaks, there is no way of fixing it. The advantages tend to be around cost and keeping it clean. Plastic is very easy to keep fresh, and garden sets are generally far cheaper than their counterparts. One of the main problems is the sun. Over time the color gets warped, and so that lovely white set you bought is now a dirty cream color.
Cost: Low
Quality: Low
Wicker / Rattan
At the high end of the furniture, the chart is wicker and rattan furniture.  This is my particular favorite. The designs are sleek and almost sexy. They are often or not designed with fitting removable cushions giving an indoor experience outside.  The other advantage is the ranges available, you can buy some very extravagant furniture, but it looks natural, is relatively easy to clean and doesn't get much wear and tear.
Cost: Medium to High
Quality: Medium to High
Our Top tips for your choice
If you have kids, then plastic or metal is a good option. They wipe down easily and don't soak up any water when it's been raining.  Also, remember metal often involves glass, so you have to be careful with glass breaking around children.
If you buy wood or Rattan Furniture invest in some good covers, then you can make sure you'll actually be able to sit on the whether it has been raining or not.
If you buy wooden furniture, make sure you keep it looked after and recoat it every year.
One of the biggest factors is budget and how long you think you will use it for, so if you rent a house, think about cheaper options that you can leave at the property.
Great Yard Additions – Arbors, Pergolas & Trellises
The only places you used to see arbors and pergolas were in the parks, and trellises were used by old ladies growing roses or in the movies to give the guy a way to climb up to the girl's room only to fall off on the way down.
Then about 5 years ago, people started to realize that these outdoor structures had an innate natural beauty that brought serenity and peace when added to their yards.
Though you can get these garden features in many sizes and materials, it's the natural wood structures that stand out as the most magnificent.
Arbors and pergolas are similar in that both are stand-alone pieces where vines and flowers can weave their way throughout the canopy. Both are used at parties, weddings, and other celebrations that require elaborate walkways or archways.
The difference is the type of canopy, and this is where the trellis becomes a fascinating addition to the mix. Though arbors have archway tops and, for the most part, pergolas have square or rectangle tops, both can and do utilize the trellis on the canopy to give the vines something extra to cling to. Many arbors also use the trellis as a side piece for the same reason.
Pergolas
Pergolas can also be attached from the side to create a cover for a porch or patio, as well as a stand-alone garden structure for a special place on a lawn or to create a sitting area away from your home. They are both versatile and beautiful and make great additions to any yard or garden.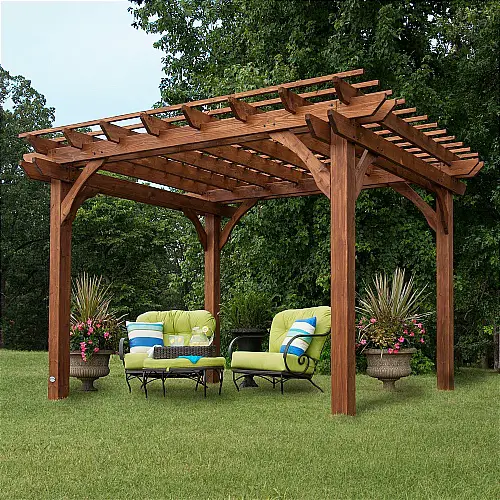 The best word to describe a garden pergola is regal. Outdoor pergolas make strong statements of tradition, beauty, peace, tranquility, and rest. You can start and end your day enjoying this wonderful structure that originated in Egypt and was very popular during the Resonance and with Italian gardeners.
Pergolas are meant to be places of rest and shade. Traditionally, garden pergolas have vines that grow up the posts and intertwine the trellis tops to provide respite from the sun on the hottest days and a relaxing place to enjoy watching the sun come up in the morning and the sunsets at dusk.
Pergolas add so much to weddings, anniversaries, and other distinctive gatherings and can be lit up at night to bring out the perfect romantic touch to the evening.
There is nothing more lovely than the decor of a natural wood pergola against a moonlit night….
Beautiful Arbors
One of the greatest ways to welcome your friends and family to your yard is a beautiful decorative garden arbor. Whether you want to give your yard a distinctive edge for a gathering or party or enjoy a new and unusual entrance to your garden, you can have one with stunning, hand-made, all-natural cedar arbors or with simple metal and vinyl arbors.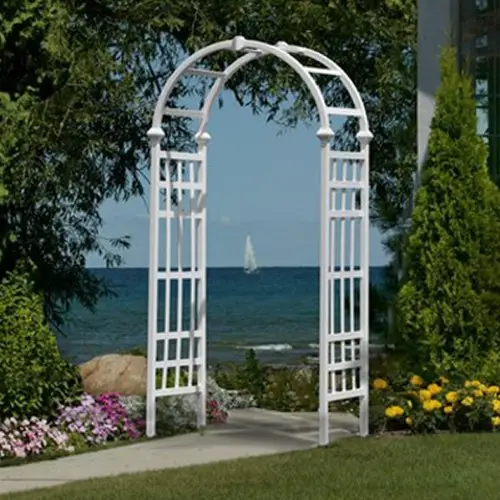 The arches make wonderful additions to outdoor weddings, graduations, and anniversary parties, as well as fantastic focal points of entrances between yards, into the garden, or swimming pool areas. Garden arbors can be fitted with beautiful gates and attached to fencing to create a magnificent boundary for your yard.
As one of the more versatile garden structures, cedar arbors come well sanded so you can paint, stain or let age naturally. Also available are vinyl and metal arbors that weather very well and will last for many years to come. Arbors can be moved around rather easily and assembled quickly so you can be experiencing your new look as quickly as possible.
Arbors are traditionally smaller than pergolas and are fantastic as entrance areas into your garden or yard. You can also attach a gate inside an arbor as well as fencing on the outside, creating a wonderful covered entrance into your fenced yard. Many people love to be married under arbors in parks and backyards, thus making wedding arbors very popular.
Trellises
Trellises seem to be the forgotten garden feature that most avid gardeners could not do without. The misunderstood trellis is what makes those succulent, fragrant flowers that climb up walls and wind themselves around arbors and over pergolas behave in an orderly fashion. They also come in many different sizes and shapes, from types of plastic to natural cedar trellises.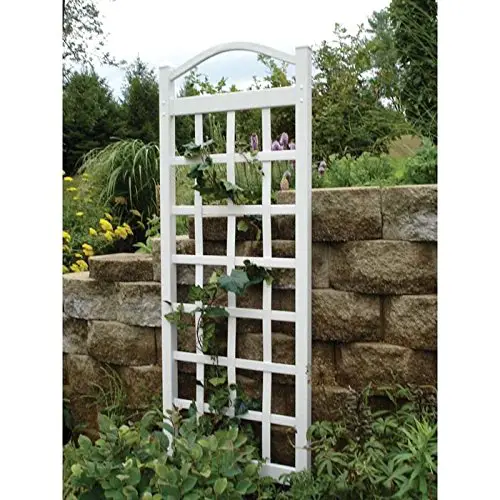 If you have climbing vines, then you have to have a great garden trellis. There is nothing better than experiencing the beauty of a trellis, whether it be attached to a wall, within a fence, or in your yard or garden.
Trellises are the perfect solution for tomato plants, cucumbers, other climbing vegetables, roses, and many climbing vines. Incorporating a trellis into a fencing structure and letting the vines create a natural barrier is a great and inexpensive way to put up a boundary around a yard or garden.
Whether you want to spruce up your yard, bringing in an arbor, a garden pergola, or adding a trellis feature are all great options. The biggest decision you will most likely make will be artificial materials or hand-crafted natural wood. After that is made, it won't be long until you are enjoying the shade of your beautiful outdoor structure.
Wood Fencing For Beauty Garden
There's just nothing as beautiful as a wooden fence to finish off a wonderful, natural yard. Wood fences have many different cuts, shapes, and sizes and set off your yard as traditionally stunning.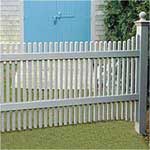 Combining wood fences with a natural wood arbor or pergola can create that picture-perfect yard you have always dreamed of. After installing your fencing choice, plant your favorite plants and blooms, craft a patio or walkway, and viola, a masterfully done garden, or yard of your dreams! The only question is, what are you waiting for?
Backer Rail
Whether replacing a broken backer rail or building a shorter section of fence, these backer rails are the same as those used in the pre-build Picket Fence System sections.
Fence Pickets
Whether you need to replace a few broken pickets or build a shorter section, these pickets, sold in bundles of 12, are the same as those used in the pre-built Picket Fence System sections.
Green Mountain Fence Section
Classic, gently sloping lines make this beautiful wood fence section an easy choice for your yard or garden.
Lattice Fence Section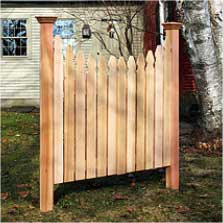 Nothing says fine living and sophistication like lattice fencing. These Lattice Fence Sections really declare your love for beautiful symmetry, which is exactly what these will bring to your yard or garden area. Perfect for scarlet runner beans or moonflowers to meander across, you will love the gorgeous possibilities every year for years to come!
Picket Fence Section
An always-charming, popular style, picket fences imprinted on the American cultural mindset like apple pie. Every yard or garden could benefit from the clean and open lines of this wood fence section.
Read also: