The Garden obelisk gives a sense of height and beauty to every garden. It is ideal for flowers beds and can be placed anywhere to suit the requirement of its owner. In this article, we'll explore some of the various purposes of an Obelisk.
The Garden obelisk, in a significant way, changes the looks of the whole garden. Its mere presence gives a sense of authority and beauty. They are tall and come in a wide variety of shapes and sizes. For example, they may come in a pyramid, cylindrical, or even appear as a square pillar. Also, Obelisk can be made of stone, metal, concrete, plastic, wood, or even bamboo.
You can use garden obelisk to serve a wide variety of purposes. Some of the uses of Obelisk are:
1. Obelisk can be used as the starting point of a path in the garden. It can also be used on the sides of the garden gates, thus highlighting the entrance significantly.
2. One can also place the obelisk in the center of a garden to add glamour and charm. Keeping in the center can be quite a fascinating sight as you can view it from anywhere within the garden.
3. you can also use it to mark the border of a garden and act as the locator for garden benches.
4. It can be used as a decorative structure and can also be used as a foundation to support vertical gardens for plants such as flowering vines, creepers, pole beans, etc.
Obelisk would be the right choice to supplement your thoughts and add beauty and charm to your garden. If you are looking for a chance to beautify your garden, adding an obelisk could be ideal.
Read also: The Best Flowers and Decorations for a Front Yard
The benefit of Garden Obelisks
Beneficial for urban gardeners who want to save space, garden obelisks are ideal for growing vining crops in the vegetable garden. Plant a dozen pole beans around the base of an obelisk and watch the vines twine around it as they reach for the sky.
Grow melons on taller garden obelisks, their perfectly shaped, unblemished fruits will remain well out of the reach of small animals and confuse insect pests in their new vertical location.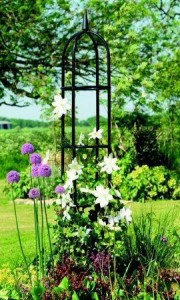 Obelisks can be used to support a climbing rose, bougainvillea, or other perennial flowering vines. Annuals such as morning glories or moonflowers will quickly cover a garden obelisk and contribute their blooms and haunting fragrance at the appropriate time of day. You can use a shorter obelisk in the vegetable garden on which Malabar spinach will happily climb for an entire growing season.
Originally fashioned of stone and used to mark the tombs of Egyptian kings, stone obelisks were characterized by a square column with a four-sided pyramid on top. They were often carved with stories of the kings they represent.
Stone obelisks have morphed into a modern-day outdoor sculpture, known as garden obelisks. They are used as functional and decorative garden structures. Garden obelisks are usually made of metal and can be displayed bare as a sculpture and used to support vining flowers, fruits, vegetables, or ornamentals.
Garden obelisks are usually between five and eight feet high, although some are shorter or taller, while their historical stone counterparts were at least 70 feet high, and some were over 90 feet high.
Whether you choose rustic iron, modern stainless steel, or ornamental copper, a garden obelisk will add function and decorative character to your landscape.
Read also: Different Types of Bird Feeders For Your Garden
Shade-Tolerant Vines for Garden Obelisks
It's not possible in every yard to put garden obelisks in a spot that gets full sun all day long. In those cases, use vines that are shade-tolerant to plant around your garden structures. This vine will happily grow and climb up obelisks, trellises, arbors, or pergolas, creating an element in your garden that is part artsy-sculpture and part plant.
Although many vines grow well in full sun, many are less well-known that will grow well in partial to deep shade. Planted in ideal growing conditions, these vines will quickly cover any freestanding garden structure, like an obelisk or produce a dense living screen along a fence line.
In addition to planting them to scramble up obelisks, fast-growing vines are ideal for blocking an unsightly view or creating privacy along a property line or outdoor living space.
Dutchman's Pipe
Hardy through USDA Zone 4, Dutchman's pipe, known botanically as Aristolochia durior, is a tall, vining plant grown primarily for its heart-shaped, deep green, 6-to 10-inch leaves. It produces mahogany and cream-colored flowers, but they are inconspicuous when they bloom in late spring.
Dutchman's pipe grows up to 30 feet high in partial shade. It requires a strong trellis because it grows rapidly once it becomes established in your garden. Dutchman's pipe withstands pollution well and is rarely bothered by pests or diseases.
Evergreen Smilax
A fast-growing evergreen vine, smilax, or Smilax lanceolate, grows up to 30 feet high under ideal growing conditions. It grows equally well whether planted in sun or shade. A fast-growing vine, it is known for quickly covering its support structure with its lance-shaped, deep green, glossy leaves.
Its flowers bloom from April to July and have a jasmine-like odor. Quarter-inch, blackish-red berries mature in the plant's second year of life. Evergreen smilax is hardy in USDA Hardiness Zones 6 through 8.
Climbing Hydrangea
A deciduous vine growing up to 60 feet high, climbing hydrangea, also known botanically as Decumaria barbara, isn't a true hydrangea at all. Its common name comes from its white flowers in broad, flat clusters, similar to those of hydrangeas.
Climbing hydrangea has aerial roots, which attach them to their support structure. These aerial roots are necessary for the plant to produce flowers. Climbing hydrangeas grow best in full sun to partial shade with rich, moist soil.
These are just a few vining plants suitable for growing on garden obelisks, trellises, arbors, and pergola in partial shade sites.
Read also: How To Making Trellises For Climbing Plants