Whether your landscaping project is large or small, you can usually expect the optimum results by enlisting the services of a professional. Not only will a professional landscape architect have extensive experience, but he will also be able to work with you to make your outdoor dream a reality. On that note, let's talk about some reasons why hiring a professional is the ideal choice.
Access to the Right Tools
One of the main things that set a landscape architect apart from your average person is the types of tools. Since different projects can require many tools and materials, this individual should have everything needed at his disposal to get the job done properly.
For example, larger projects may require tools like power augers, backhoes, and chainsaws that your average do-it-yourselfer might not have access to. He should also have adequately sized vehicles to transport materials such as mulch and soil from a home improvement store to your location.
Understands the Process
A common problem that many inexperienced individuals run into is not properly planning the landscaping process. Since many projects involve strategic planning for good results, it's critical to plot everything out before beginning.
Fortunately, a professional will consider every aspect of a project and complete the necessary steps effectively.
Besides this, he will be able to make any necessary adjustments if a problem arises. This way, the job can get done right the first time, and you shouldn't have to worry about a disaster occurring.
A Professional Landscape Architect Can Save You Money
While hiring a professional requires an initial investment, you will often end up saving money in the long run. This is primarily due to the connections that a professional will have at home improvement stores.
For example, he may be able to get a significant discount on materials that you would normally have to pay full price for. Since he will have his own tools, you don't have to worry about the costs associated with renting expensive tools for a project.
In fact, renting types of machinery like backhoes and tractors can really add up when using them for several days. Along with this, you won't have to deal with extra costs in case something goes wrong. Instead, you can complete the job quickly without encountering unexpected costs along the way.
Get Sufficient Manpower
Due to the extensive nature of many landscaping projects, it's critical to have enough workforce to handle the job. If you're attempting to do the landscaping yourself, it's highly possible that you won't have enough people to help out. Luckily, a professional will have access to additional workers if needed. This way, everything can be done safely and on time.
Living Environs landscape architects have a single goal: to create a beautiful oasis for your home. Be as proud of your outdoor areas as you are of your interior.
Creating a Perfect Garden
When designing your first garden, there's plenty to think of.
You will want to know which plants will work about your specific design, which plants will actually grow in your garden, and how you will be able to maintain them during the varying seasons.
However, while your mind is on plants, it can be all too easy to forget about everything else in your garden, including the patio furniture and water features.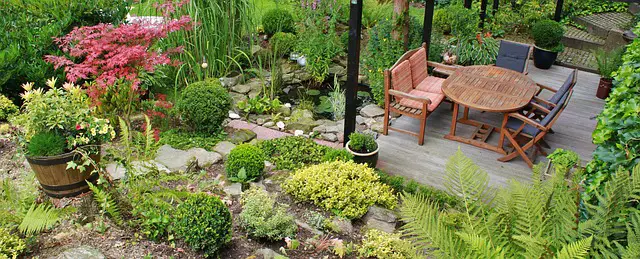 You want your garden to be a good one as if it is a weed-laden mess; it could put you off gardening for life.
Personalizing Your Garden
It's often the small finishing touches that determine whether a garden looks good, and choosing the right furniture for your garden could help to make all the difference.
The whole point of designing and landscaping your garden by yourself or with the help of your family is that you want to make it a place to enjoy yourself during the spring and summer and look attractive all year round.
Garden Furniture
The first item of garden furniture that you will need is somewhere to sit.
In the past, garden furniture items included uncomfortable and unstable plastic chairs, flimsy tables, and wicker benches which came undone over time.
Fortunately, the quality and range of garden furniture on offer have improved significantly nowadays, as have the different types of material used in its construction. Chairs, sofas, and benches are all sufficiently stable and won't need repairing or throwing away after one season of use.
Patio Furniture
If you have a patio, the best option would be to get a full patio furniture set.
Buying a set of chairs and a table is ideal if you're having an evening meal outdoors or holding a family barbecue.
Patio furniture nowadays is made with sturdy materials such as steel and aluminum, which can cope with wet and cold weather if left outside during autumn and winter.
Relaxing Sofas
For somewhere to lounge whilst reading a book, a sofa or three-piece suite made from rattan or wicker could be the answer.
Having a few drinks on the front lawn with friends is just one of the things you could use a three-piece rattan suite for.
Whatever you choose, you need to make sure that there's enough room for it all to fit and that it complements the design of your garden perfectly.
5 Awesome Items for Your Garden
If you want your garden to stand out from the crowd, there are many ways to add a unique touch to your garden area. While most people will try to add interest with fabulous and funky flower beds, try being really alternative and go for some unusual items instead.
Here are five great ideas:
1. The helicopter swing seat
This gorgeous garden seat will be the envy of all your friends, and it is the perfect place to relax and admire your garden. It has the kind of designer style you would expect to see in a five-star hotel on a tropical island and is the perfect place to chill out on a bright and sunny afternoon.
It includes a sunshade on the top for when things get a little too hot, and the seat is designed with the very best comfort in mind.
2. The Excelsior 6 burner gas barbecue
No garden is complete without a barbecue, and this hooded model is just awesome. It will look stunning in your garden and is the perfect excuse to throw a barbecue for your family and friends – even if it is just because you want to show this beauty off.
It has a huge cooking space of 78cm x 42cm, so there is plenty of room for burgers and sausages for everyone. There's even a handy shelf on the side where the chef can store a glass of wine or beer. Perfect! And don't worry about the size of this barbecue, even though it is large, it is very easy to move because it comes with wheels.
3. Giant chess
This giant chess set will add a quirky and fun touch to a garden, and children and adults alike will love to play with it. It is sure to be a hit with Alice In Wonderland fans, too, as they can replicate the giant game Alice finds herself in during her adventures.
This set features a large board and individual pieces that can fill with pebbles or sand to weigh them down. If you want to make this board more permanent, you could lay your own using paving slabs in black and white.

4. Guitar plant holder
Musicians will love this personal touch. Just grab an old wooden acoustic guitar and fill it with plants. If you don't have an old guitar lying around, then take a look in charity shops and bargain stores to pick up a cheap one – it will probably still be cheaper than a fancy flower pot. When choosing plants to place in the guitar, go for trailing plants such as ivy for a fascinating look.

5. Vintage birdbath
Anyone who loves old-fashioned and nostalgic styles will love this decorative birdbath. It will add a cute touch to a patio or pebbled area and attract birds to the garden. The ornate and intricate design makes this birdbath a beautiful and eye-catching feature.
7 Garden Statements to Make Your Neighbours Envy!
People say that the grass is always greener on the other side, but if you want to make sure that it's your garden that's the envy of the neighborhood, then add one of these garden statements!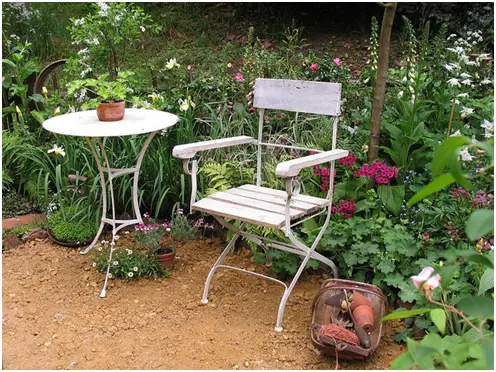 Image by crinklecrankle.com
1. Water wheel
Water wheels aren't just for mills; they could be the latest addition to your garden pond.
If you live by a river, you could even generate your own electricity!
But while a 4ft high wheel might only make a slight impression, if you want to make more of a – get an 8ft tall one instead!
2. Firepit
Garden heaters are a thing of the past. This year it's all about fire pits!
There's nothing better than getting cozy around a warm fire, and now you have that experience outside too!
Fire pits are great for bringing people together, and you can even invite your neighbors around for a closer look!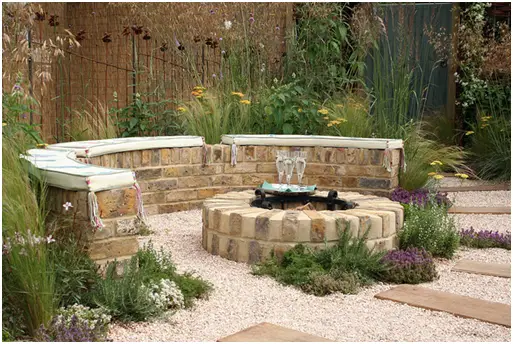 Image by Sarah
3. Orangery
Conservatories are so 2011. To really impress your neighbors, get an orangery instead!
Orangeries have been around since the 16th century but have experienced a recent surge in popularity. While conservatories are primarily made up of glass, orangeries are often made up of brick or wood – acting more like an extension of your home.
Orangeries were historically used as a place to grow fruit and vegetables and a symbol of success!
Your neighbors will be impressed, and they'll be sure to envy your homemade orange juice!
4. Birdhouse
You may have had birdhouses in the past, but it's time to think bigger and better if you want to get noticed!
Instead of a birdhouse, get a bird villa, a bird mansion, a bird chalet!
If you want something more traditional, then go for a dovecote.
You're helping your local wildlife and making your garden look wonderful!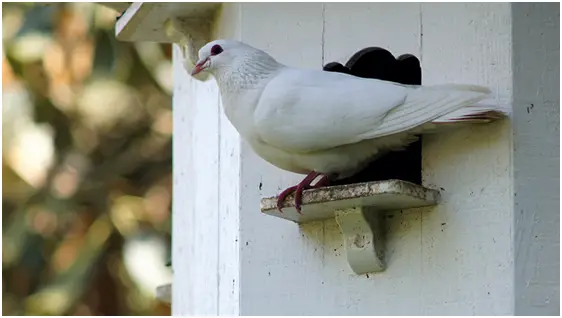 Image by Xlibber
5. Props
If your garden looks a bit sparse, then liven it up with a film or TV prop!
If you want something subtle (and practical), add a lamppost to your garden; you've got a beautiful garden light and Narnia in your backyard!
If you want something a bit more outlandish, then buy an old phone box and paint it blue; Doctor Who's just landed!
With props, you can let your imagination run riot!
6. Sculptures and Topiary
You can go in any direction you want with this statement; you may want to buy a marble cherub or a plastic grasshopper – it's up to you.
Topiary is similar. You can create classic or novelty designs. Just make sure that you get the experts in for this one, as it's unlikely you'll create a masterpiece on your first go!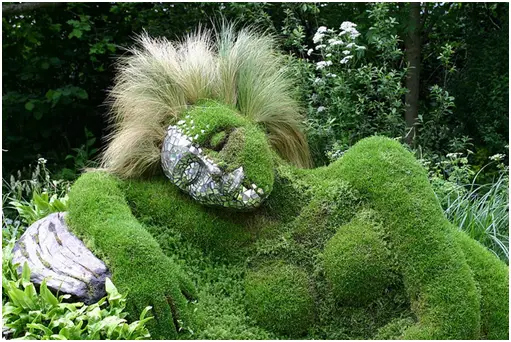 Image by Crinkle-crankle
7. Miniature Railway
I'm not talking about setting up a model railway system in your garden; I'm talking about installing a life-size one!
You will need to have a fairly big garden to pursue this option, but it's bound to give children a lot of hours of fun –and a few adults as well!
Only a handful of people have their own railways so far, so this statement will truly put your garden on the map!
Choosing a garden statement is always going to largely depend on taste and budget and obviously the size of your garden. Just make sure not to add too many – you don't want it to end up looking tacky!
Do you have any of these statements in your garden?
Did you find this post useful? Would you like to get back to it later? Save THIS PIN below to your gardening board on Pinterest!