Loading ....
Picking your Site
Picking a lot/ home with the basic character you want, and incorporating as many existing features as appropriate, conserves energy, money and native habitat. Native plants take a long time to reach maturity, so care should be taken in a clearing. If in doubt leave it. It can always be removed later.
Soil Treatment
Your soil will retain the best structure if site work is done when dry. Shave off the topsoil and replace on the surface once any grading changes have been completed.
To build organic matter and available nutrients economically, plant tall clovers (crimson clover is great) and vetch for one or more years, tilling under each year in winter and re-seeding. If adding organic matter and fertilizer, till this in well with the existing soil so roots will penetrate into native soil and be more drought tolerant. Use organic slow-release fertilizer to avoid burning worms and soil organisms, both vital to healthy soil, and providing bird food.
Mulching yearly with 1″-4″ of organic matter (chips, bark, sawdust, compost) protects your soil from drying out and overheating in summer, and from frost, in winter. It provides food for worms and microorganisms as it decays, which turn it into rich black topsoil over time. As an added benefit mulching reduces water needs by approximately 30% and keeps over 80% of new weeds from germinating.
Pressure Treated Wood
The copper chromate arsenic used to create much of our treated lumber is in a water-soluble form, which can potentially be absorbed by plants. Once arsenic is absorbed into the body it stays there permanently. Using raised beds for edibles made out of pressure-treated wood compounds the problem. I have used fresh cut or fallen trees with a 6″ to 12″ diameter to build log cabin style beds, one or more layers high. It's attractive and safe.
Best for Birds
Although bird feeders provide needed winter food they are also easy to transfer places for diseases. Better to plant a variety of plants throughout the garden to provide food year-round, particularly in winter, when they need it most. Birds need both dense shrubbery and taller trees for nests. In short, feeders do not replace the need for plants.
Hardscape Materials
It often takes no more time and money to build with stone, broken concrete or cement, than it does with wood. The former, however, is much more durable, and less maintenance. Broken concrete has the added benefit of being a waste product, while local granite fieldstone minimizes energy spent on transportation. There is also the aspect of preserving trees.
In situations such as steps, wood can also be unsafe, developing a slippery slime in time. On the other hand, if clearing, why not make benches, raised beds, borders, and arbors with the byproduct, rather than burning?
Plants
Planting plants which require little care and do well in native site conditions, minimize effort, cost, and resources. Many hardies, low maintenance, plants exist which are very attractive. Be aware that even the most drought tolerant plants need ample water for at least the first summer after planting.
Below are a few of my favorites:
Rugosa Rose
By Gene Wilburn
These are low maintenance if containment is not an issue (they spread). Blooming all summer long, they are fragrant and provide great cover for birds. Their large hips in late fall are a treat for both birds and humans. Deer will graze but not enough to threaten. Very drought tolerant and great for slope retention. Although not native to our coast, they are a Pacific coast native in Asia.
Evergreen Huckleberry
Normally up to 5′ high, it has glossy, small, evergreen leaves, with colorful new growth and berries which are great for birds and pancakes!
Oregon Grape
This native can be seen in bloom around May. It comes in an approx. 5′ tall shrub form, and a 12″ groundcover. Both have beautiful yellow flowers, followed by sour dark blueberries, which hang in clusters, providing bird food.
Salal
This evergreen is a great dense groundcover in almost any condition. It has gorgeous new growth, and subtle white flowers, followed by edible purple berries. Its roots form a tangled mat of living "rebar," which is great for bank and steep slope retention.
There are also many tough, non-native, ornamentals, which can enhance a native setting.
How To Save On Energy Expenses With Landscaping
Homeowners are always looking for ways to reduce their home's energy consumption. Did you know you can actually reduce the amount of energy your home uses by making some strategic landscaping decisions?
Trees Reduce Energy Consumption
You probably have systems installed in your home to help keep it cool during the hot weather months. Air conditioners can use a lot of energy to operate during the hotter months of summer. Shade trees planted in close proximity to your home will work to keep the interior rooms cool. The inside of a house heats up as the rays of the sun beat down upon it. Trees that produce wide leaves create a cover of foliage which acts as a barrier against the harsh rays of the sun.
Trees can also help shelter a house from the cold winds of winter. If your home is located in a region that experiences change seasonal in temperature, you can create an insulation barrier by planting Evergreen trees close to the exterior walls of your house. The branches and needles of this tree create a packed, dense shield against the cold, which can reduce the amount of energy your home uses to heat the interior rooms.
Spruce Up Hard Surface Areas
Very few people realize the hard surfaces in their yards actually absorb the hot and cold temperatures. If you have an exterior driveway made of asphalt, you probably know how hot this surface gets during the summer. Adding small shrubs or other types of foliage along the sides of the driveway will help disperse the heat collected by the asphalt. The heat is dispersed or cooled through the release of water the plant roots give off.
Plants can also be placed around patios to provide the same type of cooling effect during the summer. Planting grass around patio areas or around sidewalks and outdoor gazebos will also help keep the surfaces of these areas cooler. When the ground area around your home is cooler, it works toward keeping the inside temperatures cooler as well.
When choosing plants for your yard, it is helpful to select items which are native to the region. These plants will be better suited to living with the amount of rainfall in the area so you will not need to water them as often. Planting large hedges can also reduce the amount of wind your house receives in the winter.
Energy-Efficient Lights
There are a number of lights designed for outdoor use which operate on solar power. Solar lights can be placed over door entrances to provide illumination in the evenings. These lights are available in ceiling and wall sconce styles with solar collector cells located inside the bases.
Solar lights can also be used to light up your driveway or front walk. There are some decorative lantern styles available with posts that can be inserted into your lawn. Your driveway can be illuminated with a set of ground lights wired to a solar panel.
If you and your family enjoy spending time outside in the evenings, there are useful solar lights designed especially for outdoor decks. These include lights you can place on top of deck posts as well as lights which can be placed into the deck flooring. To reduce the energy your home uses during the holiday seasons, you can also purchase solar powered string light sets for decorating the outside of your home.
Additional energy-saving tips include composting leaves and grass clippings for use as garden mulch and collecting rainwater for outdoor watering. A little bit of outdoor planning can make a big difference in the amount of energy your home consumes during the course of a year.
The Benefits of Recycling Grass Clippings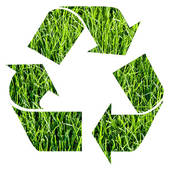 Traditionally, grass clippings have been bagged, thrown away, and sent to a landfill, where they make up 20% of the total refuse there. What's sad is that they are 100% recyclable, and are much more beneficial to your lawn when they are left on the lawn.
Because grass clippings are 75% to 85% water, they break down quickly and don't, as some people believe, contribute to a thatch problem. As the clippings break down, they stimulate microorganism and earthworm activity.
They also replenish the various nutrients that lawns need to maintain steady growth, especially nitrogen. Studies have shown that a lawn whose grass clippings are left to decompose need 25% less of the annual fertilizer than other lawns need. This will save you both time and money.
Starting a grass-cycling program isn't hard. It just takes good lawn maintenance practices. Grass clippings need to be small enough so that they can fall into the lawn easily, reach the soil, and break down at a reasonable rate. To keep your grass clippings small, you need to prevent grass overgrowth.
Be careful not to over-fertilize or over water your lawn, and mow the grass frequently to keep it at its optimal height, without removing more than 1/3 of the leaf blade. Each type of grass seed has its own optimal height, listed below:
Buffalograss: 2 ½"
Bermudagrass: ½ to 2"
Kentucky bluegrass: 2"
Perennial ryegrass: 1 ½ to 2"
Tall fescue: 2 to 3"
Zoysiagrass: ½ to 1"
When your lawn is in its growing season, you will have to mow more frequently in order to keep the grass clippings small. If you are not able to keep up with frequent mowing, or if several rainy days interrupt your normal schedule, there are a few things you can do with larger grass clippings.
One option is to use a mulching mower. Mulching mowers will cut clippings into even smaller clippings so that they can decompose easily. Another option is to remove the larger clippings from the lawn and compost them. You can also use them as mulch for gardens or surrounding trees.
Mulch is extremely beneficial to these areas. It helps reduce weeds, regulates soil temperature, retains moisture, and limits soil erosion. Make sure that you do not use grass clippings that have come in contact with herbicides within the past two weeks. Let those break down on the lawn, or bag them if absolutely necessary.
Leaving grass clippings on your lawn is a natural and efficient way to keep your lawn green, healthy, and growing.
Breathtaking Home Improvements with Landscaping Supplies
Everyone desires to have a nice and beautiful home. For this reason, people go a long way in improving both the exterior and interior appearance of their home. When it comes to making home improvements, the options to choose from are just limitless.
While most people will give more attention to the interior look, they tend to forget that the exterior look counts as well. One needs to make sure that the lawns, the pavements as well as driveways look amazing.
From the lists, making use of the landscaping supplies is arguably one of the best ways to add décor to the exterior your home. This is for the reason that, one has a wide array of supplies to choose from.
Some of the most common include the Indian sandstones, Scottish pebbles to garden paving among many others. With the options, you have all the ultimate solutions to exterior home improvement. All these are offered at relatively low prices that are crafted to suit homeowners from various social classes.
From such supplies; one can get hold of natural stone products that will help add a touch of sophistication to the pavements leading to the house entrance.
Most importantly, all these products are made from high-quality materials that are bound to last for a long time. Some of these products include the river pebbles that are a preferred choice by most homeowners.
However, the homeowners are expected to maintain them appropriately so that they can go a long way. The better part is that they do not break down over time like other common pebbles in the markets. They are available in an assortment of sizes to suit various preferences.
The sandstones are also a good choice given that; they are quite attractive with their natural beauty. The subtle variations when colors are in question, only makes them the best choice for paving slabs applications as well as garden paving.
If sandstones are not your kind of thing, the limestone paving could be a good alternative. Limestone paving possesses hard wearing and light texture properties that make it perfect for applications where flat surfaces are much needed.
The colors to choose from are quite many not to forget that the quality finish is nothing short of amazing. Other than just decorating the pavements, the lighting supplies will greatly improve on the landscape design of your home.
For anyone who has intentions of creating a dramatic appearance in the home, then up-lighting trees and the arbors with such lighting supplies is arguably the best way to go.
From the tree mount hardware kits to the landscape light wire and low voltage lights for planting the beds, one will find some that will perfectly meet their specific needs.
The most common of these lights include the mushroom and the Savanna low voltage landscape lights that greatly help one spread some soft lighting to the walkways and the planting beds. These kinds of lights are also perfect for driveways around the home.
As a matter of fact, the winter period is the best time to buy landscaping supplies. This is based on the fact that landscaping and paving companies have recorded poor sales and therefore tend to give various offers such as slashing the prices to woo more customers.
For you to make considerable savings, it makes more sense if you took advantage of the offers that are given out on such periods. Landscaping supplies coupled with some home decorating tips will always see to it that every visitor to your home will be perplexed in amazement whenever they visit your home.
Some of the most important things to have in mind when buying such supplies include the reputation of the dealer you are buying them from. One also needs to keep in mind their budget; they hence need to make sure that they shop around for them to get the supplies at the least possible prices.
Read also: Saving Water With the Right Landscape Watering Systems