The Toro Company
The Toro Company is an American manufacturer of turf maintenance equipment (lawnmowers), snow removal equipment (snow blowers), water-saving irrigation systems for golf courses, sports fields, public green spaces, commercial and residential lawns, and agricultural fields. The company is based in Bloomington, Minnesota.
It is a famous global company that provides cutting-edge landscape lawn and turf maintenance equipment and precision irrigation solutions. Toro helps customers taking care of their water irrigation issues as well by providing top-notch Toro irrigation products. The Toro company value very much the trust customers place in their products and people.
Toro irrigation
One of the well-known products offered by Toro would be the Toro irrigation system. Toro irrigation consists of various types to cater to different customer needs. You can have the Toro irrigation: Do-It-Yourself, professional residential, golf course professionals, professional contractors, sports fields & municipalities, and agriculture.
Toro Dealers are Rewarding
The Toro Company is creating a Master Service Dealer designation to reward Toro dealers with training for their hiring staff. Toro dealers who had enough industry-certified technicians and met the requirements of Toro's Master Service Dealer Toro will reward them handsomely. As a result, more and more companies are joining Toro to become their authorized dealers that offer customer quality products and services that delighting the customers.
Among the most famous Toro dealers is Ace Hardware which keeps a high selling margin every year by selling Toro products. If you wish to buy a Toro product such as a Toro lawnmower, you may visit the Ace Hardware store close to your residing area, and you will get the stuff you want. Otherwise, if you find it rather hard to get the item you want nearby where you stay, you may source online.
One of the most famous online Toro dealers would be Amazon.com. Every day, many customers visit the site to buy Toro products, and you will expect to get a big discount for certain items you are looking for.
Toro and Simplicity Lawnmower Parts
Toro can say to be one of the most trustworthy and genuine companies that you can rely on for the garden watering systems and lawn mowing types of equipment. Customers can purchase any Toro mower parts through virtually any Toro dealer or source for any mower parts from the hardware warehouse, which happens to be devoted to Toro company.
Like many other products, lawn mower parts available from Toro are separated into several subcategories, such as riding mowers or walk-behind. These types of subcategories are basically divided into the following 3 categories:
Handle assembly for handle parts, also parts like belts and cables.
Engine assembly for gas-powered lawnmowers.
Home assembly for residential parts, including casing or wheels.
Because Toro lawn mower company provides well-performing lawn mowing equipment, many customers are relish for the brand.
However, Toro would not be the most affordable lawnmower for homeowners, as getting one can be quite expensive. Ease-of-use mower parts enable customers to repair their lawnmowers at less expensive costs.
Thus, most lawn mowers, parts, and irrigation systems focus on simplicity to offer the best quality for customers who have enough experience to replace their own parts for lawnmowers and irrigation systems.
Why Most Golf Courses Choose Toro Irrigation Systems?
Toro has been creating irrigation solutions and the Toro sprinkler valves since 1914, transforming the way that residential and professional gardeners care for their lawns and gardens. As a global leader in irrigation technology and equipment for sports turf care, Toro has become a household name around the globe.
In fact, many of the turfs that we see on the golf course can attribute their lush greenness to Toro supplies and maintenance equipment.
Today water conservation has become a central issue. Both professional and residential clients have begun their search for solutions that address the urgency of this issue.
By maintaining its leadership in the market, Toro has stepped up its game to present more ecologically friendly solutions that conserve water and promote environmental awareness. Toro irrigation solutions are developed to irrigate smarter and not harder.
The Turf Guard Soil Monitoring System, developed by Toro, uses sensor technology to collect data on soil moisture levels, salinity levels, and temperature to a web-based interface so that you can adjust irrigation cycles to compensate for the fluctuating soil conditions.
Toro Irrigation Systems With T7 Rotor
The Toro T7 Rotor incorporates a smart nozzle design that propels the water to the farthest part of a field while maintaining even uniform coverage. You can tweak the produced arc pattern from seven to thirty degrees to negotiate wind speed and avoid obstacles. This feature prevents the watering of non-essential areas and ultimately results in less water waste.
Innovative Toro Irrigation Systems
Another innovation by Toro to promote water conservation is the Toro Sentinel Water Management system. This system is linked to a web interface monitored through a centralized computer station and links with weather data to automatically adjust irrigation cycles based on fluctuations in temperature, precipitation patterns, and cold fronts.
The advantage of this system, which has proven very popular, especially to lawn and turf care professionals, is the potential for both water and energy conservation as the system will not engage if there is rain and works on a timer to automatically engage at the most optimal time of the day when there is less chance of water evaporation.
Toro irrigation systems technology has taken the guesswork out of lawn and turf care. This is why more professional lawn care specialists choose their irrigation solutions. The technologically advanced automated systems allow cycles to be programmed and controlled from a single computer located in a centralized control station.
No need to manually patrol the turf grounds to check if there is sufficient coverage. The convenience, propensity for easy customization, and cost-effectiveness have won a place for Toro irrigation systems in the hearts of many turf courses.
570 Fixed Toro Sprinkler Head is Best to Reach Lawn Area
Do you have a lawn that is small or has a non-traditional design with several obstacles? You may think that it is impossible to find a solution that will not only provide the best coverage for your uniquely shaped lawn area but one that is also environmentally sound.
The versatility offered by the Toro sprinkler head collection is legendary as it offers something for every circumstance, even those hard-to-reach areas and ones that are challenged because of various lawn art or obstacles.
Without having to spend a lot of money for several different units to be placed strategically, you can purchase an innovative Toro sprinkler head that will efficiently cover your area while preventing water waste.
570 Toro Sprinkler Head
The 570 fixed pop-up sprinkler head by Toro is the perfect tool for those hard-to-reach lawn areas. It's design and ability to emit a misting spray provide optimal coverage while saving water. It works with almost any existing irrigation system and is very simple to set up following the detailed and comprehensive manufacturer's instructions.
The 570 also compensates for varying water pressure conditions, including sloping pipeline setups and extremely long lines. Now, let's discuss some of the features and benefits of the 570 Toro sprinkler head.
Features of Toro Sprinkler Head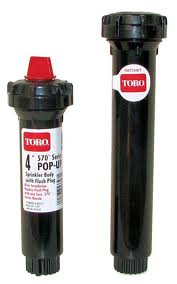 One of the most appealing features of the 570 sprinkler head is its zero flush seal. This seal works to prevent accidental flushing of the line upon pop-up and allows for installing more sprinklers using just one line.
For those that are environmentally conscious and wish to use a system that conserves water, some model variations include a patented in-riser pressure regulator that maximizes the efficiency of the irrigation cycle while preventing water waste. The versatility in design offered by the 570 is quite impressive.
For example, 108 varieties of nozzles work with the sprinkler head, providing versatility in water distribution, spraying patterns, and timing sessions. The sprinkler head also utilizes smart technology to compensate low-pressure water pumps and systems based on good reserves.
Not only is the 570 Toro sprinkler head advanced and environmentally sound, but it also employs special retraction technology that clears away any debris that it might catch during operation to facilitate a smooth pop-down function. Its durable design means that there will be no need to replace the heads for years to come, and it resists cold and heat with ease.
If you're looking for a sprinkler head that will efficiently irrigate your unique design lawn space, then the 570 Toro sprinkler head is the right choice for you.
The Toro ECxtra 6-Zone Sprinkler Timer
Toro has long been regarded as one of the best names in the business regarding lawn care. Their automatic sprinkler timers continue to add to their legacy, and the Toro ECxtra 6-Zone Sprinkler Timer is regularly found to be one of the best Toro sprinkler timers on the market. It is reasonably priced and well-reviewed just about everywhere you look.
This Toro sprinkler timer is a straightforward timer to use and program. It gives you your choice of 4 start times and 3 programs to use. The system also features a RainSensor port and will work with just about any irrigation system on the market. Whether you are looking for a replacement unit or putting one together, this is a unit that you can purchase with confidence.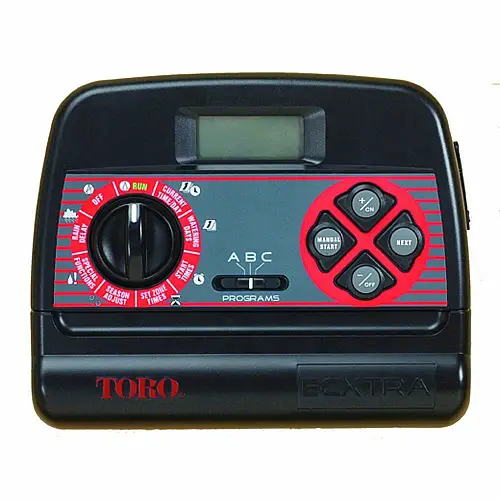 One of the main reasons this unit is so popular is the ease of programming and the flexibility of the programming itself. You can program this unit for various zones, days of the week, and times of the day. When dealing with large areas with different types of greenery, this feature is a must-have for any casual or serious landscaper alike.
Featured With Rain Sensor
Another great feature of this Toro sprinkler time is the RainSensor. The sensor will delay watering anywhere from 1-7 days. You will not have to go through the trouble of changing the existing programming either, as the timer will automatically adjust the watering schedule for the delay caused by the natural rainfall.
Something else featured with this unit is the ability to program the device and set it up via your home computer. You won't have to fiddle around with smaller controls on the unit itself as you can do everything directly from your computer. This is a great feature and having it on such an affordable unit is unheard of.
Go Through The Manual Before Installing
If there is any difficulty operating the unit, it would seem that people tend to just set it up without actually reading the programming instructions. Programming will not be an issue if you take the time to read the manual and set everything up properly.
If you don't understand something, it would best serve you to contact their customer support department instead of hooking the unit up and trying to force something. That may lead to unnecessary frustration.
With the reputation of Toro, it is always hard to discount them out of any lawn improvement equipment. Their variety and quality have a long-standing reputation. As with anything, though, what one person likes does not necessarily mean that you will like it as well.
That being the case, make sure you check with your purveyor for their return policies to ensure that if you are not happy with it for any reason, you will be able to return it for something else. This unit is readily available and can usually be found for a very affordable price.
Read also.