Garden hose storage need not vex you anymore. There are a host of attractive options that allow you to put away the hose and no one will even know about it. For years this vital gardening equipment has played an important role in the lives of gardeners. Without having it to be used to watering the huge lawns, trees and plants located the far corners of the home garden was a time consuming task involving hours of trekking with buckets of water.But, with a hose this task is effortless and painless.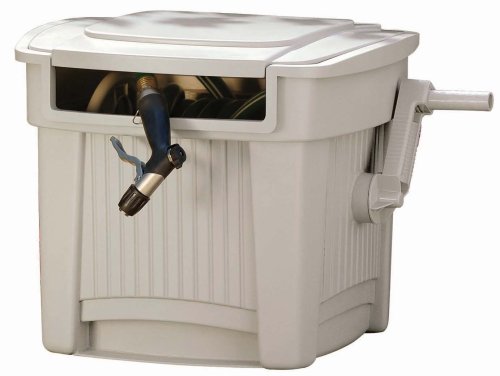 But, after you have finished watering what to do with it? The long, flexible piping presents a problem of storage. Manufacturers recognizing the problem have come up with a variety of garden storage options like garden hose holders, pots, cabinets, wheelbarrows, boxes, wall mounted reels, reels that rest on the floor and many more such solutions are available to put the hose while not in use.
One more advantage of using these garden hose storage options is that it retains shape and remains tangle free for the next use. Earlier, with no reel the garden hose especially the flexible ones and the coiled garden hose would become a tangled mess that would needs several minutes for untangling before use.
A Few Garden Hose Storage Options:
Station: An attractive hose station that is fixed near the tap. The hose can simply be rolled and hung on the station when watering is done.
Free Standing Mount: This an another option that stays on the ground. You can buy attractive mounts in cast iron, filigree, plastic or metallic ones and these come with the garden hose reel.
Wall Mounted: Several of the free standing garden hose storage answers also come with wall-mounted options in similar attractive designs.
Cart: The cart can be stationery one or come with wheels. With wheels you can move the hose around if you need to with ease.
Pot: This is another attractive option where the hose goes inside a pot with reel with opening for the hose to come out and go in. The pot comes with a lid can can pass off as an attractive garden decor item.
Retractable Mount: This is automated option where the push of the button rewinds the hose after use. Winding and rewinding it can be something that not all gardeners enjoy doing particularly after a hard day's labor in the garden. With push button technology the hose goes into its holder with no effort.
Automatic Vs Manual: With the arrival of automatic winding hose reel the manual way of garden hose storage does not seem that attractive. But, before you buy the automatic version be sure to ask people who have used the contraption about how useful it is and whether it is as hassle free as claimed. Some automatic hose reel designs may not work as advertised. So, review several designs before buying one that is best for your needs.