Garden hose storage need not vex you anymore. Many attractive options allow you to put away the hose, and no one will even know about it. For years this vital gardening equipment has played an important role in the lives of gardeners.
Without having it to be used to watering the huge lawns, trees, and plants located in the far corners of the home garden was a time-consuming task involving hours of trekking with buckets of water. But, with a hose, this task is effortless and painless.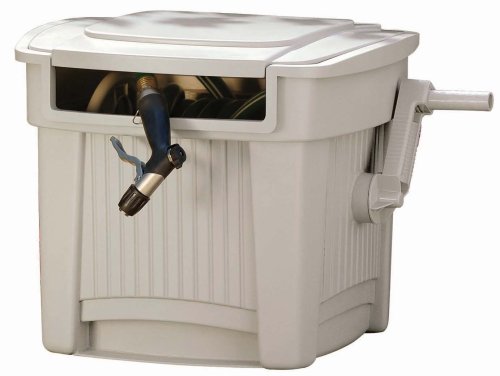 But, after you have finished watering, what to do with it? The long, flexible piping presents a problem of storage. Manufacturers recognizing the problem have come up with a variety of garden storage options like garden hose holders, pots, cabinets, wheelbarrows, boxes, wall-mounted reels, reels that rest on the floor, and many more solutions are available to put the hose while not in use.
One more advantage of using these garden hose storage options is that it retains shape and remains tangle-free for the next use. Earlier, with no reel, the garden hose, especially the flexible ones, and the coiled garden hose would become a tangled mess that would need several minutes for untangling before use.
A Few Garden Hose Storage Options:
Station: An attractive hose station that is fixed near the tap. The hose can be rolled and hung on the station when watering is done.
Free Standing Mount: This is another option that stays on the ground. You can buy attractive mounts in cast iron, filigree, plastic, or metallic ones, and these come with the garden hose reel.
Wall Mounted: Several free-standing garden hose storage answers also come with wall-mounted options in similar attractive designs.
Cart: The cart can be stationary or come with wheels. With wheels, you can move the hose around if you need to with ease.
Pot: This is another attractive option where the hose goes inside a pot with a reel with the opening for the hose to come out and go in. The pot comes with a lid that can pass off as an attractive garden decor item.
Retractable Mount: This is an automated option where the push of the button rewinds the hose after use. Winding and rewinding it can be something that not all gardeners enjoy doing, particularly after a hard day's labor in the garden. With push-button technology, the hose goes into its holder with no effort.
Automatic Vs. Manual: With the arrival of automatic winding hose reel, the manual way of garden hose storage does not seem that attractive. But, before you buy the automatic version, be sure to ask people who have used the contraption about how useful it is and whether it is as hassle-free as claimed. Some automatic hose reel designs may not work as advertised. So, review several designs before buying one that is best for your needs.
Suncast PW100 Power wind Automatic Rewind Garden Hose Reel
Suncast PW100 Power wind is an automated 100 feet long hose. Hence it is an efficient and durable vinyl hose. Many users tend to buy the same hose after the first one. It has got many distinct features when comparing to other hoses.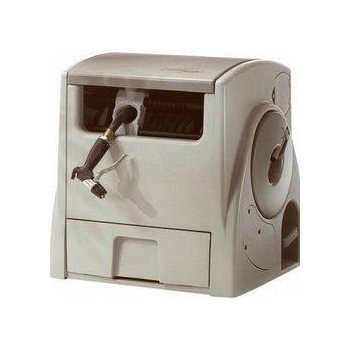 Are you bored with your old manual hose? Is it difficult to roll back your hose after using it?
Here is the solution. Using this automated 100ft hose, you will be able to avoid all the difficulties. It will rewind your hose automatically. It sounds good. So why are you waiting for another hose? It is the best time to try out this amazing product. It comes with many new features.
Features and specification
Durable 100 feet hose
It is too long when comparing to the other hoses. You can easily reach a far distance. This strong is made of vinyl. Vinyl is a kind of plastic. Many consumers have been using this amazing hose for many years without a single damage.
Automatic hose-back reel
When talking about this amazing product, we can see some significant features in it. In the past, we had to roll back our hose and store it manually. But now you can use this automated 100ft hose easily. After finishing your job, you have to press the foot paddle built into the machine.
Then your hose disappears quickly. See how it is easy to handle. But remember that you have to charge the battery to use this automatic rollback feature. Otherwise, you have to roll back the hose using the backup crank manually.
Removable and rechargeable battery
It is easy to remove the rechargeable battery from the machine and recharge it. You can plug it into your house power line and recharge it. There is a two-color indicator light. When the battery is charging, I will indicate a red light. After finishing the charging process, it will indicate a green light.
Use the user manual coming with this product for more information. It is highly recommended to keep your battery charged to use an automatic roll-back function. It will take about 30 seconds to back up your 100ft hose.
Elegant style and construction
This amazing 100ft hose is covered with great plastic and metal housing. You can place the standalone part at the most convenient place (near the tap). It is easy to move this machine anywhere. The housing is weather resistant. You can use it on a rainy day or a sunny day. No harm to your amazing hose. It's durable and strong.
Now you don't need to keep your gardening gear with you. You will never forget these things when you go to the garden. There is a built-in storage bin in Suncast PW100 Power wind. It is too simple to keep all your gardening gear inside the storage bin. It will save you time and effort. Own this amazing hose today!!!
Specification
Manufacture – Suncast
Manufacturer Part Number – PW100
Width – 23.5 inches
Height – 32.25 inches
Weight – 27 pounds
Pros
You can handle this cool 100ft hose by spending less energy.
A battery-powered motor and foot pedal will help you to back up your hose.
It is easy to store all your gardening gear in the storage bin.
You can place the standalone part at the most convenient place and use your hose from a far distance.
Indicator lights on the removable battery will alert you about the current charging status.
The hose is made with vinyl. Vinyl is a kind of plastic. So you can use the hose for many years without having any difficulty.
Cons
You will have to back up the hose manually when there is no power in the battery.
Suncast PW100 Power wind is a great hose that is 100ft long. It is designed for users who like to keep their hands clean and water their garden, spending less strength.
After using the hose, it will roll back automatically. No need to bother with anything when using this hose. It will provide enough water pressure. Try out this amazing product today. You will see how interesting this is.
Recommend to your friends. They will also fall in love with this elegant hose. It will never consider any problem. Only it will provide a good service for you. Buy it today and make it easy to water your flowers tomorrow!!!
Read also:
Elegant Looking Suncast Deck Box