The most pleasing color for the eyes is the color green; however, that is not the reason people indulge in lawns. Lawns are now a habitual feature of most gardens, landscape areas, and homes around the world sport an immaculate lawn in front.
Mix to Accomodate Different Climates
Depending on the climatic conditions, different kinds of grass are grown; sometimes it is wise to mix two kinds of grass – one for colder climates and one for warmer climates. This results in a lawn which is always alive and growing. Once the grass has been decided upon, adequate care and attention will ensure that the lawn remains fertile. Maintaining a green turf requires a steady irrigation system, along with regular weeding, pest eradication and regular lawn mowing.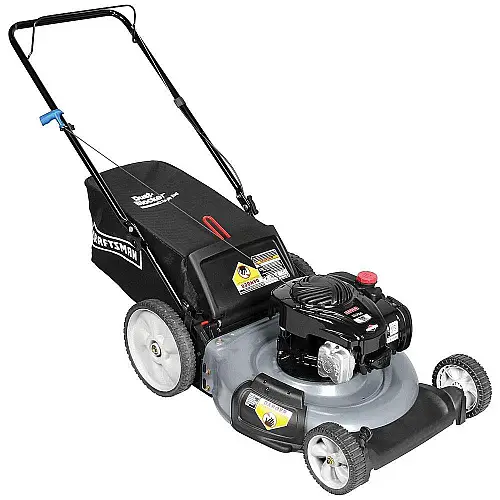 But lawn is grass and grass does not necessarily follow any rules in its growth pattern. It grows carelessly and abundantly if it is supplied with adequate water, sunlight and good soil. The result is a turf which looks like it is covered with mini, green hillocks, but that's not the way a lawn is supposed to look. That's why people buy lawn mowers. However, there was a time long ago, when lawn mowing was a labor intensive activity, with people actually shearing and scything it. Also, sheep and cows were let loose to graze and trim the grass.
It was in the Middle Ages that lawns really became popular and could be differentiated from pasture fields. During the Elizabethan times, lawns began to establish their rightful places in gardens and residences along, and with it, lawn mowing was refined to a work of art.
The Different Types of Lawn Mowers Available in the Market Are:
The Rotary Lawn Mower
With a horizontally placed rotating blade, the mower slices off the top layers of grass. However, the blade sometimes tends to tear the grass, giving a raw and unfinished appearance.
The Cylinder Lawn Mower
The special feature of this type of lawn mower is its ability to cut the grass really low – almost like a crew cut. Since the blade is spiral in shape, it cuts the grass with a scissor cutting action, giving the mowed lawn a better appearance
The Hover Lawn Mower
This is an ideal option for small lawns. Being cost effective, its rotating blade rides on a cushion of air which is generated by the rotating blade.
The Riding Lawn Mower
For those large widespread lawns, the ride on lawn mower is a suitable, albeit expensive, option.
When and How to Mow:
During lawn mowing, it is important to ensure that the sharp blade is placed at an even height to ensure even ended grass.
Do not mow when the grass is wet, as the grass will tend to droop, and the mower blades may not be effective against it.
Since grass consists of leaves, and it is through leaves that plants breathe and absorb sunlight and water, chopping off more than 30% will result in severe damage to the plant itself. Hence, mowing requires caution.
If your spring lawn mowing was from east to west, let the autumn lawn mowing be from west to east.
A systematic rolling of the blades encourages branching of grass plants, which covers the land more adequately.
For the environmental conscious, reel mowing and electric mowing will result in less pollution and environmental disturbance.