A garden hose plays an important role in making gardening a pleasant and less strenuous task. Imagine watering a huge garden without it. It would be a very tiring and cumbersome task. Carrying buckets of water to every garden and watering every plant on the lawns would be a nightmare for everyone.
Measuring The Length
Before you buy your garden hose, it is important to know the length you need to water every part of your yard with ease. If the water source is further away from the garden, you need to consider that length too.
Use a measuring tape and measure the distance between the tap and farthest point in your garden. If you are going to have pathways and hedges, and flowerbeds, you may not be able to go across the garden.
So, take a circuitous path to the far most corner of your yard. It is always good to have extra length in the garden hose reel, allowing you extra room to maneuver. Don't get too much extra length as moving and storing long garden hoses is not all that easy without suitable storage solutions.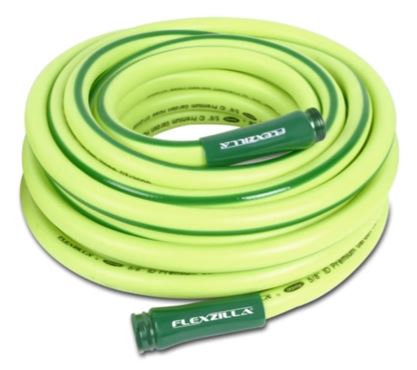 If you need a very long one, it may be better to go for a garden hose reel. There are many different types of reels that different garden manufacturers have come up with. There are manual and automatic winding reels.
Once the watering work is done, you can rewind the reel by hand or with auto-winding reels. Just push a button, and it can go back in. For heavy garden types, you should choose the one that comes with wheels. You can wheel the reel around and don't have to carry it around as you water the plants.
If carrying the heavy hose is not an option, nor is it feasible to wheel the equipment, go for the flat garden hose, which can wound into a small space, and storage is also easy. If the water pressure is good, this flat type equipment will inflate and assume the shape of a regular one.
A coiled garden type is less expensive, but storage and carrying them is a problem. There are many innovative solutions for storing garden hoses. There are special storage pots and containers with a convenient hole for it to pull out from. It goes into an attractive pot or storage cabinet that does not look out of place in a garden when not in use.
You can connect garden hoses to various fittings like sprinklers, guns, nozzles, and sprayers. The sprinklers are good for watering lawns and flower beds. The nozzles are good to get extra force to water bushes that are at a distance.
You can also use the spray guns, and nozzle spray attached to your garden hose to give your trees and bushes a good washing when they need them to make them look fresh and clean.
A garden hose is one of the most important items a gardener needs to keep his lawns and plants well-watered. Without one, they have to lug buckets of water into the garden, which can be a darn task for anyone to bear on.
Garden Hose Fittings Enhances The Uses
Also, without fittings, you cannot optimally use the garden hose. There are many metallic and plastic fittings to perform several tasks that would otherwise be difficult to do.
Relevant Accessories:
Sprinkler:
A sprinkler is one of the more useful accessories that can be attached to PVC garden hose fittings. The sprinkler attached at the end of the hose helps in effectively watering the flower beds and lawns.
Nozzle:
Another useful device that can be connected using garden hose fitting is the nozzle. With nozzle attached, you can reach the far corners of the garden or lawn as the spray travels a longer distance with the nozzle. Also, it is useful when you need to reach higher heights, for example, to wash down trees or bushes.
Adapter:
This fitting is very useful for connecting to a hose or other device a few sizes bigger or smaller. The adapter is very useful when you need an extension or connect it to tap or fit it with other fittings.
Sprayer:
This garden hose accessory is useful for spraying water and playing with kids, washing puppies and your car. The spray gun helps control the water flow, speed, distance and completely stops the water. A very useful accessory joined using a garden hose fitting the sprayer can stop the water flow without you having to walk back all the way to close the tap.
Connectors:
A connector is a useful device when connecting two to more garden hoses or any device that won't go directly onto a hose. Usually used to connect pipes or devices of the same size. The connectors are of a slightly smaller size than the devices they connect.
There are two-way connectors that can be used to connect to two different pipes. There are 4-way connectors too. There are connectors for two hoses, hose and tap, hose and accessory, and many more. Depending on the need, any of the several types of connectors can be used.
Coupling:
When you transition from bigger to smaller piping or vice versa, the coupling is a useful garden hose fitting that makes the changeover smooth and simple. There are several types of couplings for different needs. Pick the one you need.
With the right garden hose fittings, you can make your life as a gardener much easier and more fun. There are no frustrating leaks or loss of pressure as the fittings are a snug fit. With the right couplings, adapters, connectors, and other garden hose elbow fittings, we can connect the required accessory to the hose, enhancing its efficiency and doing the job that much easier and simpler.
Compact and Flat Garden Hose
A flat garden hose is more compact than other hoses except for coiled garden or spring types. It is typically made of flexible materials is easily flattened and wound into a tight coil for storage. You can find this type of garden hose is available in many different sizes.
How To Measure Flat Garden Hose Length Needed?
You need to know the longest length that you will need to reach the far most corner in your garden. If the water source is away from the garden, then that length also needs to be considered.
Add a few extra feet for ease of manipulation, and you have the length of garden hose needed. Don't buy too much more than you need. The flat one tends to kink easily, and this stops the water flow.
Having it slightly taut is important for a pleasant experience with this sort of garden hoses. Too much play causes the flat hose to kink, and this can cause frustration as you need to remove the kink before water flows.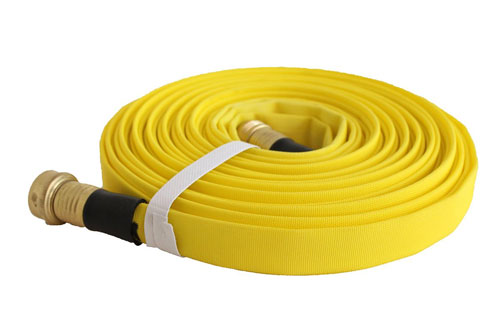 Suppose your garden is rectangular, and the water supply is set at one corner of the rectangle, then measure your garden diagonally to get the longest length, add a few feet extra for easy manipulation, and that will be the required length flat garden hose needed.
You can buy this type of equipment for any length you wish. Though there are standard sizes like a flat garden hose, 100 feet length are also available. The local hardware store will measure out the length you need instead of the whole 100 feet.
Another option is you buy the standard length and use it for a couple of days to know which is the maximum length you need and the comfort of use. You can easily the required length using the pocket knife. Use the rest for watering short distances.
Flat Garden Hose Reel For Storage
If the one you bought is very long and needs to be stored without tangled and a mess, a flat garden hose reel is a useful device. You can wind it around the reel and the hose stored away. When reeled in, it occupies very little space and can be taken out on camping trips while boating and traveling. It's convenient too.
If you visit the various gardening websites, you will come across flat garden hose reviews and reviews and feedback on other types of garden hoses.
Go through the reviews and check out the feedback and assess the type that is most suited to your needs. If storage is a problem, regular garden hoses that need a large storage area like a big pot or a cabinet are out of the question.
Depending on the length needed, your budget, the storage issues, the feedback on the best one, pick either flat garden hose from a reputable manufacturer. It's important to good quality one as they can last a long time and bad quality one means you will need to replace it frequently.
Coiled Garden Hose – A Convenient Option
A coiled garden hose is a spring-like coiled pipe that is a miniature version of the usual type. It is a more convenient option when space is at a premium. The tight one occupies very little storage space and is great for watering your flower beds and garden lawns. The spring-like coil can be extended to reach its full length. The hose comes in various sizes. It is also available in different colors.
The Innovative Coiled Garden Hose
This equipment is the latest innovation in gardening technology and is great as you don't have to tussle with heavy hoses that usually tend to get tangled. It's such a struggle to untangle a flat garden hose and then water your plants and lawns, dragging the heavyweight behind you. Some days you want to give up because you are not in the mood to go through the daily struggle with the garden hose.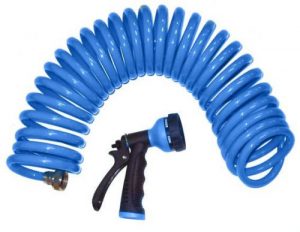 Another aspect that gives gardeners a huge headache is storage. Huge pots, special garden hose storage cabinets, wall-mounted, and freestanding reels are the different methods gardeners use to conceal the unsightly mess of the garden hose. Winding and unwinding the hose is another major hassle. Some opt for automated reels others go for manually operated ones.
With the arrival of spring garden types, gardeners are finding a wonderful and simple solution to their day-to-day problems of watering their lawns. The coiled garden hose stretches as you move around the garden and coils back once the work is done. It is easy to store as the amount of space it occupies is very little. They are usually made of lightweight materials like polyurethane and comes with brass fittings. They are quite strong and durable too.
As the coiled spring hose is lightweight, working with the coil is less tiring than regular. Due to superb flexibility, a variety of tasks around the house become a lot easier. Washing the cars, when camping, while traveling, while boating, and generally wherever you feel you will need a hose, this coiled type will make your that much easier.
Choose The Industrial Strength Coil
Go for a coiled garden hose, which is made of an industrial-strength coil. They are several times stronger and resistant to scratches. Even if you overstretch, they are not likely to lose their springing capacity, and it won't any caused damage to the coiling capacity. These industrial strength coils might be more expensive, but their better overall performance and durability merits the cost. The hose can be attached to a variety of accessories for sprinkling, spraying, and hosing.
The coiled garden hose is a wonderful addition to any gardener's basic tools. It's simple to use and can be stored in any tiny space. It comes in various lengths. For a hose, the diameter is around 3/8th of an inch the pressure is about 500 psi. You get different diameter coils like half-inch, 3/8th inch, and different lengths of 55 feet, 75 feet, and so on. You can buy the required length depending on your need. It comes in attractive colors and with different accessories.
Yard Butler HT-2EZ 2-Wheeled Garden Hose Truck
The Yard Butler HT-2EZ Garden Hose Truck is one of those products that you either love or hate. First off, when compared to a plastic garden hose reel, the Yard Butler is definitely an improvement, but if you do a lot of hose work in your garden, you may want to get something just another notch better.
For light-duty use, this reel is great. It is made from steel and has all-terrain tires; it is great to push the hose truck across if you don't have flat ground.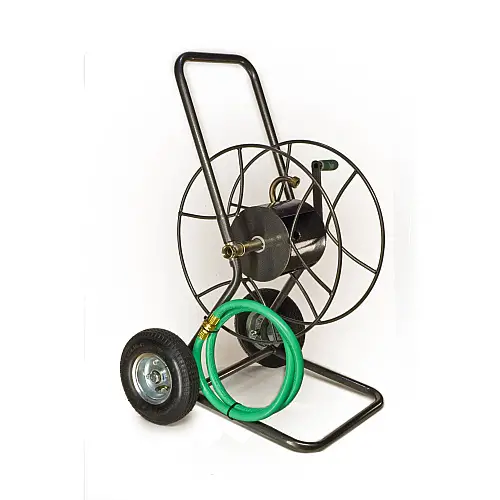 However, if you need to roll up 200 ft of garden hose, the product information is not correct – the capacity of the reel is not sufficient for 200ft of the hose. You will easily be able to use 100 ft of garden hose, perhaps even 125ft of narrow gauge hose, but if you have 200ft of heavy-duty no-kink hose, forget it.
It's hard to understand why the Yard Butler HT-2EZ is such a huge seller. The steel frame rusts, it doesn't hold the declared 200ft hose capacity, it's not easy to put together, and the dripless fittings leak more often than not.
Perhaps it's popular just because anything is better than the plastic garden hose reels that seem to last only one season. The Yard Butler is certainly affordable, but for a little bit more, you can buy an American-made product that is far superior.
However, as I said, some people love this hose reel, and if that includes you, here are some tips that will make your life easier:
The wheels need to be inflated, so have a bike pump handy.
The nuts have a plastic o-ring recessed so that they don't unscrew – this makes them hard to install, so have a couple of adjustable wrenches handy.
Look at the pictures on the box as you are assembling the reel – the instructions are not that great, and looking at the pictures will make it much easy to put together.
Product Features and Specifications:
Drip-Less Swivel with brass fittings
Anti-Kink Lead Hose
All steel construction
Anti-rust finish
Holds up to 200-feet of hose
Easy assembly
All Terrain Pneumatic tires
Garden Hose Reel For A Large Garden
A garden hose reel is a must when you have a large garden or acres of lawns with a lengthy garden hose. Without the reel, it can get tangled, and using it the next time would involve a lot of time trying to untangle it. With the use of the reel, it becomes easy to roll them up when not in use and pull them out when needed.
Hose or Sprinkler?
Usually, sprinklers are used to water large areas. These sprinklers are laid out using small diameter piping through the length and breadth of the lawns.
When the tap is opened, the water travels through the pipes, and at various intervals where sprinkler outlets are provided, the water comes out and is gently sprayed out over large areas of the lawn. You will need a sprinkler attachment at the end of your garden hose to achieve the same effect.
Laying out the pipe may be an expensive option or may not be feasible for various reasons. In such a situation, a garden hose reel is convenient. It can be a stationary reel where it is paid out as you tug at it.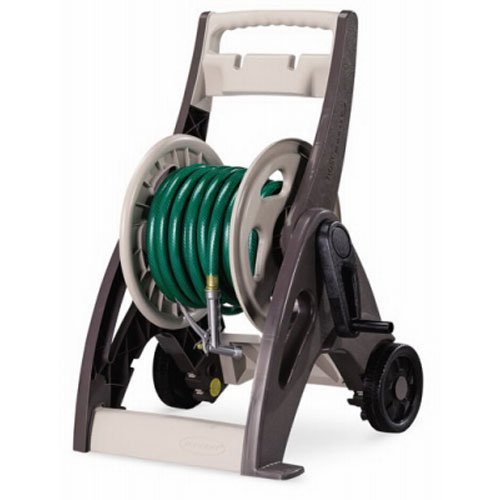 With a long enough hose, you can water any part of the lawn with ease. Else, go for the reel that you can move around on wheels. This allows for greater mobility and flexibility while moving around in your garden, hosing and sprinkling the lawns and gardens.
Different Capacities and Sizes
Garden hose reel comes in different capacities or sizes and styles. It is made of plastic, fiberglass, or metal. It is used to store the equipment.
The reel can be automatic or hand-driven. With the automatic reel, with the push of the button, you can reel it in immediately. A crank or handle lever is used to rotate and reel the hose in a hand-driven reel. They can be stationary or wheeled around or can be attached to trucks or trailers.
Various Types of Solutions
There are different types of storage solutions available. There are wall-mounted holders or storage holders designed like garden pots or storage cabinets that look like garden furniture.
These pots or storage cabinets with convenient openings for the hose to come out are just a few of hundreds of options available on the market. Then there is a wheelbarrow type of garden hose reel storage solution that can be wheeled around and stored in any location you wish.
Buy a reel that is suitable for your garden's needs. The functional one stands in one corner of your garden and doesn't boast too much about aesthetics. Then other reels are both functional and blend with the surroundings.
You wouldn't know it was a hose reel unless you specifically look for it. This is because the garden hose reel and the storage solution are designed to look part of the garden like a pot or a piece of furniture.
Hydraulic Hose Crimper Buying Tips
The work of the hydraulic hose is very much known to all where the hydraulic systems are known to use liquid pressure to create power in such magnitude that it can force the liquid inside the machine.
This use of the hydraulic pump makes it necessary that the right hose length is attached to it. Any mismatched length has the possibility of ruining the whole task.
Once the cutting is done with proper measurement and proper length, the next work would be to sit the same accurately. At this time, there is often a requirement of a hydraulic hose crimper required to fit the same accurately.
This may be of greater usage in both business purposes and residential works. So buying this tool is a good way to do the work yourself with not much professional help.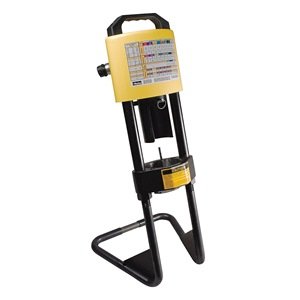 A Very Powerful and Helpful Tool
A hydraulic hose crimper is a powered tool used to form the crimps at the joints as they are vigorous enough to fold by hand. They usually use electric power or maybe self-operated or hand-operated pumps to supply the required power.
These are usually used for the large high tensed joint, which is impossible to crimp solely by hand. This tool also has diversity in producing crimps. There may be stab crimp or U-shaped crimp as per the requirement. However, in hydraulic hoses, the crimpers are usually of compression types, crimping special collars.
To use this hydraulic hose crimper, the first and foremost necessary thing is to cover up the eyes with goggles, wear gloves and long boots, and have ear protectors and all other safety measures required before working on some heavy machinery.
Then the next activity would be to lay down the hose on a flat table and measure the length with a measurement tape. You should keep the fitting at the end of the hose to approximate how and where you should place the fitting. Then the hose needs to be cut as per marking with the fitting slide into its perfect position by lubricating the inside of the hose.
Micrometer
Then the micrometer on this tool should be monitored because, in case of wrong settings for a particular type of hose to be crimped, the micrometer gives signals.
You can duly adjust the settings by checking with the micrometer. Then the hose needs to be slide into the crimper with the compression ring inside it. Then as the crimping machine is switched on and the crimping process starts as required.
The work with this tool is easy and can be done by anybody with a little knowledge of the same. There are videos and how-to-do articles with steps to guide the user, making it simpler to understand.
The visionary guidance with live videos on how to do it makes it more comfortable to get an idea of the work. There are plenty of websites on hardware companies to give good quality hydraulic hose crimpers for better performance at work.
You can also purchase the same from nearby selling stores. With less price and much productive utility, this is no doubt a good investment.