The most pleasing color for the eyes is green; however, that is not why people indulge in lawns. Lawns are now a habitual feature of most gardens, landscape areas, and homes worldwide sport an immaculate lawn in front.
Mix to Accommodate Different Climates
Depending on the climatic conditions, different kinds of grass are grown; sometimes, it is wise to mix two kinds of grass – one for colder climates and one for warmer climates. This results in a lawn that is always alive and growing.
Once the grass has been decided upon, adequate care and attention will ensure that the lawn remains fertile. Maintaining a green turf requires a steady irrigation system, along with regular weeding, pest eradication, and regular lawn mowing.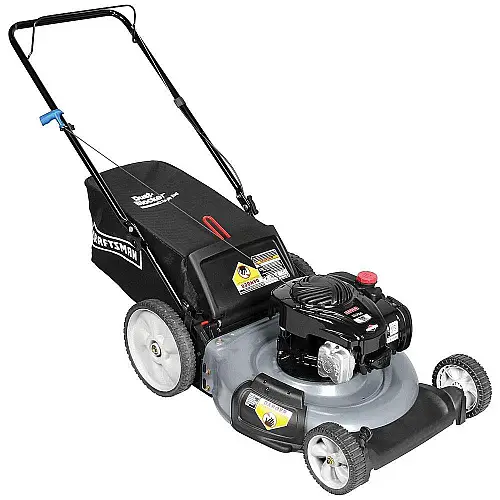 But the lawn is grass, and grass does not necessarily follow any rules in its growth pattern. It grows carelessly and abundantly if it is supplied with adequate water, sunlight, and good soil. The result is a turf that looks like it is covered with mini, green hillocks, but that's not the way a lawn is supposed to look.
That's why people buy lawnmowers. However, there was a time long ago when lawn mowing was a labor-intensive activity, with people actually shearing and scything it. Also, sheep and cows were let loose to graze and trim the grass.
It was in the Middle Ages that lawns really became popular and could be differentiated from pasture fields. During the Elizabethan times, lawns began to establish their rightful places in gardens and residences along, and with it, lawn mowing was refined to a work of art.
The Different Types of Lawn Mowers Available in the Market Are:
The Rotary Lawn Mower
With a horizontally placed rotating blade, the mower slices off the top layers of grass. However, the blade sometimes tends to tear the grass, giving a raw and unfinished appearance.
The Cylinder Lawn Mower
The special feature of this type of lawnmower is its ability to cut the grass really low – almost like a crew cut. Since the blade is spiral in shape, it cuts the grass with a scissor cutting action, giving the mowed lawn a better appearance.
The Hover Lawn Mower
This is an ideal option for small lawns. Being cost-effective, its rotating blade rides on a cushion of air generated by the rotating blade.
The Riding Lawn Mower
For those large, widespread lawns, the ride-on lawnmower is a suitable, albeit expensive, option.
When and How to Mow:
It is important to ensure that the sharp blade is placed at an even height during lawn mowing to ensure even ended grass.
Do not mow when the grass is wet, as the grass will tend to droop, and the mower blades may not be effective against it.
Since grass consists of leaves, and it is through leaves that plants breathe and absorb sunlight and water, chopping off more than 30% will result in severe damage to the plant itself. Hence, mowing requires caution.
If your spring lawn mowing was from east to west, let the autumn lawn mowing be from west to east.
A systematic rolling of the blades encourages the branching of grass plants, which covers the land more adequately.
For the environmentally conscious, reel mowing and electric mowing will result in less pollution and environmental disturbance.
Buying Guide to Lawn Mowers
Is the grass outside on your lawn getting out of control? If you are anything like me, then the answer is probably yes. So it's obviously time for you to get a new lawnmower.
Therein lies the problem for most people. Often, when shopping, people will only look at the price and think one of two things. Either they will be looking to spend as little as possible and trying to save money, or they will blindly purchase the most expensive model out there because of the misconception that price = quality.
I'm here to the right that wrong, people. In this guide, I will be giving you tips on finding the right lawnmower, what type of features you need depending on your needs, and some models that I think are at the top of the heap.
Features to Look For
You cannot necessarily look at either price or brand solely when looking for a lawnmower. They can be good indicators, but they alone will not guide you in the right direction. You should definitely look for lawnmowers that possess more than a reasonable price or a good name. Some factors to consider and some features to look out for:
-Know the different types of lawnmowers. First of all, you need to decide whether you want a petrol or electric mower. A petrol mower runs on oil and gasoline. They both operate about the same. However, there are two types of electric lawn mowers that you should look for.
The corded ones need to remain plugged in whenever you use them, and a cordless one runs on rechargeable batteries.
-Size of your lawn. If you own a large lawn, said like more than one acre, then it is good for you to get a lawn tractor to ease your work. Those are large yards that will be difficult to push a mower around.
Anything down to 1/2 an acre should have a higher horsepower than normal cause you will be dealing with an intermediate-sized lawn. Something bigger than the 20″ range. Any lawn smaller than that can do fine with a 20″ mower.
-Push mowers are good for those people looking for a simple way to mow the lawn and don't mind a little physical activity when doing so. You'll benefit from exercise and a good level of self-satisfaction at having done it yourself. Of course, if you have a large lawn with no hope for a pusher, you can get a riding lawnmower that you can sit down and take around the yard at your own pace.
-How the mower collects the clippings. Some of you might prefer the bag method, but that's advised for smaller lawns or people who don't mind having to empty the bag fairly often.
You can also get mulchers that take your clippings and cuts them small so that they revitalize the grass and fertilize your lawn. Others prefer side-discharge mowers, which shoot the clippings out the side of the mower and back onto the lawn, recommended for tall grass.
Now that you've seen some of the different things to consider or look out for, letting me show you some of the best push mower models out there today since most of our lawns don't require a riding mower to do the job.
The Models to Watch
Troy-Bilt Pro-Line FRT Mid-Size Rear-Tine Garden Tiller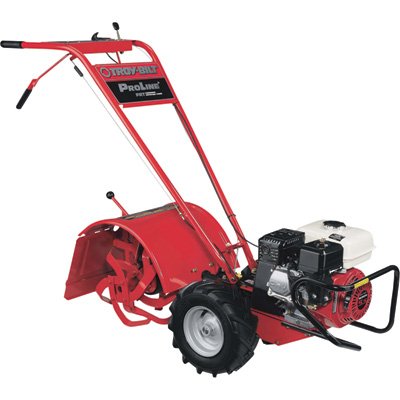 Notes: When I was doing my research, it was one of my favorites for several reasons. First, what a cool long name for a mower.
Seriously, though, this mower has a lot of features that made it appeal to me. One of the first things that I noticed was that although it was a mulcher, it still had a catcher and didn't just disperse the clippings back onto the grass. I wanted to be able to do that myself, and that would be possible with that mower.
The motor has variable speed settings, so it's adjustable and can provide you with improved control around your lawn and more comfort. Pretty standard everywhere else across the board, but the 12″ rear wheels are great for maneuvering the mower around different terrains.
GreenWorks 25302 Twin Force G-MAX 40V Li-Ion 20-Inch Cordless Lawn Mower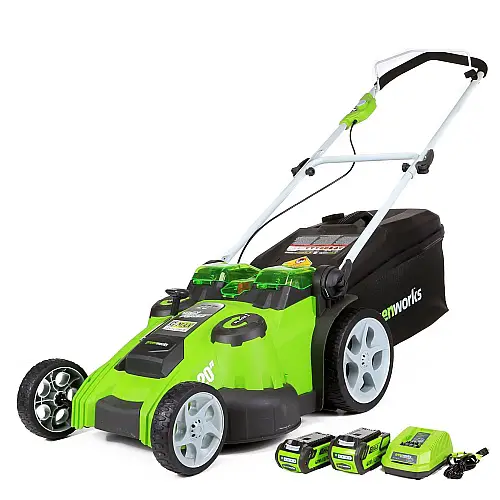 GreenWorks 25302 Twin Force G-MAX 40V Li-Ion 20-Inch Cordless Lawn Mower with 2 Batteries and a Charger Inc.
Notes: Another of the stronger push models, this GreenWorks comes with 2 batteries and a charger. It bags, mulches, or can throw it out the side.
Versatility is never a bad thing, people. Much like the Troy Bilt, the veritable speed system allows you to control the pace, not the other way around. Who wants to be dragged across the lawn by an out-of-control mower, anyways?
While also reading about it, this mower has what Craftsman calls the Z Start, which supposedly makes it 30% easier to pull the start cord. That sounds like a good technology for me. It also has an adjustable extending height that allows you to change the height of the rotor from 1 1/2″ to 5″.
Lastly, the Troy Bilt also possesses 12″ rear wheels with a little more swivel action, allowing for more flexibility from this mower.
Husqvarna Z246 21.5HP 726cc Kawasaki Engine 46 Z-Turn Mower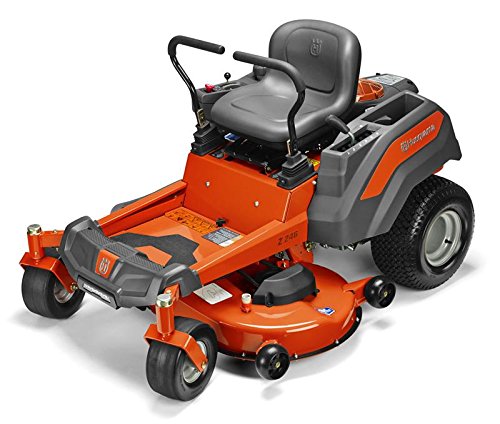 Notes: A little bit stronger than the previous two, this Husqvarna model is another in the 3-in-1 models. I seem to prefer those because they can do just the job you are looking for. They are a bit pricey but definitely worth it if you are serious about lawn care and not just looking to cut the grass.
One thing that I want to point out on this model that I haven't heard from the others is an adjustable handle position, allowing you to adjust to the size and strength of the person operating the mower. This machine is rear propelled, as opposed to the other two, which are front propelled.
This makes the Husqvarna more prepared for different terrains. It has veritable speed and used an auto-walk, which can be useful when you take it easy for a stretch while mowing the lawn.