When using the rotavator, safety is imperative. When using any power tool or garden machinery, you must always think about your safety and protect yourself from possible accidents. Now the rotavator is not the simplest of machines to operate, and it's well worth your while to have a demonstration from an expert before you embark upon using one.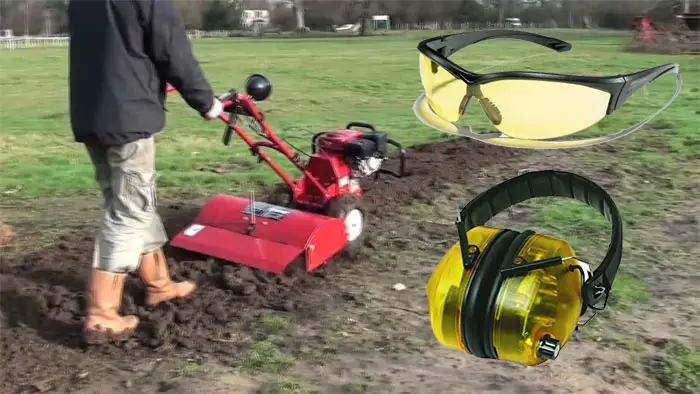 Not only can they be difficult to operate because of their power and weight, but they also pose a threat to safety with their exposed blades. The blades are sharp and powerful and would not find much resistance from the human body.
So bearing this in mind, you need to be familiar with all controls on your machine, especially the off switch, if you do not have a model with a built-in safety off feature.
As well as knowing how to operate the unit properly, you need also to wear protective clothing whilst doing so. Proper work boots such as steel-capped boots are essential just in case you happen to put your foot in the path of the blades and run over your foot.
Safety gloves are also necessary for your hands. They would not protect your hands enough from the blades, but they still give some protection and provide you with the ability to have a firmer grip on the handles of the machine.
Additional Rotavator Safety And Awareness
When you have bought yourself a new rotavator, you will be eager to begin working with it and test it out. But before doing so, there are a couple of precautions you need to take before filling it up with fuel and sparking it into life. Safety is a big issue with these machines, and if you are properly equipped with some of all the safety clothing mentioned above, you are almost ready to begin.
Always read the operating manual first, and thoroughly that is supplied with the machine. You have to remember that this machine is a compelling piece of equipment. Don't take this fact lightly, as it is possible to seriously injure yourself whilst operating it if you don't know what you are doing.
The rotary plow has spinning blades, and even though these are usually well concealed in a quality machine, they will still spit out stones and other flying debris. So despite all the protective coverings, you must always position yourself behind a tiller when operating it. It will limit the possibility greatly of any debris hitting you.
Never operate a machine when there are people or pets nearby. Any debris that is spat out can hit these people or pets and cause serious injury. Also, by having no people or pets around then, you will not be distracted and risk the possibility of losing control of the heavy unit.
Remember that these machines are heavy and powerful in full flow, and you need all your strength and concentration to operate them properly.
Before operating any petrol-driven piece of gardening machinery, always double-check that you have mixed the fuel properly if you have a 2 stroke engine version. The last thing you want to do is invest in an expensive machine only to break the engine with the wrong fuel mix.
That would be a disastrous and costly mistake to make. When you have the correct fuel mix, always refer to the operating manual to start the machine properly.
Most new machines will need to be run in properly and are susceptible to breakdowns and damage if they are revved excessively in their first few hours of working life.
Examples Of Safety Gear To Wear When Using A Rotavator
Dewalt Unisex Impact Boot by Dewalt
When using a rotavator to turn over the soil in your garden or on your vegetable patch, protective clothing is necessary, and work or garden boots should be near to the top of your list for protective clothing.
These Dewalt unisex impact boots are an excellent example of the type of work boot you should be wearing. They are designed and made to give you less foot fatigue, have maximum comfort, and be extremely durable.
They are available to you in a vast range of widths and sizes and come with an extremely cost-friendly price tag. They have a built-in steel toe safety cap to protect your toes, but there are versions without the steel toe cap if that is what you want.
The product features of this particular boot are Resistant up to 200 joules, oil and chemical resistance, double density seat region, resistance to heat up to 300 C, and penetration resistance. An ideal work boot to wear in the garden and more than adequate to wear when using any piece of garden machinery.
Venitex Lambskin Full Grain Leather Safety Gloves by Venitex
When working in a garden, it's always a good idea to have protective gloves to protect your hands from any sharp objects or thorns and such.
The same is applicable when using garden machinery such as the rotavator. These lambskin safety gloves from Venitex have been designed and developed to be suitable for many working conditions.
They are made well, giving you quality, comfort, and protection. They conform to EN388:2003 standards and offer you protection against mechanical risks when using motorized gardening machines.
The features of these safety gloves are: for general use, reinforced mechanical gloves, comfortable and supple to wear, allowing the wearer good dexterity, extra sewn on the added-on thumb, and elastic back.
Eyes and Ears Protection
Protecting your eyes and ears is also necessary and advised when using the rotavator. Eye goggles will protect your eyes from any flying debris that the unit spits out, and because an engine powers the machine, they can be very noisy to use, so earplugs of some sort will keep your ears healthy.
And finally, always be observant when using your unit. Ensure there are no young children or pets in the area that could walk in front of the rotary hoe whilst you are operating it.
If you want to get yourself a set of TRADESMART Shooting Range Earmuffs and Glasses, you can get it from
Amazon
.
Zekkler 75 Eye Protectors – Yellow Lens by Zekler
The eyes are susceptible organs, and when working in the garden or operating garden machinery such as the rotavator, you need to protect them from flying debris and sunlight.
These Zekler protective glasses give you complete eye protection with style and a price to suit anyone's budget. They are lightweight to wear and adhere to the head very comfortably.
Not only do they cover the eyes from flying debris, but they are also sun-resistant and absorb 99.9% of UV radiation. The lens is scratch-resistant and made from lightweight polycarbonate. They reach the standard EN170 class 1 FT.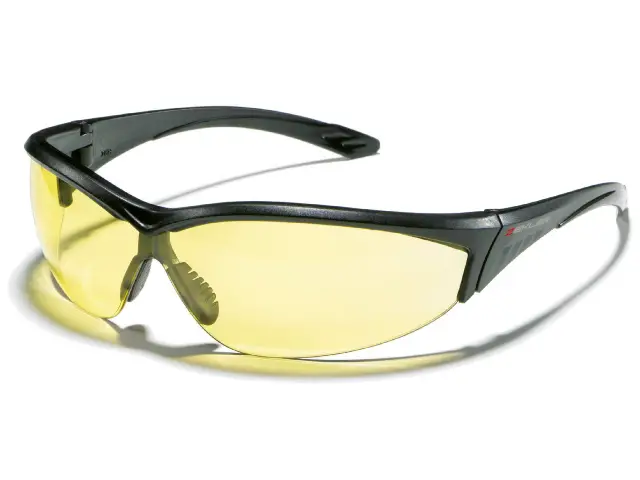 Silverline Electronic Ear Defenders by Silverline
Using the rotavator to turn over your soil is not a quiet job by any means. And if you are going to be using the unit for a couple of hours at a time, then you really should wear some ear safety equipment to protect your eardrums.
Silverline has designed and supply these ear protectors, which are electronic ear defenders and protect against noise levels higher than 80 Db.
They come with an auto-adjust headband and adjustable volume control. You will get approximately 200 hours of use from them before requiring to change the batteries. They conform to the EN352 standard.
You can get this item from Amazon If you intend to get one.