Do you know the difference between a garden cart and a wheelbarrow? Since they both have pretty much the same function, what's the difference?
Wheelbarrow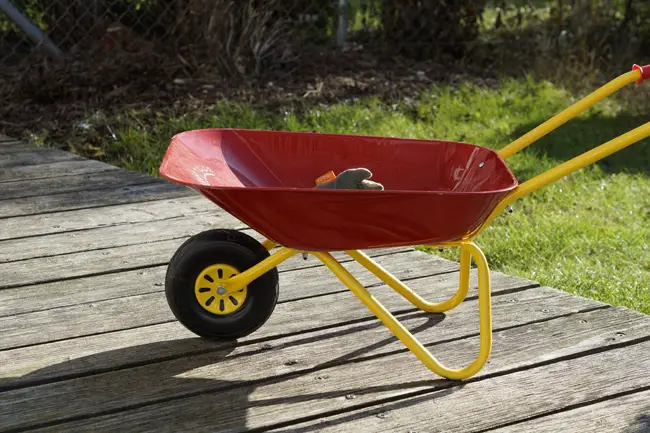 A wheelbarrow generally has one or two wheels on the front and sides that slope. They are perfect for transporting soil and gravel or other materials that will require dumping. Being able to walk behind it makes for easy maneuvering.
A wheelbarrow is a good option, especially if you are used to maneuvering it. But when I used a wheelbarrow, I found it a little inconvenient compared to a garden cart.
When I first started gardening, I have used wheelbarrows for gardening transportation tasks. However, after I bought my first garden cart 3 years back, I feel it is more comfortable to use.
Another disadvantage of a wheelbarrow is that it's a little wide. So if you have raised beds and narrow paths in your garden, a wheelbarrow is going to be much more difficult to maneuver compared to a garden cart.
Garden Carts
Garden carts have flat bottoms and need to be pulled by one or more persons. Garden carts are steadier than wheelbarrows and can usually handle larger tools. Smaller carts can easily carry tools and flats of plants plus other gardening supplies. Some carts come with sturdy covers, which make for excellent seating to prevent bending and stooping while gardening.
As of now, you can find many garden carts that are made of steel and sheet metal with a powder coating for rust protection. These carts are good for large gardens or large gardening projects like mulch, topsoil, fertilizers, and plants, and moving heavy garden tools.
A Garden cart is something that will make your gardening to become a lot more enjoyable. By using it, it will be very easy to carry your stuff around the garden.
The garden cart that I am using now is the Garden Dump Cart that Gorilla Carts manufacture.
I was ordering the cart through Amazon. When I first received the cart and started unboxing it, it wasn't really that heavy as I thought. It is actually pretty light and easy to carry. It has a plastic base, and this should be considered the lower-end version of the Garden Cart that I have.
There is a higher-end version that comes with a much more sturdy base.
But I guess for most practical purposes, the plastic cart should be good enough. It's got 4 nice wheels. Its got clear instructions on the assembly, and all the parts are pretty well packaged.
A garden cart has 4 wheels which makes it easy to maneuver the cart, and it also has a Dump feature which makes the emptying tasks very easy.
Now assembling the cart was moderately difficult. And most of the difficulty was because there were a lot of bolts that needed to be tightened. Although I tightened most of these by hand, I realized that it would have been a lot easier to complete the assembly if you had a power drill.
So you could use a power drill to tighten the bolts while holding the hex nut from the other side, which makes the assembly a lot faster.
But as I said, it should probably take you about an hour to assemble everything if you have a power tool. It might take you a bit longer if you are doing it by hand because it is a little exhausting to tighten all those nuts. I think there are about 15 or 20 of them.
The wheels feel a little flimsy, but I think they did a good job when I eventually tested them with some weight.
One important step that I wanted to show you was "How to use a Cotter Pin." A "Cotter Pin" is something that will keep the wheels in place. And this is general instruction on how to use a cotter pin. So you basically take pliers and bend them over on both sides.
That should do the job of setting up the Cotter Pin on your wheel, and if you notice, the Cotter Pin is what keeps the wheels in place.
Garden Cart a Modern Version of Wheelbarrow
Now a garden cart is a modern version of the wheelbarrow. It's much easier to maneuver, and the best part is its maneuverability. I have added a lot of weight to this garden cart. And it was actually easy to move it with all this weight.
I am guessing this would be about 75 lbs or so. You can easily navigate this cart between raised beds. But if you look at how easy it is to maneuver this cart along raised beds. If you have raised beds and have about 2 feet or so between them, a garden cart will work much better than a wheelbarrow.
There is a "Dump" feature of the cart, which you cannot do with a wheelbarrow. What you need to do is just lift the lock off, and you can dump whatever is in your cart.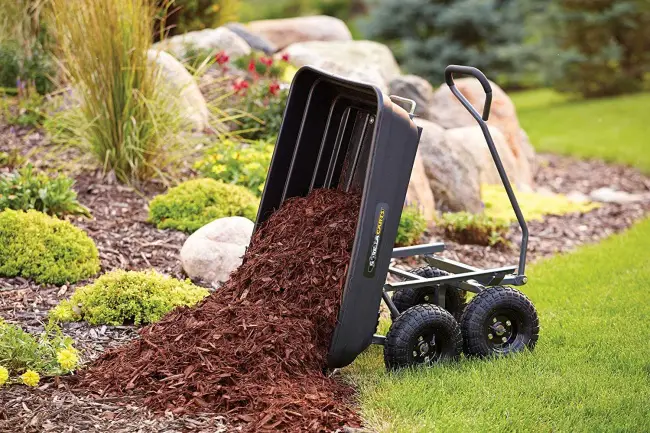 If you're mixing things like soil and fertilizer or anything in your garden cart, the dump feature lets you easily dump it without breaking your back.
This is our garden cart. It has many advantages like it lets you move a lot of soil and other things without breaking your back. It will also let you carry things that are heavy around your gardens, like fertilizer, plants, pots, and other things.
When you are moving something with a cart, you don't need to lift it. At the same time, push it or pull it. Also, it is no need for you to use too much energy to keep the cart balanced since the 4 wheels that it has had make it stay very stable on the ground.
Your job becomes very easy when you use a garden cart.
So, which one should you choose?
For a beginner gardener with a small space, a small wheelbarrow or cart might be best for you once you have sized up your landscape plan. Remember, a bigger garden cart or wheelbarrow is not always the better choice if you can't move it, so keep your physical limitations in mind before you purchase.
If lifting is a problem, get a wheelbarrow for the simple convenience of just dump. Buy a cart or wheelbarrow of solid construction with smooth handles and a comfortable grip. Remember that metal will rust and that wood will warp (but it is durable), and carts or wheelbarrows made of heavy-duty plastic should be UV resistant.
Maneuverability can't be beat, especially when it comes to precise pouring, and it will prove invaluable for the gardening tasks that require hauling and pouring. Whereas some people, a garden cart is a must for working around the yard and getting more work done in less time, and the versatility and convenience of pulling a load are hard to match.
Now which one suits you better is actually up to you to make your own decision. Those using a wheelbarrow for a while might like to use it or get a replacement wheelbarrow.
But for those looking to buy a new one, you now know what the difference is, and you can make a much more informed decision.
Whichever you choose, the ultimate decision will be yours as to whether you choose a wheelbarrow or garden cart.