There is nothing better than picking and eating fresh vegetables and fruits that you have grown in the garden. Raising your own food reduces unknown factors such as where your food is coming from, who is touching it, and what has been added. You may be wondering whether a raised garden bed or a planter box will work best for your situation.
A raised garden bed will work well if you plant deep-rooted plants and have plenty of landscaping space. If you have mobility issues or lack the square footage for a traditional garden, elevated planter boxes are ideal because they take up less space and are easy to maintain.
This article is for you if you are new to gardening or just looking for tips to improve your process. By the time you are finished reading this, you will be able to make an educated decision about which gardening option will work best for your situation.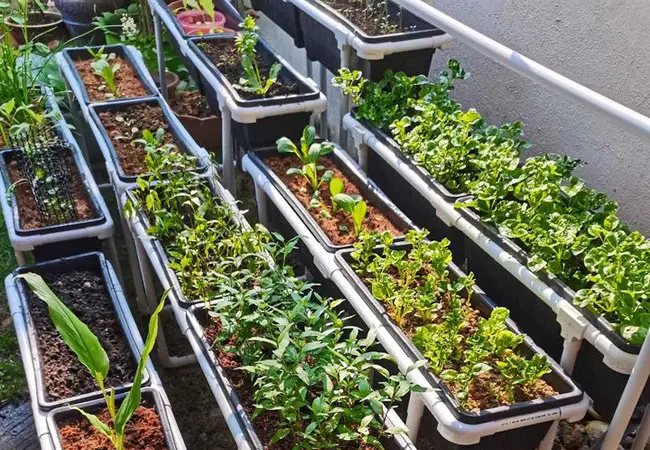 Let's Compare Raised Beds Vs. Planter Boxes
There are pros and cons to both raised garden beds and planter boxes. The key is to determine what your needs are and how much space you have available. Knowing these things will allow you to make a better decision.
Understanding Raised Garden Bed Basics
Raised garden beds are boxes filled with soil that sit on top of the ground. In most cases, these boxes are constructed of wood. However, you can use other materials such as:
You can use these materials if you want to add a little flair to your design. These materials will allow you to create different shapes much more easily than using wood as your primary material. Raised garden boxes do not need to have a bottom; the ground will suffice. Leaving the bottom open allows plants with roots that grow deeper into the ground plenty of room to do so.
It is easier to maintain a raised garden bed than a traditional garden sewn directly into the earth. Many people choose to use raised garden beds simply because they are aesthetically pleasing and add design to their landscapes.
Additional Raised Bed Considerations
If you have some unwanted visitors in your gardens, such as bunnies, squirrels, or deer, you can cover your boxes with netting to deter persistent trespassers.
When constructing a raised garden bed, consider placing a thin layer of branches/logs or other yard debris on your garden base before adding at least a foot of soil. Not only does this reduce the amount of soil that you will need to use, but eventually, the debris will turn into compost and become even better soil in which to grow your plants.
If you think that you will be moving your raised garden beds from time to time, use wire mesh on your box's base so that you can drag the garden to a new location without losing too much soil.
Planter Boxes–Accessible With Minimal Maintenance
Elevated planter boxes possess a similar concept as growing plants in a raised garden bed, but there are some differences to consider before deciding which method you wish to use.
People will often use elevated planter boxes to grow their gardens if they are restricted on space or have physical limitations or mobility issues that prevent them from getting down on the ground to work in a raised garden bed.
Elevated planter boxes are also aesthetically pleasing and can be used virtually anywhere.
Herbs and other plants that do not require room for deep roots will do best in elevated planter boxes. Elevated planter boxes are not ideal for plants that require a lot of room for their roots to grow.
It's also important to note that you can use elevated planter boxes inside or outside. Just be sure that if you keep them inside, you have a way to catch and reuse any water that drains out of the planter box. Not allowing excess water to drain can drown your plants and cause them to rot.
Overlapping Perks of Raised Beds and Planter Boxes
Many of the benefits of raised garden beds versus elevated planter boxes overlap. Essentially they give you the same results if you do everything correctly. The following table describes the benefits that both raised garden beds and elevated planter boxes possess:
Benefits that Both Raised Garden Beds and Elevated Planter Boxes Possess
| | |
| --- | --- |
| If you live in an area where there is little moisture or the soil's condition is not ideal for growing things, you can add any type of soil that you see fit. | Reduces the physical exertion associated with having to use a tiller or working the ground manually. |
| Allows your soil to remain aerated and it won't become packed down because nobody will be walking through it to pull weeds. The better the quality and condition of the soil, the better your plants will grow. | Using a raised garden bed or an elevated planter box also reduces the number of pests that will disturb or damage your plants. |
| Plants grown in raised garden beds or elevated planter boxes tend to do better than a traditional-style garden because there is better drainage.   | Both versions can be used as design elements that add a nice touch to any landscape or small space. |
| Raised garden beds and elevated planter boxes can be temporary. If you rent a home where you can't alter the landscape, you can add a raised garden bed or elevated planter box and still fulfill your gardening urges.  | Another pro to using a raised garden bed or an elevated planter box is that if you live in an area with short growing seasons due to the cold weather, you can extend your growing season a little longer because the soil is not a part of the ground and will thaw more quickly. That will allow you to plant sooner, giving you a head start on the gardening season. |
| It is easier to move an elevated planter box rather than a raised garden bed, but ultimately they both can be moved if you want. | You can essentially use any material that tickles your fancy. Just be sure that whichever materials you choose are durable and free of toxins that could potentially seep into your soil. |
| There are substantially fewer weeds to battle because you are not planting directly into the ground. | Since you won't have to pull as many weeds or continuously work the ground, you will have more time on your hands to do the fun things in life. |
Dig Deep (in Your Pockets) or Come Up Shallow
One major con to using raised garden beds or planter boxes is that the initial cost to construct your garden can be a little high. That said, once the money is spent and your plants are growing, you will be thoroughly satisfied with the results.
You will also be able to reuse your raised garden beds or planter boxes for many years if you make them from quality materials and ensure they are properly maintained.
Things to Consider When Choosing Materials
It is important to choose the right materials for a job. Having a solid plan in place before constructing and planting your raised garden beds or elevated planter boxes will ensure that you get the maximum life from your garden frames.
When choosing your materials, you should consider the following:
How long do you expect to have a raised garden bed
How many raised garden beds or planter boxes do you think you will need
How much money you can afford to spend
The planting zone and climate that you live in
What shape do you desire
What size do you want your gardens
What types of crops you are planting
Do they bush out
Do they grow tall and need support as they grow
Do they have long vines
Do they need deep soil for their roots
Where you will be placing your raised garden bed
Which area of your property receives the most sun
Each of these decisions factors into your overall construction plan.
Best Materials for Construction
The following table highlights the most commonly used materials for constructing raised garden beds and elevated planter boxes. Of course, you can use any other materials that you feel creative enough to try. Just be sure your materials are non-toxic.
- Metal can be used as a design element in your landscaping to create texture and contrast.


- Metal is strong and can typically hold up against the pressure caused by the soil's weight.


- Premade frames are available for purchase and typically have a rounded edge at the top, so you, your children, or pets have less of a chance of getting cut or stabbed by sharp edges.


- Metal that is too thin may not be able to withstand the pressure created by the weight of the soil. 


- Old metal can have sharp edges.


- Untreated metal can rust.

- Frames made from high-density polyethylene are thick and durable. They will last for years.


- High-density plastic can be used to create the base for your garden. Then simply wrap the raised garden with the decorative materials of your choice, such as: 
      ~ Creek rocks(for a natural look)

      ~ Old barn lumber (for a rustic look)

      ~ Metal that has a patina(for an antique look)


- No sharp edges to contend with.


- Plastic does not rot or rust.

- If you use plastic that is too thin, it may not withstand the pressure created by the soil's weight.


- Plastic that is too thin can eventually become brittle and crack. 


Stone

- Bricks
- Cinder Blocks
- Concrete
- Pavers

- A benefit of using stone is that it retains heat and keeps the soil warmer than a traditional in-ground garden.


- Stone is also good to use if you live in a very moist or humid area because moisture can cause wood frames to rot more quickly.


- Using stone as your base can add a beautiful look to your lush garden scape.

- A danger to using cinder blocks is that it contains something called fly ash, which can have heavy metals and other hazardous byproducts. Cinder blocks can be sealed to prevent anything from seeping into the soil in which you will grow your food.


- If you live in a warmer climate, it may not be a good idea to use stone because it may retain too much heat, and some plants may not do as well

- Cedar, Cypress, and Redwood are the best to use because they do not rot as quickly.


- Using treated lumber will ensure that your wood frames last longer than those that have not been treated. 


- Wood is eco-friendly and, after several years, will eventually begin to rot and compost itself back into the earth. 




- Wood is lighter than stone and will not require as much back-breaking physical labor. 

- If you use older wood that has been treated with creosote or other toxic chemicals, these toxins can leak into the soil and be absorbed by your plants. Examples of "old treated wood" are railroad ties, old pallets, and pressure-treated wood. 


- Oak and pine are not recommended because they do not last as long when coming in contact with water, soil, and pests.


- Sealing wood takes more time and effort, and you need to be aware of which chemicals are safe to use near food-producing plants. 


- Wood can result in splinters if not sanded enough. 


- Wood rots over time. If not sealed properly, it will rot much faster. 
Pro tip: Using ladders, stakes, and wire cages will help support heavy plants and keep them from encroaching upon their neighbors. 
Buying Pre-Started Plants Vs. Seeds
Knowing which plants go where and whether or not you need to start a plant directly from seed or buy an already started plant.
These plants are not good at being transplanted, so it is best to plant them directly into your raised garden beds or elevated planter boxes from a seed:
Herbs are fairly easy to grow and can be grown from seed or pre-purchased. If you can grow them from seed, you will save a lot of cash on the starter plants that you didn't have to buy. The following herbs are easy to grow from seed:
Herb gardens are great for those with limited space but want to add a fresh touch to their cuisine. Since many herbs can be quite invasive, a way to control them is to plant them in small pots and bury them in the soil. This works especially well if you don't want these containers to be visible. This will keep the roots in the pots while giving the plants the appearance of being directly planted in the ground.
In some cases, it is better to purchase pre-started plants for your garden. Some examples of plants that are easier to grow if you purchase pre-started plants are as follows:
Bell peppers
Hot peppers
Onions
Potatoes/root vegetables
Tomatoes
Pro Tip: Another great way to get a head start on growing your garden is to start your seeds indoors so when it is time to plant outside, you can transplant your "babies" into their new home. This is also another great way to save money and avoid buying starter plants.
Prefabricated Planter Boxes – Examples
The following items are examples of pre-made garden boxes that are available for purchase or can be used as inspiration for your own designs: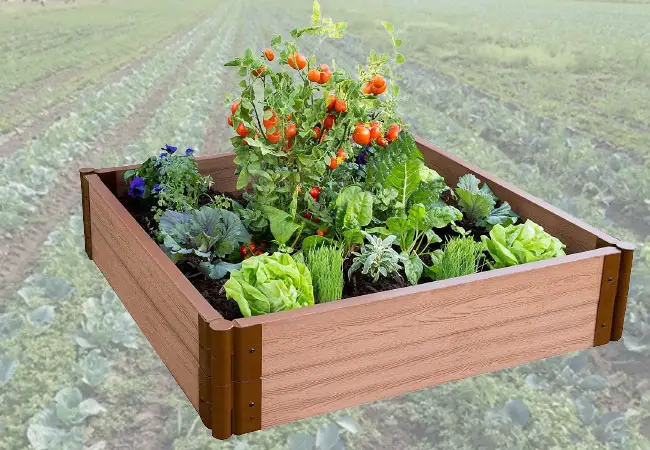 This attractive wooden garden bed frame will allow you to easily plant beautiful gardens that will last many years. The wood color will add a nice touch to any landscape. Some of the Frame It All benefits include:
Limited lifetime warranty available
Made from wood that is safe to grow food around without worrying about toxins being released into the soil in which you intend to cultivate your food
No tools required to assemble
Standard five-year warranty included
These frames are straightforward to maintain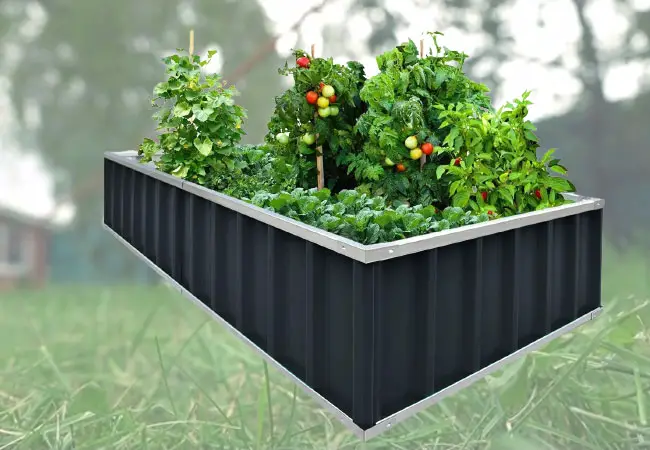 This super thick, reinforced metal planter box kit is a great way to begin your gardening adventures with raised beds. It is great for any beginner looking for a raised garden bed that is easy to construct and maintain. Benefits of this planter box kit include:
It comes with a two-year warranty
Included in this kit are two pairs of gloves to protect your hands during assembly.
Reinforced to withstand the pressure created from the weight of the soil
The metal is galvanized and guaranteed never to fade
The vertical stripe design of the metal helps to keep it sturdy
This kit is so easy to assemble that you won't need any tools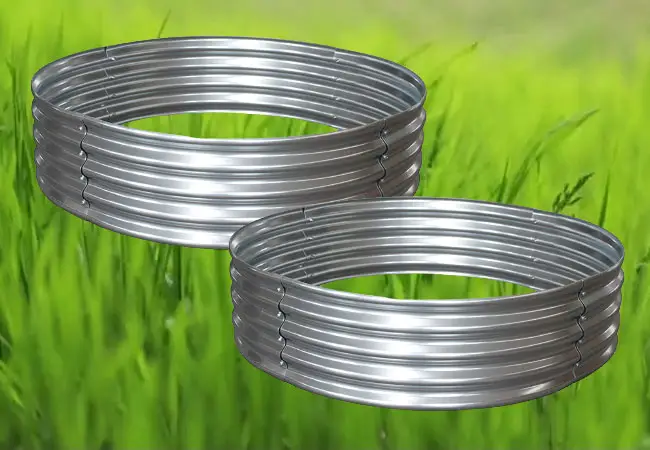 These metal garden rings are a great option for starting a raised garden bed. There is no assembly required, and they will last for a long time. Additional features include:
Constructed from galvanized metal
Four feet in diameter
Includes two elevated garden rings
Made of durable materials and pleasing to the eye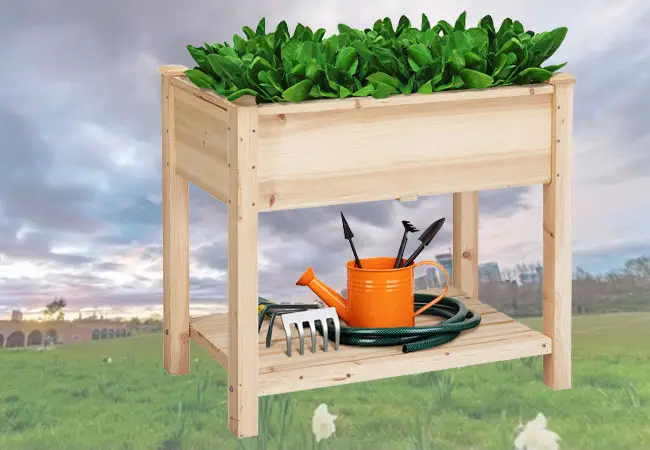 This natural wood planter box with legs is a great addition to any area. It is ideal for those who have limited space but still wish to fulfill their gardening needs. Some other perks to this wooden elevated planter box are:
Aesthetically pleasing
Easy to use
Expertly sanded to prevent any splinters or sharp edges
Made from all-natural wood that is not painted, so there are no toxins
Made from thick, sturdy wood
Not Better or Worse – Just Different
Now that you have the 411 on raised garden beds and elevated planter boxes, you can make an educated decision that will appease your gardening urges and produce a plentiful bounty for all to enjoy throughout the year. One option is not necessarily better than the other. They are just different and help to fulfill different needs.
No law says you can't have both, so have fun designing your gardens and enjoy the fruits of your labor.
Did you find this post useful? Would you like to get back to it later? Save THIS PIN below to your gardening and best garden boards on Pinterest! Thanks 🙂