Bird Feeders are such wonderful ways to attract beautiful birds where you can see them up close and personal. They also ensure that some species have the much needed food source they need to survive the cold winter months or long flights when certain species migrate. We have an extensive selection of bird feeders to fit every use and budget, with colors, shapes and sizes for all kinds of tastes, whether it's yours or the birds!
Feeders are also a great way to encourage birds to be in certain areas of your yard or garden and away from those plants that you would rather not share with them. Having birds where you can watch them is also a way to commune with nature and enjoy a learning experience by yourself or with friend and family. There is nothing like watching a family of birds squabble and them make up! They are simply fascinating.
1. Zen Temple Bird Feeder
What is not to like about the Zen Temple Bird Feeder? Made of solid dimpled copper construction in the modest, yet capably peaceful perfection of clean lines and unique character. Just what you would think of when you think of Zen.
The window made from Plexiglas lets you check the seed level and the top conveniently comes off for easy refill and cleaning. This bird feeder is virtually indestructible and can be hung or staked. The bottom is threaded to fit a threaded stake. It is 13″ diameter x 11″H and designed to hold a mixture of seeds.
You and your birds will find this to be a peaceful feeder that can fit in any yard or garden.
2. Apple Bird Feeder
What bird could resist the cute apple feeder filled with the delicacies of a variety of seeds? You will be delighted with how many birds are attracted to this bird feeder, which can be hung just about anywhere outside.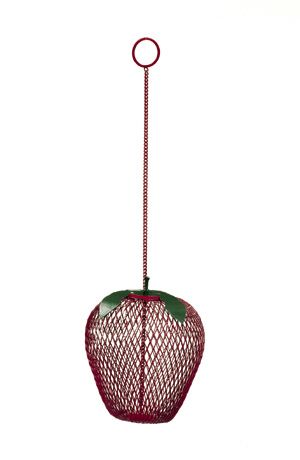 Made of iron and Plexiglas and powder coated in antique brown this feeder is built to last and withstand the natural elements. The roof slides up so it is easy to clean and to fill with the birds favorite treats; sunflower seeds and peanuts.
3. Chaparral Birdfeeder
The more traditional bird feeder with uniquely designed side panels of ivy and vines is a perfect way to feed the birds. Made of Plexiglas and powder coated iron for stability out in the elements as well as protecting the delicate seeds in the reservoir that is capable of holding up to 3.5 quarts of mixed seeds.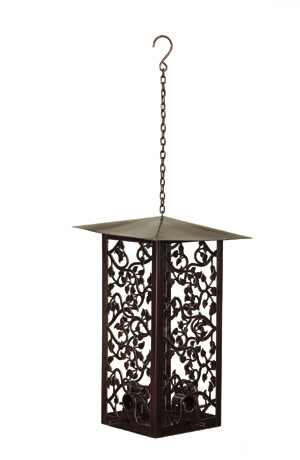 The wide roof protects the seeds from any moisture and there are drainage holes at the bottom to drain any excess water. The roof also slides up the chain for easy filling and cleaning. Of course the Chaparral Bird Feeder comes with a 11.25″ chain so you can hang this beautiful Feeder from a tree, wall bracket or other hanger.
The hanger is 8L x 8W x 12H and is perfect for a mixture of seeds the fulfill a number of birds palates that include bluebirds, cardinals, chickadees, finches, grackles, grosbeaks, jays, kinglets, nuthatches, redpolls, siskins, sparrows, starlings, towhees, woodpeckers, wrens and more.
This bird feeder is large enough to hold mixed seed along with peanuts, sunflower and safflower seeds and cracked corn. The Chaparral Bird Feeder is a wonderful choice and will go well out in your yard or garden.
4. Crackle Feeder – Celery
A beautiful addition to any yard or garden is the celery colored Crackle Glass Bird Feeder. Using the wonderful combination of iron and glass this feeder was designed to satisfy your good taste in decor as well as to house good tastes for your wonderful birds.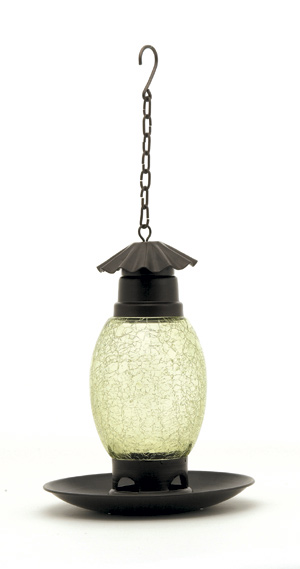 The cap on the top unscrews for easy cleaning and filling. The tray can easily be removed as well for cleaning and had several drainage holes to eliminate excess water and keep the seeds from obtaining moisture.
The The Feeder is 8″D. x 11″H and has a capacity of 1 quart or 1.5 lbs.and comes with an 8″ chain that will allow you to hang it from hooks, wall brackets or a low branch of a tree.Crackle Feeder is perfect for cardinals, chickadees, doves, finches, flickers, goldfinches, jays, juncos, nuthatches, sparrows, starlings, titmice, towhees, woodpeckers and more. It's great for holding cracked corn, mixed seed, safflower seed and sunflower seeds.
5. Fish Bird Feeder
Have a little fun in your garden with this metal powder coated blue Fish Bird Feeder. This is for the person who has a since of humor and wants to share ti with the birds. Using metal rods to form the fins and tail, out from the curved rods that form the vertical reservoir feeder, this wonderful feeder is quite unique. The powder coat protects the feeder from the elements guaranteeing you many years of enjoyment.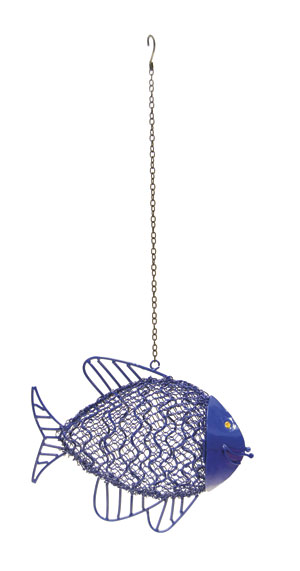 At 10″L x 4.5″W x 7.75″H it holds 1 qt., 1.5 lbs. of peanuts in the shell or sunflower seeds. Though the fish is smiling, the birds will be the happy ones as this feeder provides several place where they can hang and dine at their leisure.
Half of the fish face opens in order to clean and refill the reservoir and it comes with a chain so you can easily hang it from hooks or brackets. Just a few of the bird species that will love this feeder are chickadees, finches, flickers, goldfinches, nuthatches, sparrows, titmice, and woodpeckers.
6. Gazebo Bird Feeder
You may not have your own gazebo but you can provide one for your beloved birds to feed at will and dine in style. This lovely iron bird feeder is 8.875″L x 7.875″W x 13.25″H and can hold 0.8 qts., 1.2 lbs of various seeds and are made of strong iron and coated with a lovely green patina that will last through multiple seasons.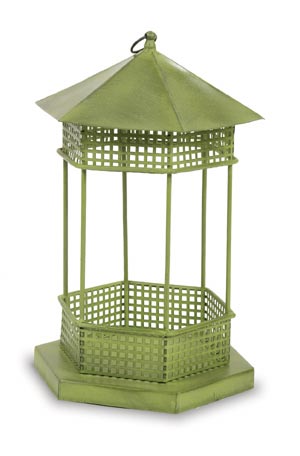 The detailed lattice work on the bottom can hold up to 0.8 quarts of sunflower seed, cracked corn, roasted peanuts, or safflower seed. The base is also a great way to feed mealworms and small pieces of fruit. The top lattice work ties the overall decor together as the roof allows water to drain off keeping the seeds moisture free in adverse weather.
Use the attached ring at the top to hang the feeder or you can place this Gazebo Bird Feeder on a platform.
7. Leaf Bowl Bird Feeder
What a different and wonderful bird feeder this Leaf Bowl makes. Finished in a charming saffron and cinnamon, this non-corrosive aluminum feeder comes with a stake that allows you to place it anywhere in your yard or garden.
This Leaf Bird Feeder is built to last and is ready for any type of seed or feed mixture for the birds ion your area. If you ever run out of birdseed, this wonderful leaf can easily double as a birdbath. It just doesn't get any better than this!
8. Maple Leaf Birdfeeder
Whether you are Canadian or not, you can enjoy this special, nature inspired Maple Leaf Bird Feeder. Made of metal and powder coated with a deep bronze finish that is designed to give you a long lasting product to use outdoors.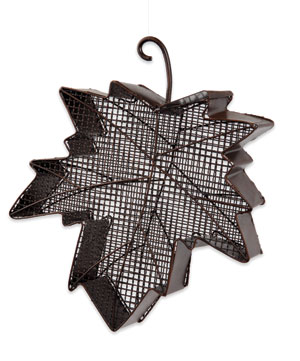 The bronze leaf mesh will hold up to 1.75 qts. 2.625 lbs of peanuts in the shell or sunflower seeds in the reservoir and it is 14.25″L x 12.375″W x 2.75″D. The mesh is also designed to give birds a place to perch as they feast.
The feeder is easy to clean and refill as one side of the frame is hinged and easy to hang from just about anything with the decorative leaf stem. A few of the birds that will enjoy this type of feeder are chickadees, finches, flickers, goldfinches, sparrows, titmice, and woodpeckers .
9. Melon Girl Bird Feeder
This large capacity Bird Feeder will greet you with a smile as you walk through your yard and garden. As with all of our mesh bird feeders, this one is designed to give the birds plenty of room to perch while they eat. However the Melon Girl Feeder holds a generous 3 qts., 4.5 lbs.at 7.5″D x 9.5″H.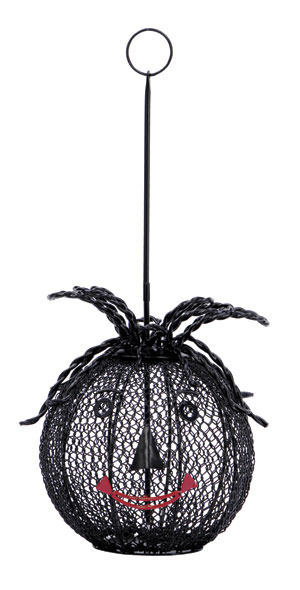 The metal mesh framework is powder coated in black and the metal rods that eventually create the hair of our little girl also adds strength to the feeder to give you seasons of enjoyment. The lid is held in place by a rod that is connected to the bottom.
The loop at the top allows you to hang this wonderful feeder from many places around your yard for the chickadees, finches, flickers, goldfinches, nuthatches, sparrows, titmice, and woodpeckers.
10. Palmate Bird Feeder
The Palmate Bird Feeder is a uniquely designed feeder made of non- corrosive cast aluminum with a wonderful rich saffron and cinnamon finish that will look fantastic in any yard. It is 12″W x 3.5″D and is perfect for small pieces of fruit as well as cracked corn, a mixture of seeds, peanuts and sunflower kernels.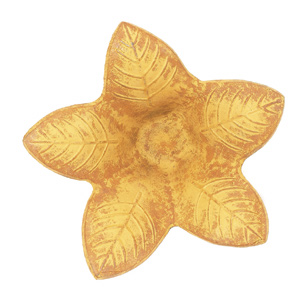 This fabulously de signed feeder comes with a stake and can be placed anywhere in your yard or garden. It can also double as a beautiful bird bath if you so desire.
11. Pineapple Bird Feeder
For that tropical feel in your garden, hang this unique Pineapple Bird Feeder. At 8″ dia. x 8″H this large capacity feeder is perfect for sunflower seeds, one of the favorites for many bird species.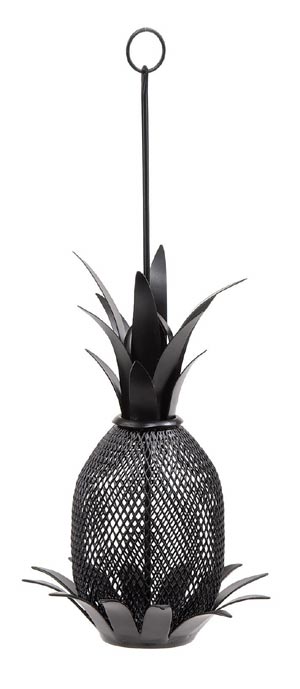 This steel mesh and solid steel base and leaf top is designed for long lasting use and has a black powder coated finish. Topped off with a solid steel hanging rod for ease of putting up and the leaf top slides up for easy filling and cleaning.
12. Seed Bucket
This decorative Seed Bucket is 16″L x 14″W x 13.75″H and is made of iron and trimmed beautifully in solid brass. This is a bucket that you can place on your hearth with pride as it will enhance the decor in any room and has a double insulated bottom to also hold hot ashes from your fireplace.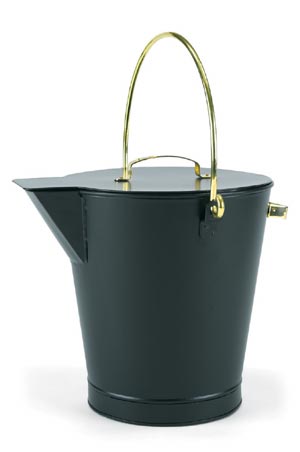 The entire bucket is powder coated with a black matte finish and has a rimmed pouring spout to be used as a seed bucket to assist in feeding birds, planting and outdoor storage. outdoors. This is one good looking multiple purpose bucket.
13. Squirrel Jungle Gym Feeder
If you want to watch your squirrels, up close and personal, you can with this wonderful Squirrel Jungle Gym Feeder. With all the tiers and feeding points, you will be able to sit back and enjoy all the funny and frenzied antics of your neighborly squirrels.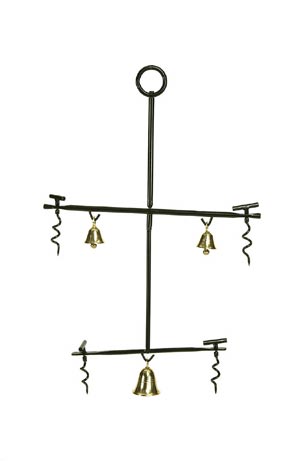 If this isn't pure enjoyment, I don't know what to tell you! This little gizmo even rings when the fun begins so you won't miss a minute of the action. Who needs television with entertainment like this? And to top it off, if you keep this about 15 feet away from your bird feeders, the squirrels will be so enamored with their feeder that they will leave your bird feeders alone.
You won't have to worry about the squirrels tearing it up either as it is made of wrought iron so they can'r chew through it. It's also powder coated to further protect it from the elements. It's 12.75″W x 18″L and can take up to 4 ears of corn and should be hung.
14. Victorian Bird Feeder
This wonderfully elegant Victorian Bird House is crafted out of wood and hand painted to perfection. It's 10.5″W x 12″D x 18″H and perfect for a variety of seeds, peanuts, sunflower seeds and small pieces of fruit.
Notice the fine detail on the seats (perches) and the room and space for birds to gather and feast on the waiting seeds within. The oversized roof protects the seeds and allows water to drain off thus keeping the seed dry. This is just a beautifully designed and executed bird feeder.