The melting snow is an indication that spring is around the corner. Spring cleaning and spring planting are probably the only two things on your might right now. It is time for you to forget the usual cabbage-and-mum routine.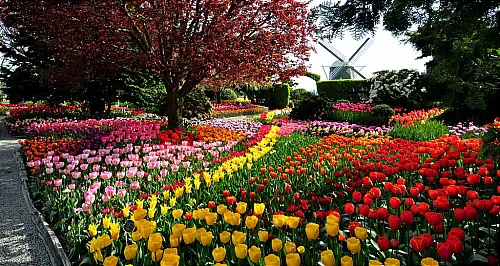 You need to introduce fresh bloomers into your garden this season to make it lush and colorful. The old, traditional standbys are tough and give excellent, consistent color to your planting repertoire, but the following alternatives are going to set your plating pots apart from others undoubtedly.
1. Bulbs
Bulbs are an incredible choice for this season. A few varieties can give your garden a dramatic makeover that cannot be attained by any other means. Moreover, bulbs make incredible cuttings for you to bring into your home. You should try the following three bulbs:
The next time to plan on planting for spring and enjoy the early color, planting bulbs is definitely your best bet. Don't get frustrated if deer eat them since it is just a part of it!
2. Anise Hyssop
With spectacular purple spikes, this incredible plant will blossom in both fall and summer. If you need to add vivid color and height to your containers, this plant is ideal for the job.
3. Annuals
These are the plants that take over where flowers like tulips and daffodils leave off to carry on the wave of vivid color in your flower gardens. Annuals can be considered as a simple way to update your garden bed throughout the entire year.
Normally used in hanging baskets and accent areas of the garden, these flowers allow gardeners to make a drastic change without working too hard. If the plants start looking shabby for some reason, pull them out of the ground and replace them with your preferred plant.
4. Annual Vinca
Annual Vinca is a plant that includes glossy green leaves and pink flowers. The leaves resemble a great deal with impatiens. The best thing about this plant is that it is strong enough to bear harsh weather conditions.
5. Perennials
Perennials are expected to last longer, and they will probably stay with you for a longer period of time. Therefore, picking them must entail thorough planning. What size do perennials normally get to? Will these plants be next to the lane? Will my garden's light, water, wind, and soil conditions be suitable for these plants? Will my lifestyle affect the maintenance characteristics of this plant?
If so, will they be able to stand the salt resulting from regular plowing? Would they be able to tolerate invasion by deer? By far, you must have realized that there is a lot to consider. You must be eager for early bloomers. Consider the following three and opt for the one that suits your requirements best.
Shasta daisy
Phlox
Dianthus
6. Bergamot "Squaw"
These clump-forming flowering plants remain colorful and vibrant throughout every season, especially winters. They are indeed an excellent alternative for adding height to the planters.
7. Flowering trees
Flowering trees are considered the most indecisive of all flowering plants. If the weather and soil conditions are perfect, seeing flowering trees bloom is extensively rewarding. Although they bloom for a short time, flowering trees are beautiful and spectacular.
Did you know that the National Cherry Blossom Festival held in Washington DC accepts more than 700,000 individuals each year?
8. Black-Eyed Susan
Back Eyed Susan is a long-blooming plant that comes in a wide variety of colors. However, it is more famous for its dark brown center and yellow petals. The plant normally needs full sun, but it doesn't require regular watering or maintenance.
9. Coral Bells
Coral bells are most commonly known for their vivacious flowers in the spring season. However, the plant's silvery purple leaves and the huge variety make coral bell a natural for containers. It looks spectacular when planted along the path.
10. Dusty Miller
Its silvery-white color makes dusty miller an incredible plant to look at. It seems as if there is dust or frost on its leaves. It doesn't need full sun all the time, and it grows very well during the winter season.
11. Hen and chicks
Hen and chick can be classified as contemporary plants that give your garden a gorgeous, modern look. It is available in a plethora of shapes and colors. It shows better growth in drier, colder climates. The best thing about this plant is that it doesn't require regular maintenance or watering.
12. Ornamental Kale
Ornamental kale is known for its ability to thrive in the coldest of the seasons. It is available in numerous colors, including maroon, purple, deep hunter, and light green. In fact, the lower the temperature, the better would be the coloring of the plant.
13. Lamb's ear
The grayish-green fuzzy leaves of Lam's ear present an unusual picture. It is one of the most preferred pants for the fall season. It is almost impossible to kill a lamb's eye through the winter season. These species add a low-profile, subtle textural point of interest.
14. Leadplant
Leadplant is usually used as a cover. It blossoms in winters with spectacular blue color. The most interesting feature they show is their color change. The initial blue changes into a bright red after a few months. You should add it to your garden or a container this season to add a jolt of color.
15. Licorice plant
It is similar to the dusty miller, especially in terms of leaves since both plants contain silvery leaves. This plant matches your garden no matter what color scheme you have planned.
16. Mexican feather grass the
The Mexican feather grass features the reddish, feathery stalks that eventually turn amber later in the fall season, making this plant an ideal choice for planters in autumn.
17. Rosemary
This is, in fact, the only plant that has been popular over the years. It offers that subtle touch of green that no other plant can give. Plus, there is no other better smell on earth than the one it offers.
The contrast in the Garden: Colors, Line, Form, and Texture
Gardening books will often give their readers the impression that you should always contrast perennials that form rounded mounds of foliage with bearded iris or other flowers that have sword-shaped or spiky leaves.
While you can create interesting patterns within a border by doing this, it is best to focus on the entire "picture" that your garden creates rather than focusing on the details of a flower bed.
Variety of Flower Beds
I have a large bed of bearded iris, daylilies, and Watsonia. There is very little variety among the shapes of the leaves, but this isn't really a design problem.
Massing plants with similar leaves create visual harmony, and gardens need more harmony than contrast. While this bed is a formal rectangle, the massed effect of the leaves is not unlike tall meadow grass.
If this bed was in a small suburban garden backed by a plain fence, there might not be enough contrast, but I have a large garden surrounded by a forest of native conifers that can grow to be hundreds of feet tall.
I have planted a collection of exotic trees and shrubs along the edge of the forest. My driveway runs along the south side of my garden like a 20-foot wide walk. This makes the central part of my garden like a huge mixed border 125 feet deep and 200 feet long.
In such a large border, the daylilies and iris play a fairly minor role, even though I have hundreds of them, and they bloom for months. When not in bloom, they provide a restful green foreground for the trees and shrubs behind them.
When creating a floral design, it is fairly easy to see the entire design as a complete picture; we need to see our gardens in the same way, even though the picture's scale is much larger. It is unnecessary for every plant within a garden to contrast with its neighbors, but a garden without contrast will be very uninteresting.
Adjust the Perfect Contrast for The Garden
If a garden has mature trees, it will usually have contrasts of light and dark areas unless the garden is totally shaded. Most of the gardens that I have seen which really lacked contrast were informal gardens of herbaceous plants.
One of the most popular British styles during the past century has been formal gardens which are informally planted. The combination of geometric planting beds which are informally planted sets up an immediate contrast on several levels.
The most obvious contrast is between the symmetrical layout and the informal planting of the beds. Still, there is also a contrast between the paths, which usually are all the same texture, and the varied textures of the plants within the beds. This particular style of garden is almost always going to have enough contrast to be interesting.
Formal gardens in which the beds are planted as symmetrical patterns of color often lack contrast if they are not near mature trees or at least surrounded by pergolas to provide a much-needed contrast between light and shade.
As long as a formal garden has that amount of contrast, it will probably be visually stimulating. A formal water feature will also add a great deal of contrast, especially if the garden has stone or gravel paths.
Formal gardens are closely related to architecture, so proportion and scale play a vital role. I touched on this when I said that the central part of my garden is like a huge mixed border. That part of my garden has formal lines, but the trees and shrubs in the background are informally planted.
The surrounding forest sets the scale for that composition. Those trees are second growth, and the oldest is no more than sixty years old. As they continue to mature, everything else in the garden will seem to become smaller in comparison with them.
None of my exotic trees are likely to grow as tall as the natives. Even in the most formal gardens, scale and proportion are usually much more difficult to control than in architecture.
It is easy to introduce contrast to formal gardens because the formal lines contrast with the irregular forms of most plants. Even when the plant material within the garden consists entirely of clipped hedges, there are usually trees visible beyond the garden, and there will be a strong contrast between clipped hedges and unfettered trees.
Lack of contrast tends to be a much more complex problem in informal gardens. Formal gardens can be filled with a riot of colors, but they are really about line, form, texture, and proportions. Like impressionist paintings, many informal gardens rely on color combinations; line, form, and texture often play minor roles.
Read also.