If you want to trim your hedge, you will need a hedge trimmer to do the work. There are many types of hedge trimmers that you can find on the market. Here I would list some of the reputable brands you can get and hope it will help you get the right trimmer to trim your hedge.
1. Stihl Hedge Trimmers
Some people are true artists when it comes to cutting hedges. Whether you're looking to create unique shapes with your bushes and shrubs or simply looking to create beautiful, evenly cut hedges, cordless Stihl hedge trimmers are sure to do the trick.
They give you plenty of power and cutting options. Also, blade quality is what you would expect from Stihl. The hardened and precision-ground cutting blades are manufactured to Swiss and Stihl standards at the company's plant in Switzerland. However, the majority of Stihl products are built right here in America with the same high-quality specifications.
At this time, you should note that Stihl hedge trimmers are widely available throughout the USA via Independent Dealers. Just find (Stihl Hedge Trimmers) somewhere in the "Sponsored Ads" on this website to find the nearest dealer in your area.
Also, it is possible to find a "USA-based" Dealer's link located within the content of this post – aka "ad choices." However, this post focuses on Europe – specifically the UK, as Stihl products are widely available and ubiquitous commodities on the European market.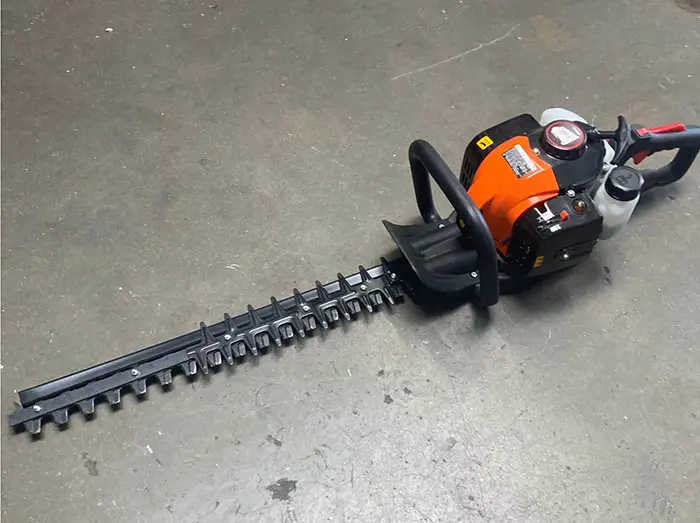 Why Stihl?
Stihl hedge trimmers come in a variety of lengths and power choices. The petrol-powered is ideal for larger jobs, such as trimming bushes in parks, cemeteries, and other public and semi-private areas where one might require a little more power and longer work time. All controls are conveniently located on the handle for quick start and stop access.
A front handguard to keep the debris from getting all over you and to prevent your hand from slipping off the handle and into the blade, along with a built-in anti-vibration system, makes operating this type of trimmer easy and safe.
These trimmers feature a double-sided reciprocating blade with an integrated cutter guard. Even thicker branches are easily trimmed and smoothed with this type of powerhouse. You will also certainly appreciate the ergonomically designed front handle for multi-position cutting.
If petrol availability, or perhaps ecology or other concerns, have you looking for a more compatible battery-operated trimmer Stihl Hedge Trimmer, then Stihl can help you there as well.
The fully rechargeable, battery-operated Stihl hedge trimmer could be just the thing you need. It's ideal for trimming tasks around the house, in your home garden, and virtually anywhere.
These trimmers offer a 36V Stihl Lithium Ion battery. Four times quieter than its petrol pal, your neighbors will appreciate the drop in noise when you set off to do your trimming chores. These trimmers startup by just pulling the trigger. Let go, and it stops. It really is that easy to use.
The diamond-ground blades result in clean, sharp, and professional-looking cuts, which simultaneously provide for just a single pass to get the job done and with easy maneuverability.
Like the petrol trimmer, the battery-operated trimmer comes complete with safety guards for your hands, as well as a hanging slot for easy storage in your garage. Stihl hedge trimmers come in a variety of power options.
The blades can produce up to 3200 strokes per minute, depending on which model Stihl hedge trimmer you decide to purchase. Nothing beats the petrol or battery-operated performance of Stihl hedge trimmers regarding quality, dependability, and maneuverability.
2. Makita Hedge Trimmer
For consumer awareness, you should note that although Makita is a popular brand name in the USA, Makita hedge trimmers are primarily available in Europe.
Makita hedge trimmers come in a range of different models. There are primarily two differences. This has to do with the way that the individual units are powered. Shoppers choose between machines that are designed to operate on electricity from a battery or gasoline-powered machines.
These do not use any cords, but there is gas, oil, and maintenance to consider. The other major difference is the length of the cutting blade on the particular machine one chooses.
Makita is a leader in making tools for the construction industry and has taken this same technology to their yard tools line. The company makes several trimmers that are perfect for many uses around the home.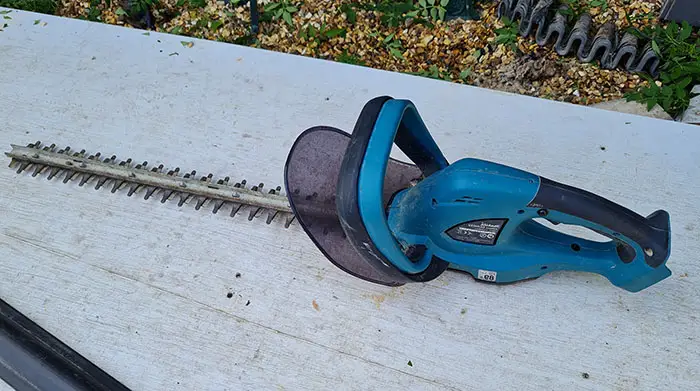 Cordless Hedge Trimmer
The BUH550RD Makita Hedge Trimmer is one of this company's largest cordless hedge trimmers. A 36-volt lithium-ion battery powers the unit. The battery provides plenty of power to cut through the largest of limbs. The machine has a cutting bar length of 25 inches and can make the largest job short work. It is perfect for homeowners and landscapers and is sure to make jobs more efficient.
A gasoline-powered Makita hedge trimmer is another choice. These are ideal because there are no electrical cords to tangle or become a potential hazard to the operator. They rely on gasoline to provide the power to run the blade.
There are many different models to choose from. They range from 21cc to 24.5cc engine sizes and your choice of blade types, e.g., single-sided, double-sided. Various blade lengths too, from 22″ to 30″, and there are pole-type trimmers that are available for getting to the top of those very tall hedges as well.
The HTR7610 Makita Hedge Trimmer is one of Makita's most popular models. This machine features a powerful engine that is powered by a 54.5cc 2-cycle engine. This machine is perfect for anyone who has a large job to do and does not want to have cords in the way.
It is also a good choice for smaller jobs and only needs to be filled up with gas to provide hours of use. The machine will run for approximately six hours on a single tank of gas. This is nearly a full workday and is plenty of time for most homeowners to cut all of the bushes on a vast real estate or even commercial scale.
Why Choose Makita?
Operators are sure to enjoy the ergonomic design of a Makita hedge trimmer as well. The balance of the models is essential. Most people need to run their trimmers for several hours during each cutting session. This is a nonstop operation that requires a machine that is comfortable and lightweight.
Makita hedge trimmers have comfortable rubber grips and wrap-around handles. This design makes the machine easy to control and ensures that comfort is maintained all day to minimize fatigue.
Makita hedge trimmers are the perfect choice for any job. This company has earned a reputation by producing durable electric goods for homeowners and contractors alike. Each of the machines is constructed of quality materials and is designed to be used professionally.
Ergonomic features make it easy for operators to work all day efficiently. These features appeal to homeowners who may need to use a Makita hedge trimmer for a small job during the weekend.
There are two major models to choose from. The main difference depends on the way that the machines are powered. Gasoline engines are one choice. These are a good option because they provide the most extensive of all hedge trimming jobs to be done.
Battery-powered machines are another choice. These are ideal because they offer a smooth cut, and homeowners do not need to worry about keeping gasoline on hand or around their property.
3. Ryobi Hedge Trimmer
If you are searching for a good piece of garden equipment, the Ryobi Hedge Trimmer is an excellent choice. It is from a credible company known for providing only durable, trustworthy, and consistent home improvement tools. Customers who have purchased these hedge cutters are quite pleased with their items' results and quality.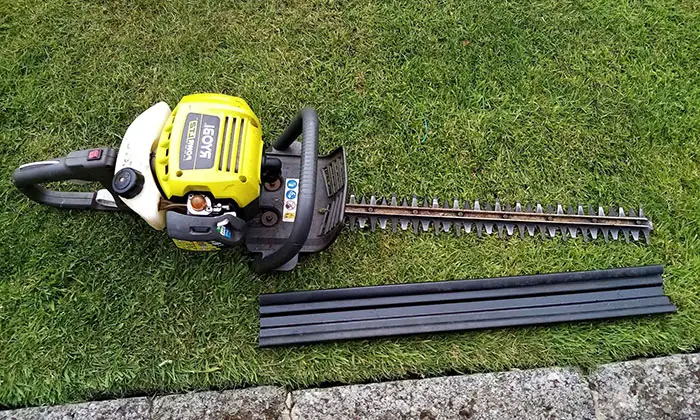 Important Things to Consider Before Buying
As you start shopping for a new Ryobi Hedge Trimmer, you first need to know a few things. You must know exactly what you intend to do with the hedge trimmer. The depth and location of hedges are just some of the considerations that you need to think about. Having answers to these simple issues will allow you to find out precisely what will work best for your needs.
The "cordless type" of Ryobi hedge trimmers means that you will never have a problem regarding the distance of the hedges from your house or at least from any electrical outlet from any point in your yard. You will have to decide on whether you will buy a petrol-powered cutter or a battery-powered model. This post only covers certain facts, useful information, and conveniences related to "Ryobi" perse.
For a much more in-depth and detailed description on the subject of which "type of cordless" Ryobi hedge trimmer is best suited for your individual application(s), you should refer to the home page of this website for more information on making the right choice (which depends on your particular usage).
Battery Powered Ryobi Hedge Trimmers
Ryobi Hedge Trimmers powered by batteries are perfect for use in small yards, but they are limited on run time since the batteries are required to be recharged when the voltage gets too low for any further use. The duration of the battery will typically depend on the shrubbery or foliage and the condition of your battery.
In general, the power source is going to be either an 18V or 40V Lithium-Ion battery. The 18V model can operate for up to 30 minutes under a full steady load, while a 40V model has extended run time. The batteries are compatible with other Ryobi One+ tools, including the 18V One+ Angle Grinder.
This way, you do not have to purchase a new charger and battery for the new tools you buy from Ryobi. One of the best things about choosing this Ryobi Hedge Trimmer is that since it is battery-powered, you do not need extension cords to deal with your plants.
In addition, it is quiet and does not emit harmful gases that are bad for the environment. It is a basic hedge cutter that is user-friendly and provides a good grip and easy handling, especially for beginners.
Petrol Powered Ryobi Hedge Trimmers
Petrol-powered Ryobi hedge trimmers are also portable though they are heavier when compared to cordless battery-powered cutters. If you have a large yard, this is the most suitable option for you because these trimmers have more power than the battery-powered models. They have the ability to cut through thick branches, and you do not have to wait for batteries to be charged.
While you do not need batteries to use this type of hedge trimmer, two-stroke petrol products require that you mix the fuel with 2-cycle oil to use them. The ratio of the mixture on ANY 2-stroker is 50:1. You then must have enough fuel source to trim and cut through the foliage as needed to finish the job.
When determining which 2-stroke oil to use whenever you mix the fuel, Ryobi recommends synthetic oil, designed especially for 2-stroke mixes. Many buyers are attracted to gas-powered units, particularly because a two-stroke motor, which has the most power, is also more versatile than cordless electric. Ryobi models come with a Start-easy system so that you can easily get them up and running to begin trimming your hedges.
Petrol-powered hedge trimmers from Ryobi have an anti-vibration feature with a rotatable handle right at the rear. The units come with a bar length of about 2 feet and a large cutting capacity of up to a quarter-inch thick stem. You really cannot deny that a petrol 2-stroker engine can provide you with all the capacity and action that you will ever need for any hedge maintenance job.
Ryobi Hedge Trimmers come in a wide variety of items that can meet all of your trimming requirements. The hedge trimmers come with a 2-year warranty from Ryobi. Rest assured that each battery-powered or petrol-powered product is known for being durable and made from high-quality materials.
4. Qualcast Hedge Trimmer
It should be noted at this time for consumer awareness that Qualcast products are primarily available in Europe. This post reflects that via having links available to Qualcast products, which are only a prevalent commodity in the United Kingdom. Other than that…
Choosing a hedge trimmer can be as daunting as the art of landscaping itself. All landscaping machinery needs to be matched with the job and the operator properly. Many factors need to be taken into consideration when purchasing a hedge trimmer. These include weight, affordability, power, repair-ability, and the amount of work needed.
Often, landscaping, including hedge trimming, is needed in a place where electrical outlets are unavailable. Qualcast has innovated a line of battery-powered and petrol-powered hedge trimmers that make your trimming job a snap. Dragging a heavy, cumbersome electrical cord over a large area can make or break the success of your trimming job.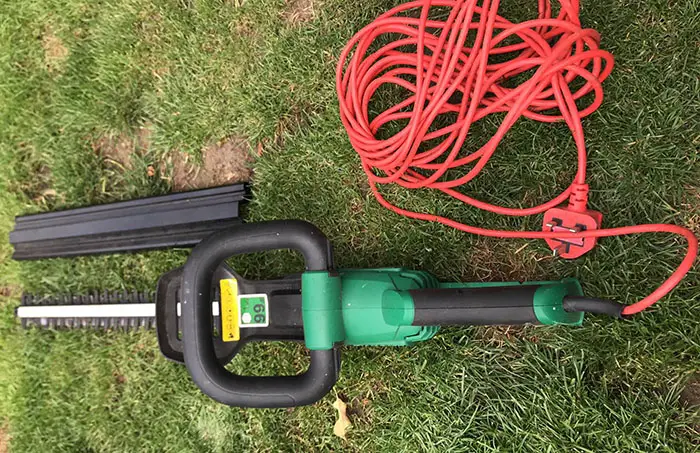 However, deciding which type of cordless hedge trimmer to purchase for your job can be difficult. You should be aware of the benefits and features of both battery and petrol-powered trimmers before you decide.
Battery-Powered
A battery-powered Qualcast hedge trimmer is powered with a nickel-cadmium battery pack with a load registering to 18 volts. The greatest benefit of using battery-powered Qualcast hedge trimmers is that they can go with you anywhere you need to be to finish the job. At an average of 6 pounds per unit, they are extremely lightweight and are versatile for people of all ages and physical capabilities.
Battery-powered hedge trimmers are generally very quiet and exhaust-free. The Qualcast battery pack lasts 3-5 hours per charge and boasts a 40-minute continuous use life. Qualcast also manufactures a battery charger line that is efficient and quickly recharges a series of battery packs, so you never have to wait to finish the job.
Battery-powered hedge trimmers are best suited for small to medium jobs. They are extremely effective and safe for detailed, sensitive work. Qualcast battery-powered hedge trimmers are equipped with soft handle grips and feature a quick blade stop attachment. These trimmers can also be outfitted with a variety of diamond-ground blades up to 16 inches long.
Petrol-Powered
Petrol or gasoline-powered Qualcast hedge trimmers are best suited for landscaping jobs involving many different material grades. Qualcast petrol trimmers are equipped with a heavy-duty two-stroke, 26 cc engines that produce enough torque to tear through any landscaping work. The jaws of Qualcast petrol power trimmers range to 26 inches and are double-sided or single-sided, depending on the model.
These trimmers also have an amazing array of safety features. They have safety guards for work where you find yourself a little unbalanced, handguards that accommodate gloves, and throttle locks that keep the power-up, so you do not find yourself in a bind. Long reach and rotary models are available if you work in a space that will not allow a ladder.
Qualcast engines are manufactured to produce low vibration and are very easy to start and service. They are also equipped with self-start oil kits. Landscapers can use Qualcast petrol-powered hedge trimmers for extended periods of time because their fuel efficiency is extremely good for two-stroke trimmers. They are very lightweight at an average of 12 pounds.
Any Qualcast hedge trimmer comes with a 2-year guarantee. Qualcast prides itself on the quality of its hedge trimmers. If a mechanical problem arises or your trimmer needs routine maintenance, servicing these hedge trimmers is easy, and aftermarket parts are readily available. No matter how expansive your landscaping job is, Qualcast has the hedge trimmer for you.
5. McCulloch Hedge Trimmer
It should be noted at this time for consumer awareness that McCulloch hedge trimmers are primarily available in Europe. Half of the ads reflect that for those residing in the United Kingdom via… e.g., Amazon.co.uk or Ebay.co.uk.
The only McCulloch hedge trimmers I have found in the USA are available at Ebay.com. Also, McCulloch only manufactures petrol hedge trimmers in the cordless variety. In other words, they don't make battery-powered machines.
If you are looking for power and precision to shape your hedges the way you want them, then McCulloch is a respectable name in the lawn equipment industry that offers top-of-the-line hedge trimmers for both beginners and season veterans.
McCulloch has been producing high-quality tools since the early 1940s. McCulloch got its start producing chain saws, even producing the world's lightest chainsaw in 1968. Since that time, McCulloch has grown to manufacture various tools, including affordable gasoline-powered hedge trimmers.
A hedge trimmer is an ideal tool for any landscaper, gardener, or individual who loves their lawn. These tools are designed for the precise shaping of shrubs, hedges, bushes, and small trees.
Curb appeal is the first impression people get of you and your home, so making it look the way you want says a lot about you. When choosing a trimmer, you have to evaluate how much you need to cut.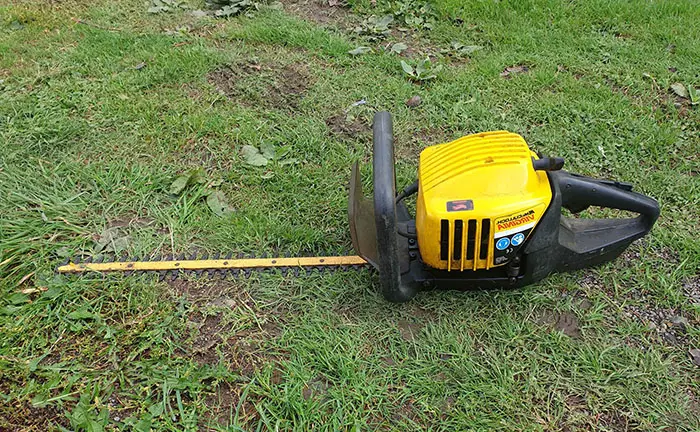 Features of Gasoline-powered Trimmers
Gasoline-powered trimmers allow you to cover limitless distances because you do not have to deal with extension cords and the location of A/C receptacles. You will also need a controllable tool without being too heavy to carry around the home and garden.
The McCulloch hedge trimmer gives you optimal power in a lightweight design, weighing not much more than ten pounds. The fuel tank volume on these powerful machines typically holds about ten fluid ounces. The length of the blade on various models range from seventeen to twenty-three inches. The cutting bar gaps, that is to say, the (blade openings) are spaced at one inch.
When it comes to powerful cutting, McCulloch hedge trimmers have an engine power of 0.8 horsepower and a cutting speed of 4050 revolutions per minute. All trimmers are built with anti-vibration technology. This technology, alongside having five positions to adjust the angle of the handle, makes for a comfortable and concise cut. However, you may need to approach the job to get it done (faster and easier).
McCulloch hedge trimmers also feature dual-action cutting blades that provide the user with high-performance cutting. The dual-action technology allows you to make fewer passes to get your desired look. Alongside the high performance, cutting is a state-of-the-art low noise engine.
The muffler design allows for a much-reduced noise level without any interference of power and performance. Starting your hedge trimmer is made easier with McCulloch's soft start and priming feature.
McCulloch reduced the resistance on its starter cord which makes for an easier and faster start. The manual priming system allows fuel to be pumped/primed into the crankcase to ensure a productive start time and time again. It also features an auto return stop switch that automatically resets itself after every use.
McCulloch hedge trimmers have a user-friendly air filter compartment that allows you to change the filter without using any tool. The Air filter really doesn't need to be "replaced" every so often – keep it "maintained" by blowing it out with compressed air or cleaning it with mineral spirits.
This method is cost-effective, and by doing so, you are ensuring that you have a reliable hedging tool for many years to come. Caution, If you should ever see the tiniest pinhole in the filter, you need to replace it. If a piece of "micro debris" ever gets past the carburetor, then it could get stuck in the intake reed, and you will lose compression in the crankcase. The upshot of that is – take it to the repair shop!