Just because the weather's a bit on the chilly side doesn't mean you have an excuse for neglecting the gardening. Just because your plants are curling up and hibernating for the winter doesn't mean you have to. In fact, here are eight chores you can do right now to keep your garden in tip-top condition throughout the winter.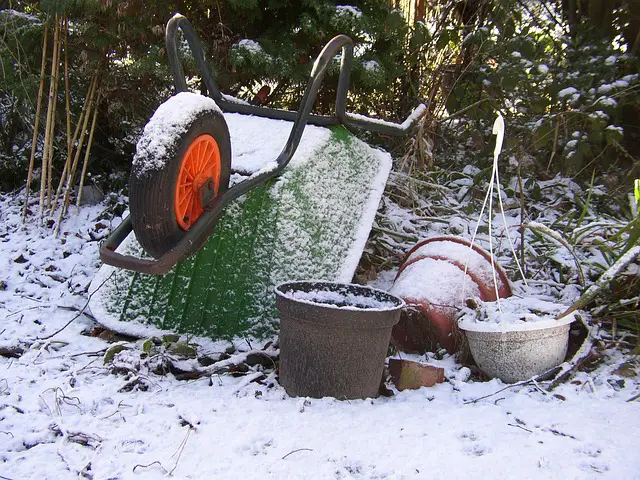 Dig your soil over
In preparation for the spring, you want to ensure your soil doesn't become frozen or waterlogged. Get out there with a pitchfork and loosen and turn over the soil as much as you are able, getting rid of weeds and adding manure, compost, or extra plant nutrients as you see fit. It's hard work, but it'll keep you warm in the cold weather, and experienced gardeners love the smell of the soil as you turn it over.
Give your shrubs a pruning
This is perhaps the most important of your winter gardening chores. Remove the dead and diseased branches from any shrubs you have, and prevent any future damage by cutting back on any sections of the shrubbery that are starting to rub up against one another. If any branches stretch out away from the rest of the shrubbery, cut them back by about a third. This will ensure that your shrubberies are still in good health when spring rolls around.
Look after your lawn.
Lawns tend not to enjoy the winter months. The rain is nice, and all, but the soil can get waterlogged, or worse, compacted by all the people trampling over it, crushing everything's roots and generally creating great big muddy paths everywhere they go.
Dig a trial pit n the lawn and take a look to see what's going on underneath the grass. In particular, you should look for thatch and moss that might be damaging the lawn and keep an eye out for weeds.
Clear the garden path
While avoiding stamping all over the lawn, you should probably give yourself somewhere a bit more pleasant to walk. Get rid of all the weeds, lichen, and moss that have been making inroads onto your garden path. Get the broom out and give it a good old-fashioned sweep.
Protect your garden from frost
If you've got a herb garden, then now is the time to make sure it doesn't get eaten up by frost. January and February are harsh on the herbs. Cover up your olive, myrtle, bay, and French lavender by sticking them in containers and moving them to the house or greenhouse. Alternatively, you can cover them in fleece while keeping them outside.
Meanwhile, give your grapevines and wisteria a pruning if you haven't already. This is also a good time to plant bare-root and container trees, hedging, and shrubs.
Feed the wildlife
Your plants aren't the only ones having a tough time throughout the winter months. Plants such as yew, holly, hawthorn, and blackthorn provide berries for birds and cover their nests. You can also put out your own bird feeds full of seeds and fats that will help them fatten themselves up to resist the cold.
Gardening Basics For Winter
Whether your region's winters are a perpetual freeze or pleasantly mild, winter gardening offers many challenges and opportunities.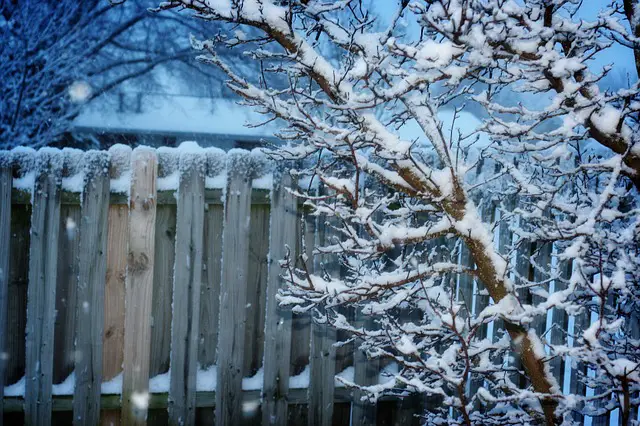 Whether you're planning your spring and summer planting, are interested in growing fresh vegetables, or wish to keep your favorite plants alive until spring, winter gardening offers many more options than you may realize. There's no reason you can't keep your thumb green all year round.
Opportunities Blossom in the Winter
Many gardeners hang up their tools for the season and wait for warmer weather, but that need not be the case. Depending on your local climate, gardening in the winter may be less than ideal, or you may be facing soil that is frozen rock solid for months.
It's also an excellent time to purchase gardening supplies, as businesses frequently offer discounts to bolster their anemic winter sales. No matter your situation, the winter months offer the ambitious gardener a chance to explore options they may not have considered in warmer months.
Assess, Plan, and Prepare
Begin by winterizing your garden. Take in perennials and bulbs that won't survive the colder months, and trim back those that remain outside. Once the frost season has begun, start your winter mulching to protect against freezing, erosion, and dehydration.
Once winter has firmly settled in, you may be discouraged by your dormant garden, but it's really an opportunity to examine your garden from the roots up, decide what you'd like to add or change and plan.
Consider any difficulties you had in the past growing season, and see if there's anything you can do to fix them, such as a location change.
Moving plants in their dormant stage is not only easier but less likely to damage the plant. Would you like to add to or change the focus of your garden? Many plants actually thrive when coupled with a particular vegetable, fruit, or decorative plant.
Growing Without a Greenhouse
Indoor plants need not just include houseplants and delicate perennials taking refuge until the sun returns, so why not try your hand at indoor gardening?
Not only will it brighten your home with much-needed color in those dreary months, but it is also an opportunity to discover growing techniques and plants you may not have considered cultivating before.
Consider growing an indoor salad or herb garden. Most plants can grow successfully with the right choice of fluorescent or halide bulbs.
Keeping it Green
You can even continue outdoor gardening in one form or another. If your soil is still workable, try adding evergreens and heart berry-producing plants like Winterberry or Finetooth Holly to add color. If your soil rarely freezes, winter is an excellent time for a winter vegetable garden. Growing your own vegetables can offset the high price of fresh vegetables in the winter and revitalize your soil.
As spring draws near, even those who can't work their soil in the winter can give their garden a head start by sowing seeds indoors just before the growing season. Check your region's average last spring frost dates with the National Climatic Data Center to ensure you don't begin the process too early, though, or your seedlings may not thrive as well as they could.
Harrison writes about gardening tips regularly, specifically on bonsai trees. His blog Bonsai Tree Gardener provides in-depth information on the various tools, techniques, and supplies required to take care of your own bonsai trees at the comfort of your own home.
Prepare Springtime Blooms In This Winter
Cold, wet, and possibly snowy winter months don't spell the end of your gardening hobbies. There are several tasks you'll still want to undertake.
A beautiful aspect of life in North America is that no matter where you reside, there are plenty of options for those interested in the exciting and rewarding hobby.
Even if you are solely interested in producing fruits and vegetables for your family's consumption, simply understanding that gardening can and should be a year-round activity will provide you with maximum satisfaction and a bountiful harvest.
In many parts of the county, winter gardening is limited to rest and focusing on allowing the garden soil to rejuvenate. The colder climates in the country still provide for some amount of planting and growing in the lower temperatures.
One of the best ways to enable your gardening hobby when all looks cold, gray, and death is to do a bit of research. Discover what types of plants, trees, and shrubs might naturally do well in your part of the world.
Almost every geographical location has some amount of local flora genetically evolved to grow in that particular climate. Once you have a list of several plants to choose from, you can get to work during the early fall time to plan out your planting attack.
The great thing about carrying on your gardening activities during the winter is that when spring rolls around, much of your planting area will have benefited from the natural soil rejuvenation that occurs when you rotate the types of plants you are cultivating in your space.
If you decide not to grow winter plantings but are still concerned with your springtime blooms, it might behoove your garden to enrich its soil with dosages of composting and fertilizers manually.
You'll want to be careful not to overdo it, but with some research that points out best practices for your type of local soils, you can take the 3 or 4 months over the winter season to allow for your garden to be deeper, richer, and raring to go for those springtime plants to bloom.
Composting is an excellent year-round activity you can add to your garden hobby activities. Even if you are only developing your compost materials until the late fall, you should have plenty when you need them for your soil. If your normal household waste products don't provide enough materials for your decomposing pile, look around your neighborhood.
Surely you have neighbors who take the time to rake up leaves? If so, offer to haul off some or all of their green waste. This can provide you with the bulk volume of materials you need to decompose.
If you need more, seek out some local farms, dairies, equestrian centers, etc. Some urban areas also have municipal composting facilities that give away or sell materials at extremely cheap rates. With just a little effort, you'll find more soil enrichment material than you could ever know what to do with.
Once you've taken the time to till in all the good stuff your spring garden is going to need, get ready to plan for what you'd like those blooms to look like. Suppose you have perennial favorites you love seeing, make sure to add them to the plan. Why not try out some new and different varietals to add spice and visual excitement to your garden this spring?
Local gardeners are constantly getting together and swapping seeds and ideas for making their little plots of heaven more beautiful than ever before. With just a bit of effort and energy, you can ensure you're joining them and not staring out onto a little plot that would be kicked out of hell.
Read also: Winterize Various Herbs In Your Herb Garden
More on Winter Gardening
It's nice to have a season where the outdoor work is minimal – just a little bit of clean-up to finish and the occasional foray into the vegetable garden for winter vegetables. But even in the winter months, there are things to enjoy and marvel at in the garden.
On the west coast, people have gone through the wettest November in over 100 years. The rains brought floods to several towns on Vancouver Island, but it also built up the aquifers that were strained after a very dry summer and gave gardens a good deep watering to get them back on track. Now in early December are experiencing cold, dry clear days, with temperatures about ten degrees below normal.
In my gardens, I've just dug up the last carrots to store for the winter. The Swiss chard and kale seem to thrive quite well in this weather, and we have been enjoying their fresh greens quite frequently. The parsley also loved that November rain, and I'm sure I have enough to keep a restaurant stocked with it all winter!
My perennial herbs – thyme, rosemary, oregano, and sage – are still green and producing enough for my winter soups and stews. I'm not sure how long the oregano will last, but I've dried enough to get by until spring.
In the flower gardens, the last calendulas have just succumbed to the cold weather and looked so pitiful I removed most of them today. They have been blooming prolifically on two-foot-high bushy plants ever since mid-August. (I was a bit late with the seeding).
My pot of nasturtiums is also finding this weather too much, and it was another one I had to cut back and add to the compost today. Like the calendulas, it has been a mass of golds, deep bronze, and bright orange blossoms all summer and fall.
The last bloomer in my gardens is usually the tall late chrysanthemum that my mother-in-law gave me several years ago. Over the spring and summer, it grows from the base to at least three or four feet, bushy and green. I now have several large ones from one small clump, great background fillers in the flower garden.
In November, the buds that have formed start to open, and for a month or more, I enjoy gorgeous bronze-rust flowers with gold on the underside of the petals. They make a wonderful cut flower, bringing color back into the house when there are no other blooms in the garden.
You may also refer to this if you know how to winterize and turn on the sprinkler system.
Did you find this post useful? Would you like to get back to it later? Save THIS PIN below to your gardening board!
Read also: A Lesson for Different Seasons and Perennials Planting