Tomato plants provide a variety of benefits for gardeners, from the abundance of flavorful fruit to the aesthetic appeal of their lush foliage. However, tomato leaves may begin curling unexpectedly and can cause concern among horticulturalists who are unfamiliar with why this phenomenon is occurring.
The first step toward understanding why tomato leaves curl is to consider the environmental factors that contribute to leaf curling. Factors such as temperature fluctuations between day and night or excessive levels of soil moisture could be causing stress on the plant tissue and resulting in curled leaves.
Besides, cultural practices such as overfertilization or incorrect pruning techniques could also lead to undesired changes in leaf shape.
In addition to environmental and cultural causes of leaf curling, there are several pests that have been known to feed on tomato plants and induce similar symptoms. These include various aphids, caterpillars, mites, thrips, nematodes, and whiteflies — all of which should be considered when attempting to diagnose a problem with an affected tomato plant. Once identified, appropriate treatments can be implemented in order to prevent further damage caused by these insects.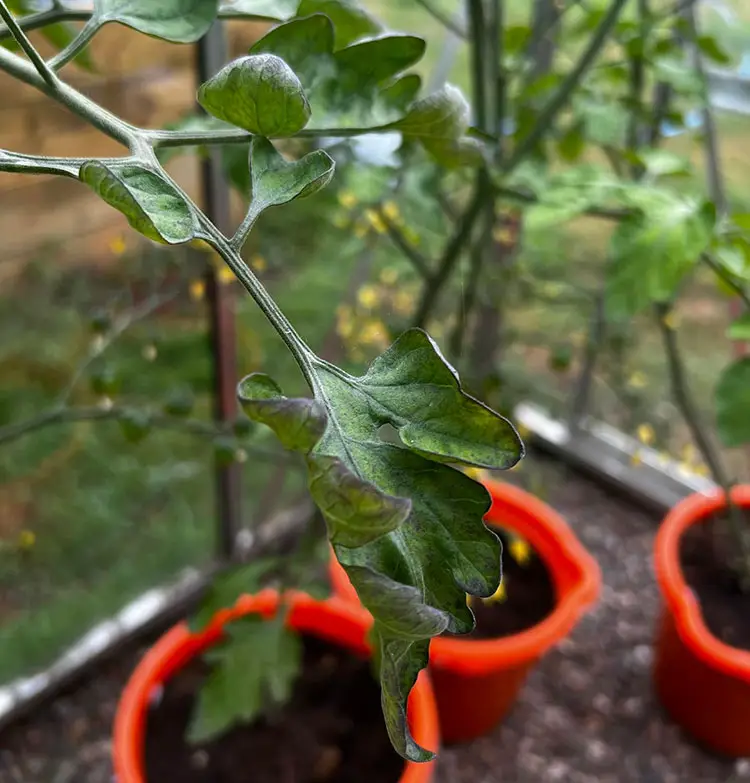 Environmental Factors
Environmental factors can have a significant effect on the health of tomato plants and their leaves. Temperature, humidity and soil quality are three environmental elements that need to be taken into consideration when caring for tomatoes. When these elements come together in an optimal way, tomatoes will thrive; however, when there is any variation outside the ideal range, it can cause issues such as leaf curling.
Temperature plays a key role in plant growth. Although tomato plants grow best in warm temperatures during the summer months (between 70-80°F), they may become stressed if exposed to extreme heat or cold. Temperatures outside this range can cause leaves to curl up as a defense mechanism against stress. Likewise, prolonged exposure to excessive heat combined with dry air conditions can also trigger leaf curling due to dehydration from lack of water uptake by the plant's roots.
Humidity levels should remain between 40%-60% for healthy tomato growth and development. Low humidity causes moisture loss through transpiration which leads to wilting leaves and eventually leaf curling in order to conserve moisture within the plant's tissues. Too much humidity also has negative repercussions for tomato growth as it encourages fungus formation which further contributes to poor health including leaf curling.
Soil quality is another important factor affecting plant health and vigor which directly influences the overall productivity of both foliage and fruit yield from each tomato plant. Tomato plants require well-drained soils rich in organic matter with a proper pH balance ranging between 6 – 7 pH levels for optimum nutrient absorption needed for normal plant functions and growth processes. Poor soil drainage or low fertility levels often lead to deficiencies resulting in stunted root development and ultimately causing yellowing leaves along with curled edges visible on new emerging foliage.
Under Or Over Watering
Tomato plants require consistent and adequate water in order to thrive. Too much or too little can lead to problems, including curling of the leaves. Underwatering causes the soil around tomato roots to dry out, leading to wilting and leaf curling as the plant seeks moisture from its environment.
To remedy this situation, irrigate your tomatoes regularly with 1–2 inches of water per week during their growing season. Avoid over-watering as it prevents oxygen uptake by the root system and can cause fungal growth in foliage due to excess humidity.
If you have heavy clay soils more frequent watering might be required in order for your tomato plants to receive enough hydration; however, make sure not to saturate them beyond their capacity.
Excessive Nitrogen
Excessive nitrogen can also lead to tomato leaves curling. Studies have shown that when plants are exposed to too much nitrogen, their growth rate increases abnormally and a characteristic of this is leaf-curl
Nitrogen creates an imbalance in the hormones responsible for regulating vegetative growth, leaving the plant with excessive foliage. As a result, stems become weak and unable to support the weight of new leaves which causes them to curl upwards or downwards
When this happens, it is important to reduce levels of nitrogen by cutting back on fertilizer applications as soon as possible so that further damage can be avoided
Excessive Heat
Tomatoes are notoriously sensitive to high temperatures, and extreme heat can cause leaves to curl in response. According to a study published by the Journal of Horticulture Science & Biotechnology, tomato plants that experience more than 33°C (91°F) during the day will exhibit some degree of leaf curling. In addition, extended periods of excessive heat can also significantly reduce flower and fruit production.
High-temperature stress causes many other physiological changes as well. For instance, stomata—tiny pores on the surface of a plant's leaves—close up when under intense or prolonged stress from heat waves, which prevents water loss but also inhibits photosynthesis. To avoid this problem, gardeners should take steps to provide shade for their tomatoes whenever possible and monitor soil moisture levels closely. Mulching around the base of the plant with organic material is another effective way to help maintain consistent temperatures.
In hotter climates, it may not be feasible to avoid severe heat entirely, so regular monitoring and adjusting irrigation schedules accordingly is critical for successful tomato cultivation. Providing adequate airflow around foliage while avoiding overcrowding can also help keep temperatures down and create an environment conducive to healthy growth.
Excessive Pruning
The leaves of a tomato plant provide the plant with the nutrients it needs to expand and bear fruit. When a plant is under stress, its leaves may curl as a defense mechanism. Both over- and under-pruning can cause curling, so make sure your plants get plenty of light and ventilation before you start cutting them back.
Leave about two-thirds of the plant's foliage when pruning a tomato plant. If you prune any further, you risk stunting the plant's growth because there won't be enough nutrients for the leaves to produce enough food. Dead or diseased branches must be cut away so the plant doesn't die from its weight. If the leaves are yellowing or curling after pruning, it's possible that more fertilizer is needed to ensure that the plant has everything it needs to produce healthy new leaves.
If there is too much shade around a tomato plant while it is growing, then some extra light may need to be provided in order to give it enough energy for its leaves to stay healthy and green. Shade cloths or other light filters on sunny days can help reduce sunburn damage but still allow enough light for photosynthesis.
With careful attention given during every step of its care, a tomato plant should remain healthy and produce plenty of tomatoes come harvest time. To ensure continued success with tomato plants, gardeners must recognize signs that indicate potential problems early on and take appropriate action before irreversible damage occurs.
Nutrient Deficiency
Tomato plant leaves curling can often be an indicator of nutrient deficiency in the soil. Insufficient nutrition in the soil is one of several possible causes of tomato leaf curl and should not be overlooked when diagnosing this condition.
Below are three common deficiencies that may lead to tomato leaf curl:
1. Nitrogen Deficiency: Tomato plants require nitrogen for healthy growth, including the production of chlorophyll which gives them their green coloring. Without enough nitrogen, yellow-green or white discoloration will appear on older foliage first followed by stunted growth and curling leaves.
2. Potassium Deficiency: Low levels of potassium reduce a tomato plant's ability to move water throughout its system leading to wilting, dryness and eventually curled leaves. In addition, pale blotches or brown patches may form on lower leaves due to inadequate uptake of minerals from the root zone.
3. Phosphorus Deficiency: Without adequate phosphorus available in the soil, tomatoes will struggle with photosynthesis resulting in slow growth and purple stems and veins as well as wrinkled, twisted, or misshapen leaves that are easily damaged by windy conditions or pests such as aphids.
By focusing on replenishing essential nutrients in the soil it is possible to prevent further damage caused by malnutrition and help restore your tomato plants back to health before other more serious problems arise.
Curly Top Virus
Curly Top Virus is one of the most common causes of tomato leaves curling. This virus is transmitted by a small insect known as beet leafhopper and affects many types of plants including tomatoes. Symptoms consist of severely curled and twisted, yellow-green foliage with thickened veins that start at the base of the plant and move upwards. The edges of the leaves will tend to be more affected than the center area. Flower buds may become deformed or fail to open while fruit production can decrease significantly in some cases.
To confirm if Curly Top Virus is present, a sample should be taken from an infected plant and sent to a lab for analysis. Treatment for this virus is not available; however, prevention methods are available such as removing weeds where insects breed or using row covers over vulnerable crops during early season growth stages when insect activity is high.
Good garden hygiene practices like rotating crops year after year can help reduce the spread of the disease. Tomato varieties resistant to this virus are also available on the market now which can aid in limiting potential damage caused by infection.
Herbicide Damage
Tomato plants are sensitive to certain herbicides and can suffer from damage due to their use. Herbicide injury often appears as curling and distorted leaves, which may be interspersed with healthy foliage or present on a single branch. In severe cases, the plant may lose its leaves completely. Chemical burns cause browning of the leaf margins, eventually leading to necrosis (cell death) in extreme circumstances.
Plants that have been exposed to too much herbicide may also become stunted or display signs of nutrient deficiency such as chlorosis. The absorption of chemicals into the soil is another possible source of contamination for tomatoes; if nearby grasses have recently been sprayed with an herbicide, it could potentially lead to uptake by tomato roots.
To prevent this type of damage, gardeners should always read product labels carefully and follow all instructions regarding application rates and restrictions. Additionally, they should take steps to ensure that any chemical runoff does not reach areas where tomatoes are being grown.
Pest Damage
It is possible that pest damage could be the cause of tomato leaves curling. Insects such as aphids, mites, and whiteflies can suck the juices from the plant's leaves and stem, causing them to curl or wilt. The following are ways to detect and manage pests:
Look at both sides of the leaves for any sign of small insects or webbing.
If a problem persists, use insecticidal soap or horticultural oil to control it.
Monitor your plants regularly so you can catch a potential infestation early on.
Certain diseases like verticillium wilt may also lead to leaf curling in tomatoes. Since this disease resides in soil, signs of wilting might appear before curling occurs. A good way to prevent further spread is to keep infected plants away from healthy ones and practice crop rotation when planting new crops.
Transplant Shock
Transplant shock is a common issue for tomato plants, causing them to curl their leaves. When the plant undergoes transplantation from one container or location to another, it can induce significant stress on the root system and cause physical damage. Stressful conditions such as these often lead to curling of the leaves due to dehydration, which happens when the roots are unable to transport enough water up into the foliage.
To help reduce this type of shock in tomatoes, proper planting techniques must be followed; soil should be well-drained and loose but still hold moisture, and deep enough so that the root ball is fully buried. Additionally, watering lightly but frequently helps prevent extensive drying out during transplanting.
Excessive Fertilizer
Excessive fertilizer can cause tomato leaves to curl and turn yellow. According to a recent survey, nearly one-third of gardeners use too much nitrogen in their fertilizers. This is because nitrogen is the primary nutrient needed for plant growth, so it's easy for people to be overly generous when applying it.
Too much nitrogen causes an overabundance of foliage growth which leads to weaker stems that are unable to support the additional weight of larger leaves. The result is curled or twisted leaf edges as well as yellowing on the tops of the leaves from excessive exposure to sunlight due to a lack of adequate shade from other foliage.
The most effective way to reduce curling and yellowing caused by excess fertilizer is by reducing the amount applied each time. A balanced mix with a lower percentage of nitrogen should also be used throughout the growing season instead of just at planting time.
Avoid using high-nitrogen liquid fertilizers such as fish emulsion during periods of active growth since they will quickly increase levels beyond what plants need without any visible signs until further damage has occurred.
Plant Tomatoes Too Early, Not Been Properly Hardened Off
Following the excessive fertilizer issue, another potential cause of tomato plant leaves curling is planting tomatoes too early and not properly hardening them off. This mistake can occur when a gardener plants their tomatoes before all danger of frost has passed or fails to take the proper steps to acclimatize young seedlings to outdoor conditions. There are several steps that must be taken in order for tomatoes to become hardened off:
1. Start by gradually introducing them over 2-3 weeks, first exposing them to indirect sunlight outdoors for 1-2 hours per day and increasing this incrementally each day until they are staying out for 6-8 hours daily.
2. When temperatures consistently reach about 50°F (10°C) at night, begin watering your plants with a light spray from a hose instead of using a watering can.
3. Avoid direct midday sun during the hot summer months as much as possible.
4. Move the plants into the full sun once they have established themselves in partial shade.
5. Make sure that you water your seedlings deeply but infrequently so that their roots will grow deep and strong enough to support healthy growth.
Failing to harden off new transplants adequately may render them permanently stunted or unable to thrive no matter how well they are cared for later on – leaving curled leaves behind as telltale signs of neglect. Ultimately, taking care while preparing newly planted vegetables will result in healthier yields than if done improperly or neglected altogether.