Home and garden are places for pleasant memories and pleasant smells. Sometimes fresh flowers are exactly what a home needs to enhance the mood, make memories, and even create balance in your life. Our noses are developed and adept at picking up on certain smells and applying emotions to them. But we all know that some flowers smell better than others.
The article below has several sections detailing some of the best-smelling and most potent and pungent-smelling flowers. These flowers are known for their use as mood enhancers in homes, fragrance scents in professionally made perfumes, and even grown as indoor plants that provide great smells all year long. Read on to find out more about the 11 best smelling flowers to have in your garden.
Best Smelling Flowers to Have in Your Garden
Flowers in your garden need heartiness and strong roots. Choose flowers that do well with proper light amounts. You can't choose your garden space, and some flowers don't need as much sunlight as others. Also, soil's climate and moisture content play an essential factor for blossom size and even the scents they produce.
Once you figure out your garden's climate and light levels, you should choose a few flower types from this list of the best smelling flowers to have in your garden.
Keep in mind that these flowers smell great in the garden but are also available for you to cut and place in an indoor vase. Great-smelling flowers don't have to stay in the garden, and you can enjoy them for days and even weeks in your indoor spaces as well!
Peony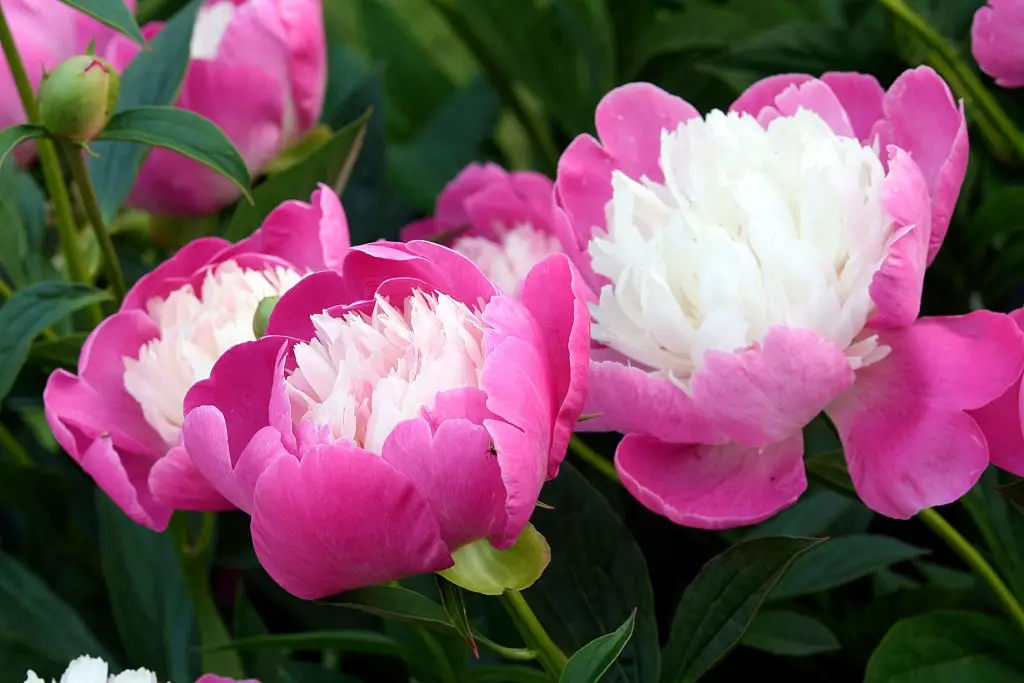 The peony flower is a great-smelling addition to any garden. Peonies are hardy and intense, but they are not only sweet-smelling flowers. The pony is also known for its beautiful and multicolored petals. The flower blossoms of most varietals of peony flowers make a wonderful centerpiece in your home or vase of flowers at the entry hall.
The peony flowers require full to partial sun, but they do best with about six to eight total hours of full sunlight each day. The large blooms at the top of the peony plants will blow over in strong winds, so it is best if they get protected from breeze and winds.
The soil of peony flowers does not need specialized mixing because they are hearty and not very difficult plants to grow in your garden. However, the soil should be deep and moist and have good drainage away from it.
Freesia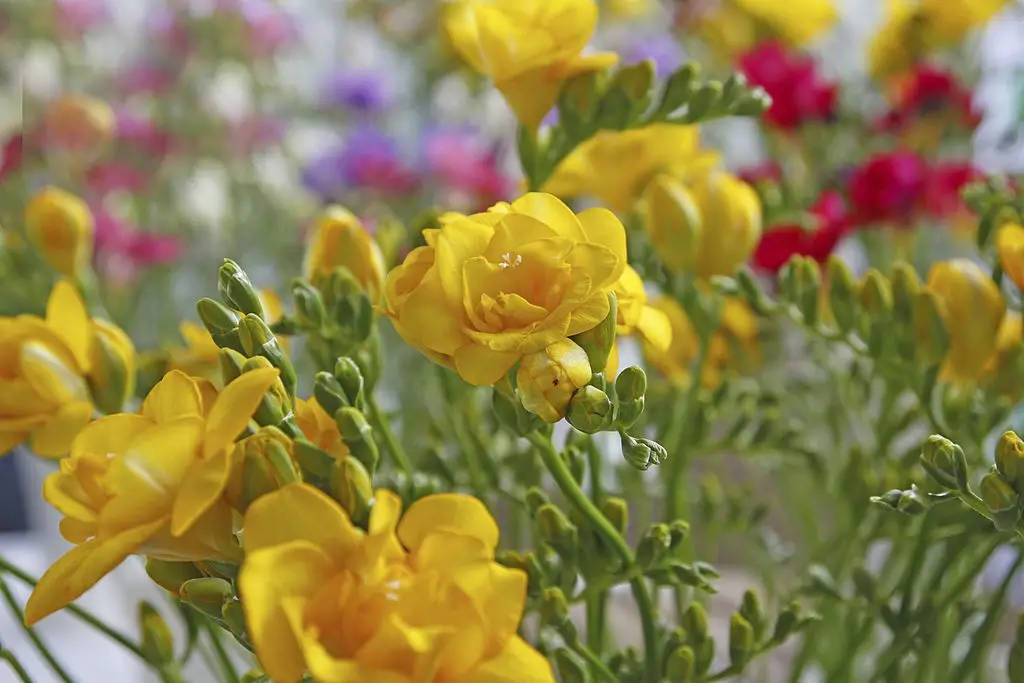 The colorful displays of freesia are sweet and aromatic in springtime and add a beautiful aroma to the garden or home. The Freesia plant comes in several different colored blooms. Each of the colors of the blooms smells similarly like sweet honey.
Freesias do best in full or partial sunlight with about six to eight total hours of direct sunlight for optimal growing conditions. The blooms of freesia blossom best in more excellent springtime weather conditions, though the plant is hearty enough to withstand cold winter conditions.
The soil of freesia should be slightly moist when the corn gets first planted. However, once it shoots up, the soil needs consistent watering and moist soil for the most luscious blooms. The first year of the plant's life should get carefully monitored for mildewing, as the watering needs are much higher in these first twelve months.
Wisteria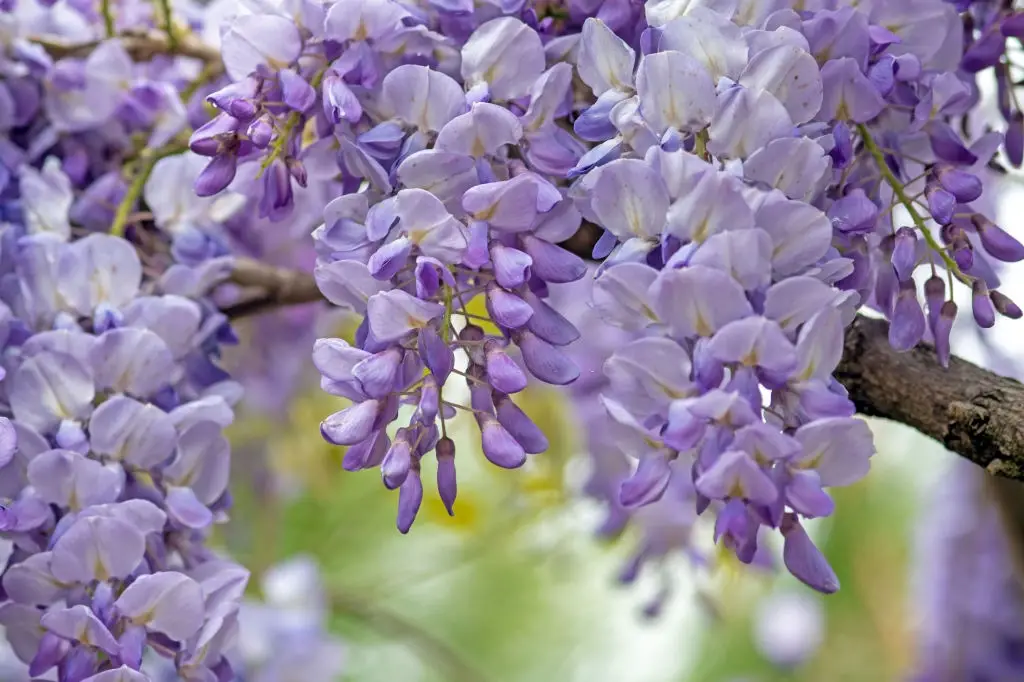 The beautiful blossoms of wisteria are aggressive growing plants that can reach 10 to 30 feet high. For the best blooms, an average of six hours of direct sunlight gets needed. However, partial sunlight for part of the day is also suitable.
The blossoms of wisteria usually come out in full bloom in spring. However, they may continue blooming into summer. The wisteria vine is a perfect flower for your garden because it continuously produces flowers at different intervals throughout the growing season of spring and summer.
With wisteria, you will have an abundance of flowers that smell great for your garden and home. Also, expect several different blooms and several different times when you could pick and place the flowers in vases for your home.
Hyacinth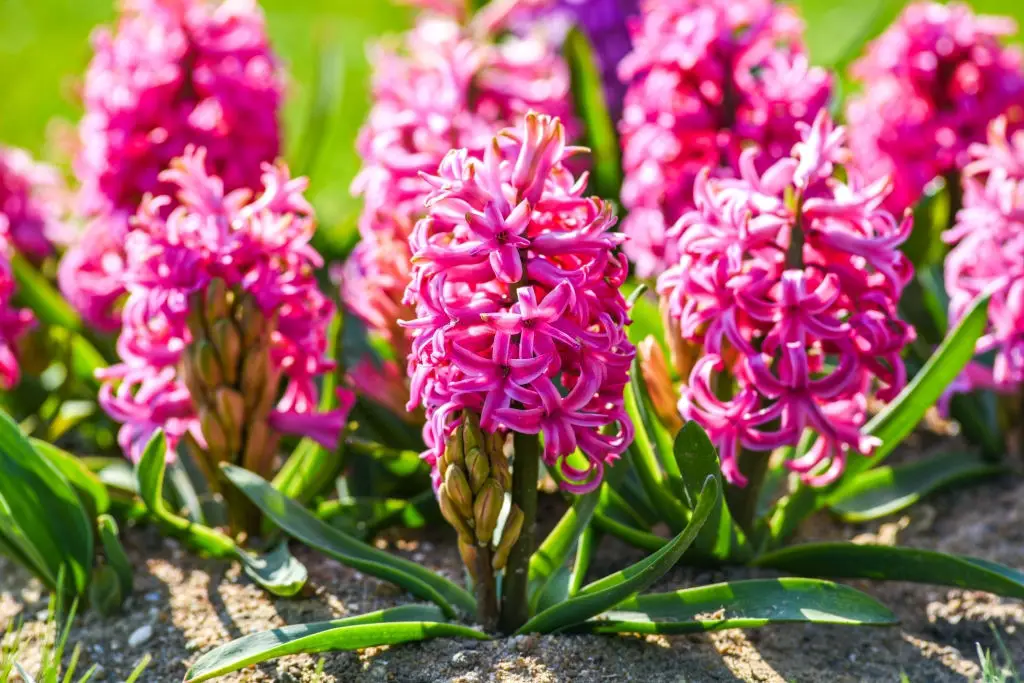 The spring blooms of hyacinth are extremely potent smelling and get used in various perfumes of upscale and even everyday uses. The flowers themselves are hearty enough for partial sunlight but do best in direct sun half of the day. The flowers are shoots of trumpets that come from a perennial bulb.
The odor of the hyacinth flowers is pretty strange. Some people love the scent when it gets used in small quantities. The chemical that produces scent in this flower, known as indole, is used sparingly in perfumes.
However, the scent may also remind some of the fecal matter since the chemical compound indole is also in feces. The fecal matter scent makes this a strange and intense flower that does have a strong scent, and some people consider it very nice-smelling.
Magnolia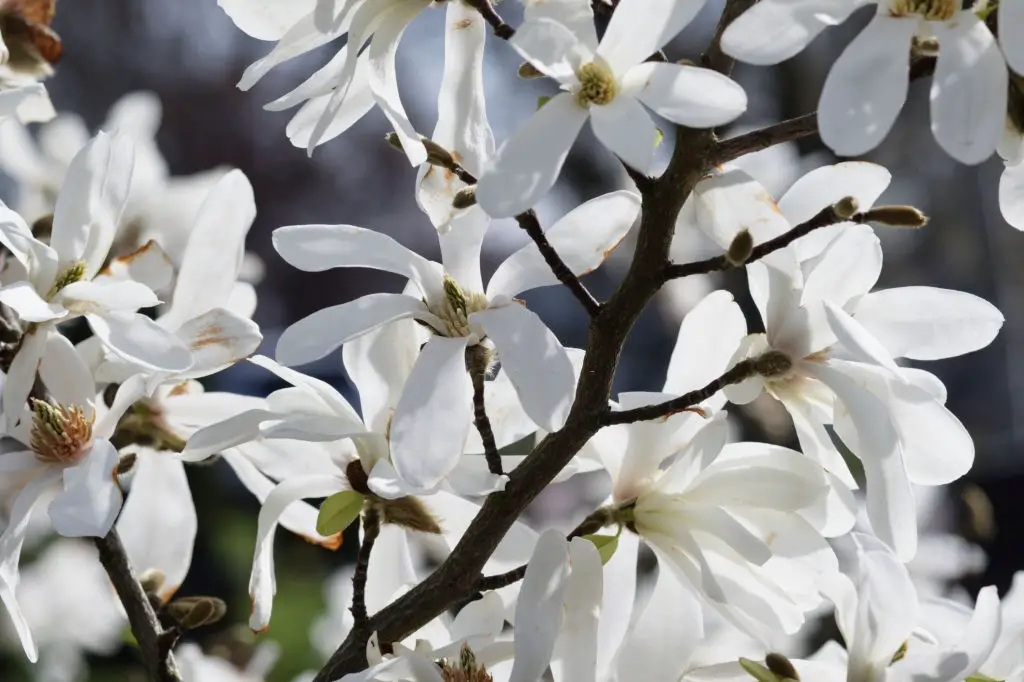 Magnolia flowers blossom from large southern trees or shrubs. Their pure white elegance shows up in many different settings, and they grow in most warmer or temperate gardens.
The flowers themselves are short and stout, so they are intricate centerpiece flowers in large vases. However, the magnolia flower is incredibly aromatic and adds sweet fragrance to a room once picked and placed.
The glossy foliage of magnolia trees gets used as the foundation for centerpieces, along with the good-smelling flowers.
Gardenia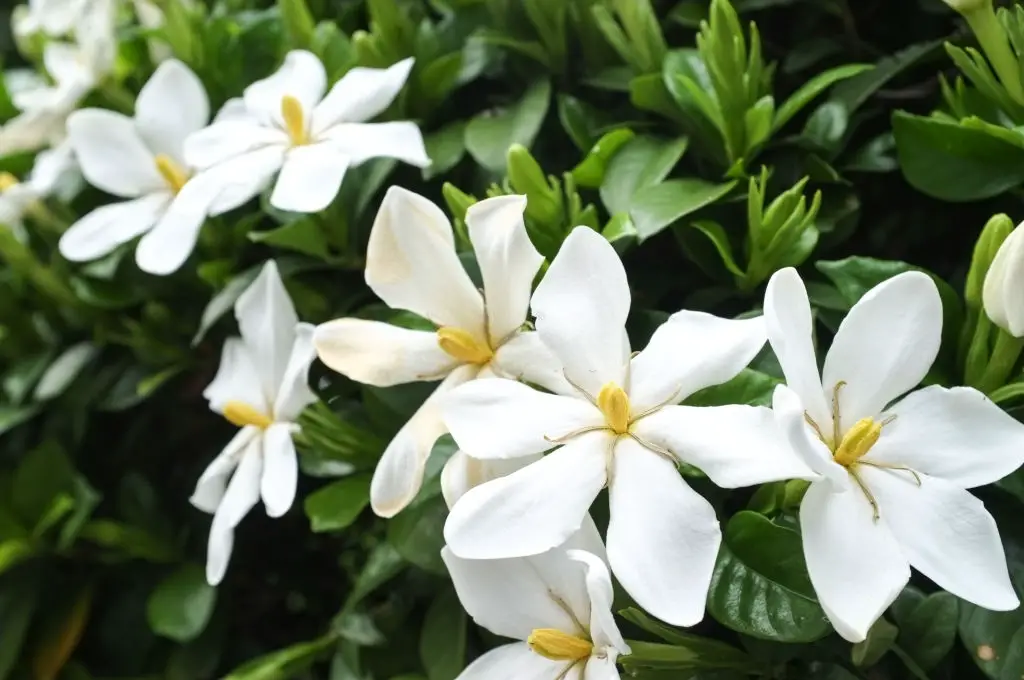 One of the most popular fragrances for air fresheners, gardenia is a sweet and subtle scented flower. The flowers are gorgeous little seashell shapes and look lovely as a centerpiece or entry hall vase showcase.
The beloved scent of gardenia is strong enough for use in luxury products such as high-end perfumes. However, the subtle scent is excellent even in small amounts. Gardenia gets used as an ingredient in air fresheners, but why not have the real thing in your home?
Planting a gardenia bush is an excellent option for any garden. It produces flowers for the home on a regular basis. When you add a gardenia plant into your garden, plant the root ball at a small height of one inch above the soil that is around it. The raised root bed is to ensure that the bulb gets good drainage.
The soil for a gardenia should be slightly acidic at a pH of somewhere between five and six. The fertilizer for gardenia is specialized for acid soil plants. When used, this fertilizer helps the gardenia plant produce large blossoms and sweet-smelling flowers for your garden and home.
Flowering Crabapple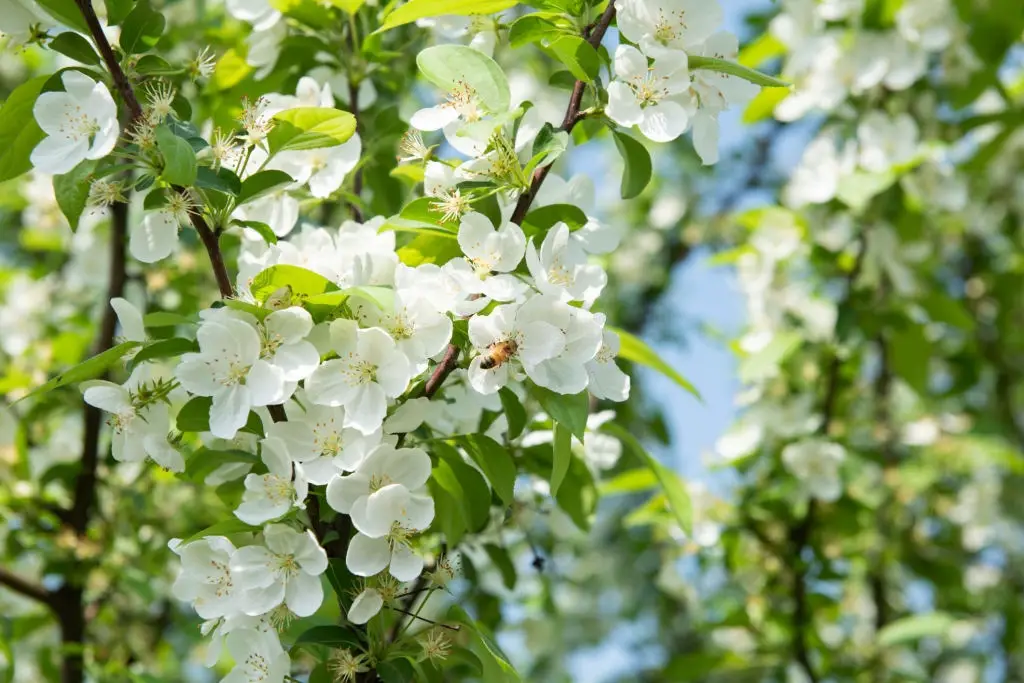 The tree of the flowering crabapple sprouts magnificent blossoms of tiny flowers for about two weeks every spring. The tree of flowers has a powerful smell of sweetness for these two weeks. However, not all flowering crabapple trees are the same.
Some flowering crabapple trees produce exotic cinnamon or clove scents from their pink or white blossoms. Other crabapple trees might produce sweet-smelling blossoms that are pure white. Still, some crabapple trees do not have much of a scent at all.
The best crabapple tree varieties for strong-smelling flowers are the:
Madonna
Brandywine
St. Cloud
Crabapple flowering trees. These trees have a sweet apple scent with a hint of spice. However, the flowers are short-lived for only two weeks and should get picked from your garden and placed in your home quickly if you want to enjoy them as a centerpiece inside.
Honeysuckle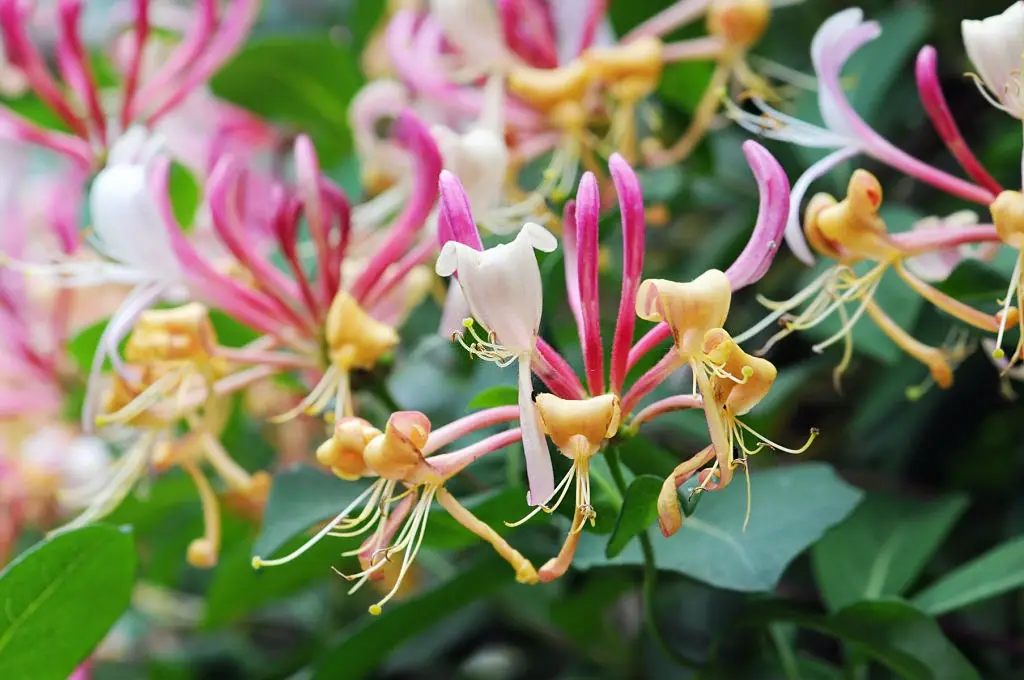 The honeysuckle is a great-smelling addition to any garden that receives a lot of full sunlight. Also, the honeysuckle has several evergreen varieties that bloom well for garden spaces.
The honeysuckle will produce scents all day long and is great for a continuous scent throughout your garden, especially on hot and sunny weather days. However, these plants are susceptible to mildew and aren't great for wet soil conditions.
Honeysuckle needs drier and well-drained soil. The dry, hot weather works well for the evergreen varieties. The honeysuckle blossoms sitting in summer heat even enhances the strong sweet smells of its flower petals.
Rose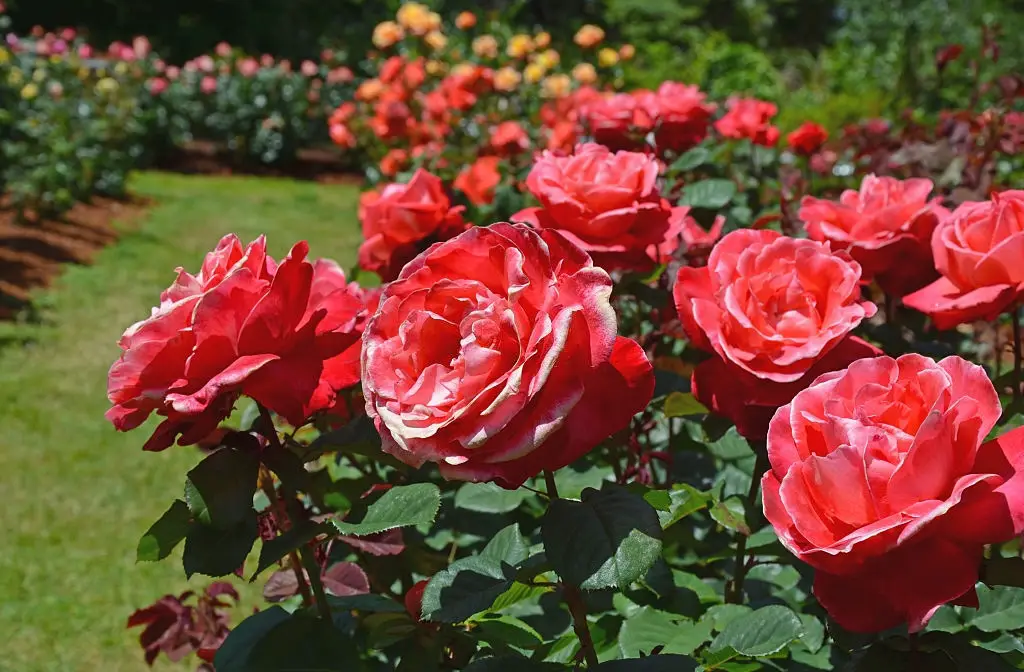 Roses are notorious for their beauty and strong, pungent smells. The rose also has various colors and sweet to sour or stinky scents that a gardener will choose from.
Roses and their strong-smelling petals get used in many of the best high-end perfumes in the world, including scents like Kai Rose Perfume Oil and Rose Atlantic Perfume.
Everyone has heard of a rose garden, but a few special rose bushes add a nice evergreen ambiance for any garden are great for pruning a few flowers to bring into the home on special occasions.
America's national flower is one of the most popular flowers for a garden. Even though it has its thorns, the hearty nature and beautifully unique blossoms of the rose make it a must-have for any sweet-smelling garden.
Phlox
The beautiful candy-colored blossoms of the flowering phlox bush are lovely for the garden because of their many tiny flowers that pollinators like bees, butterflies, and hummingbirds love. These lovely clusters of flowers have long stems that are great for use indoors as vases or centerpiece flowers.
The phlox bush does well in full or partial sunlight and gets best planted in very well-drained soil that is evenly moist throughout the year. Too much or too little moisture could damage this sensitive plant's roots and stock.
Butterfly Bush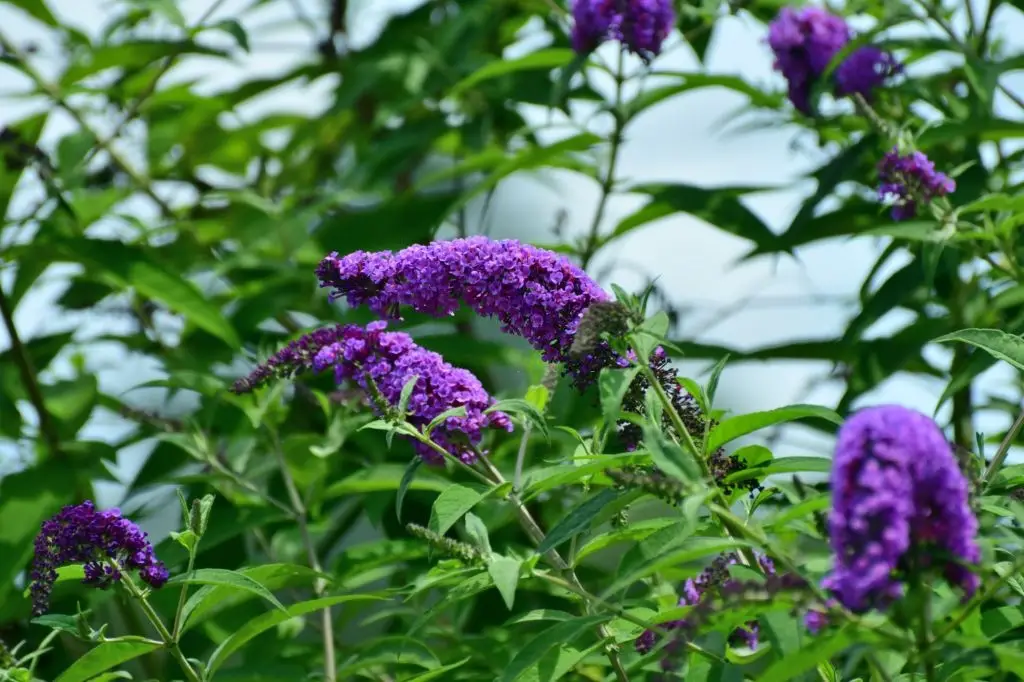 The tiny bright-colored blossoms of trumpeting flowers from the butterfly bush are also a favorite for pollinators such as hummingbirds. The many flowers in the blossoms make for colorful treats for all types of beautiful natural wildlife.
The sweet honey scent of butterfly bush is also a welcome smell in any garden where the sweet mixture of the many flower blossoms is glorious for viewing and ambiance of scent.
Best Smelling Flowers for Home
Everyone loves coming home to the floral arrangement and scent of flowers in their home. As part of the home's decor, flowers add:
Freshness
Beauty
Sophistication
Aromatics
That brings peace, calm, and relaxed sensations. Below are some of the best-smelling flowers for your home arrangements, centerpieces, vases, and even for drying and hanging.
Freesia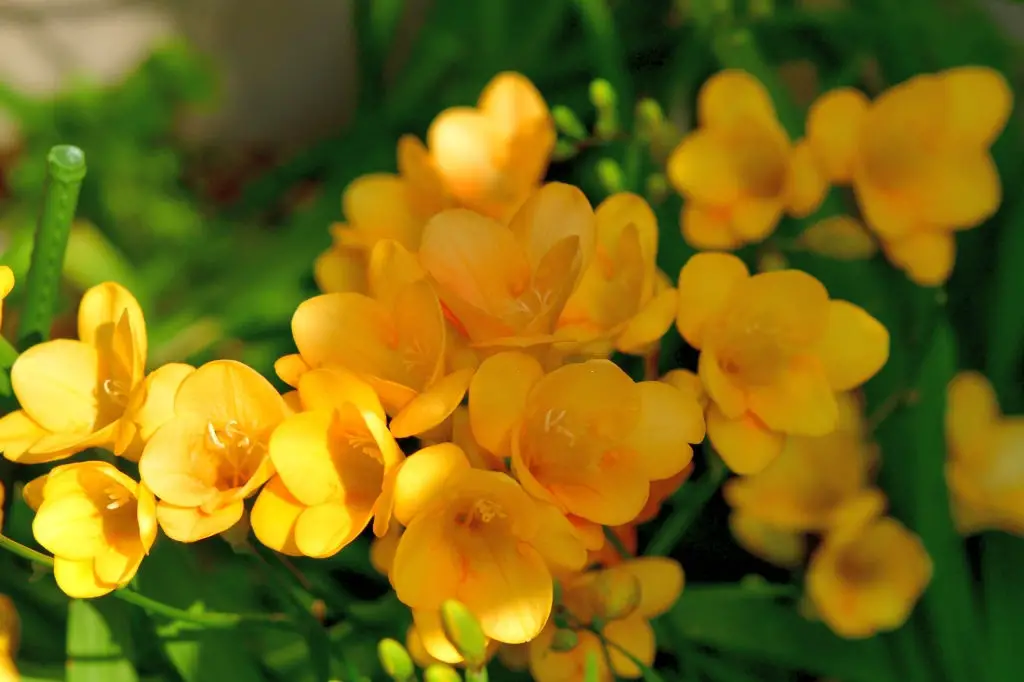 Freesia is a lovely and sweet-smelling floral arrangement flower that is great for indoor tables and living spaces. The scent lasts for days or even weeks. The freesia flowering plant comes with a variety of strong primary colors that match any indoor style or customization that is found in abundance as bulbs or whole plants at any hardware store or nursery.
Sweet Pea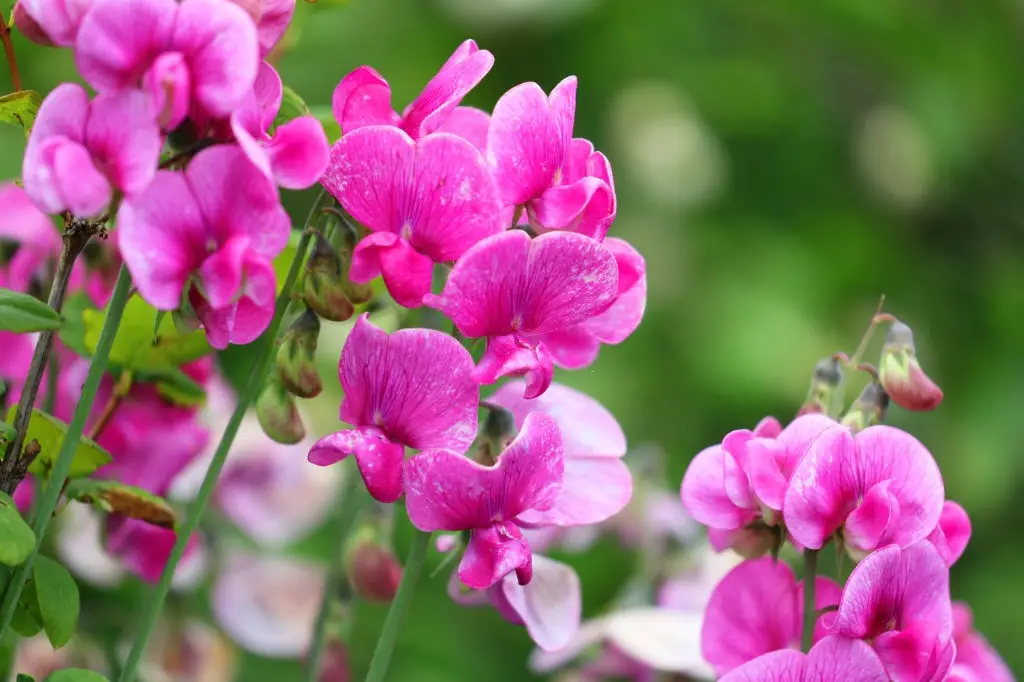 This sweet and sultry scented flower is often the ingredient in some body-mists or perfumes for women. The floral bouquet of:
Are fabulous for special occasions and adds sweet and rich aromas to a room for days.
The scent of sweet pea is delectable, and the arrangement of its flowers is billowy and beautiful. Sweet pea makes a great enhancement of any space and softness that freshens up the room and adds a touch of class and gentle passion.
Lily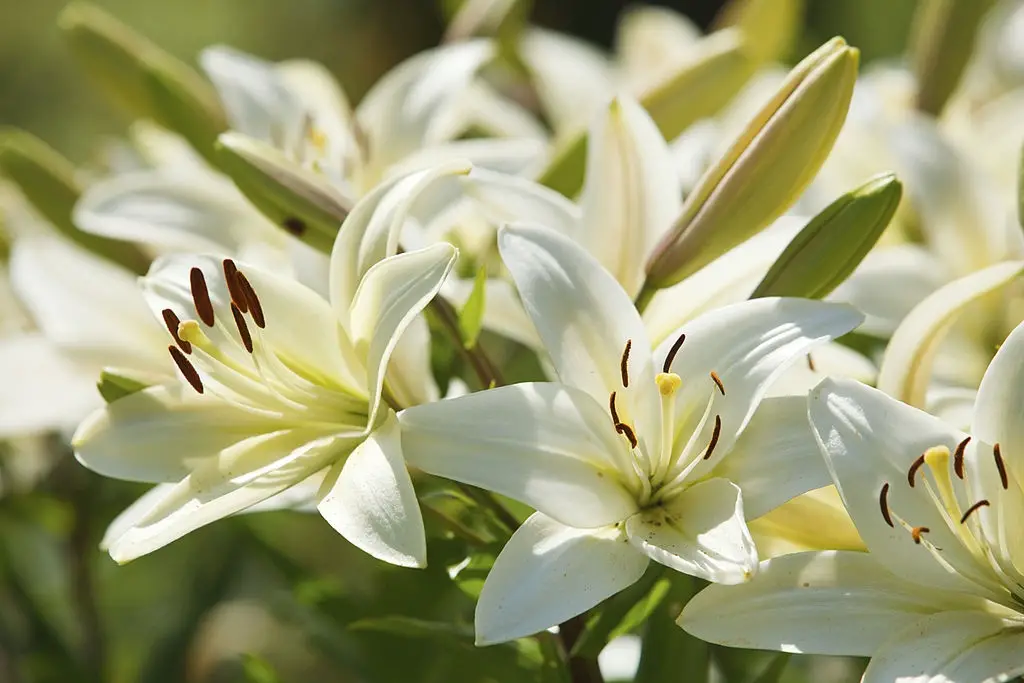 One of the most well-known and beautiful flowers given as a floral gift or placed in a vase for a table centerpiece or home decor. Lily is a sweet and sophisticated scent that allows for interpretation and does not overpower the room with its aroma. Instead, lilies almost add a cool temperature from their scent to the environment of a home and room.
Lily of the valley is one of the most pungent lily varietals. The flowers from the lily of the valley are robust and silky, which can last for days or even weeks if placed occasionally in fresh water and left in a sunny window.
Best Smelling Flowers to Grow Inside
Growing flowers inside is not always easy. There are some differences between the roses blooming out in the garden and the flowers you might want for floral and scent enhancement in your living room.
The aroma in your home is a mood-setting aspect of home care that you should not overlook. Natural scents from indoor house plants and flowers are the best way that your home will start smelling inviting and great.
Some of these flowering plants are intense and aromatic with extreme sweetness or pungent odors. Others offer consistent and subtle fragrances for every room of your home. The size of indoor flowers is always something for consideration, so we have added the approximate sizes of fully mature flowering plants in our list below.
Azores Jasmine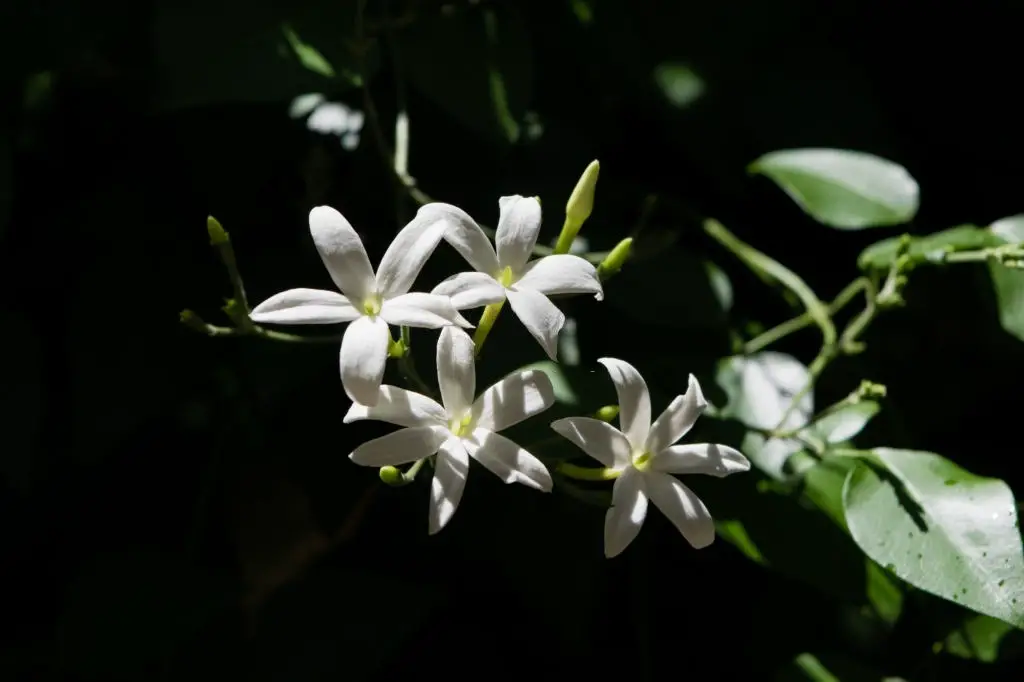 Jasmine is a legendary scent for its sweetness and overpowering aroma. The sweet smell of jasmine is most often found in vines on your garden wall or gate. The flowers and even the buds produce a sweet honey smell in the noonday sun or when it is hot outside. However, the Azores Jasmine is a great and subtle addition to a flowering plant within your home.
The small circular white flowers have small petals that open up symmetrically. The flowers bloom virtually all year indoors, and the plant grows to about two to three feet in height with minimal bushiness.
The Grand Duke and the Maid of Orleans are the best slow-growing varieties for indoors. These flowers of jasmine need some fertilizer and only minimal root care that is best planted in clay pots. Make sure you add this indoor flower to your home for Summer Breeze all year long.
Spearmint
On the complete opposite side of the scent spectrum are the minty-smelling flowers of the spearmint plant. This flowering herb is small and an easy-care perennial that has excellent smelling leaves and flowers. Spearmint is a plant that not only has great smelling and looking little shoots of budding flowers but is also an edible plant for cooking.
The spearmint plant is rather small, and the flower spears only grow about four inches in height with pale white flowers. However, the smell they produce is refreshing and antiseptic. For those interested in minty aroma, having a spearmint plant in your home is a great, calm, and relaxation-inducing addition for the:
The whole plant is a small bush that only grows to about 24 inches in height. Its flowers bud and blossom for only a few days a year. However, this plant is useful for cooking, medicinal purposes, and enhancing the scent and environment of your home into a happy, healthy, and calm space.
Corsican Mint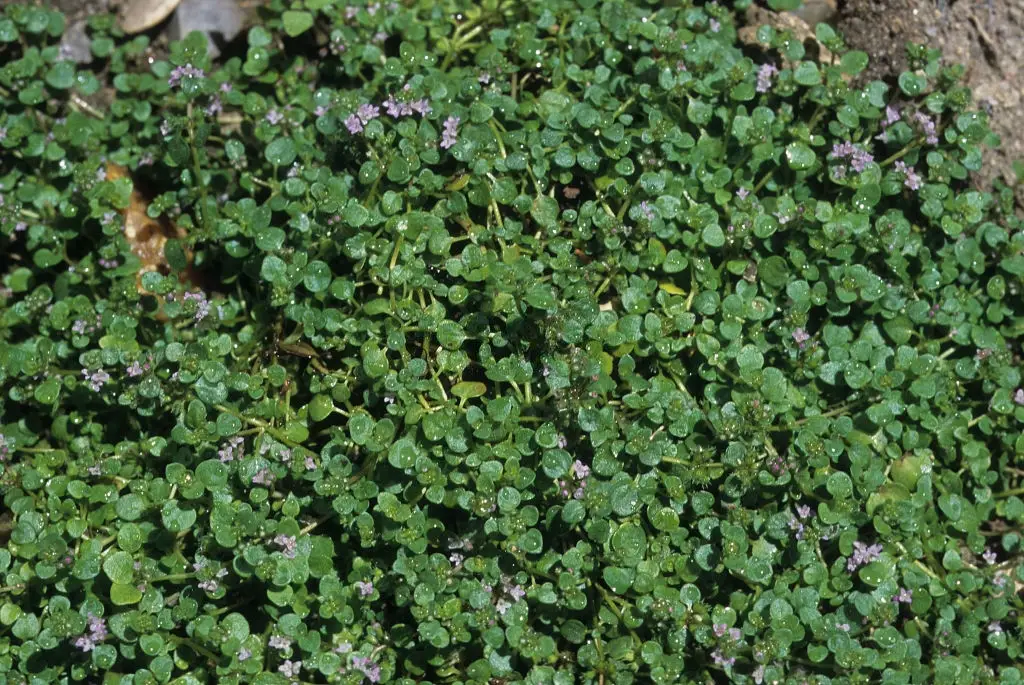 No indoor flowering plant list for best-smelling flowers would be complete without this beautiful ground cover with small white flowers. The Corsican mint is a wonderful addition to the home because it is used as both a scent enhancer and even as an ingredient in your cooking and baking.
As the name suggests, the Corsican mint plant is also an herb with medicinal and calming qualities. The leaves and even the flowers produce mint oils that are aromatic and released into the air continually. The mint leaves of this flowering plant are also edible and great for use in teas or soups.
This small plant does well in small pots and grows up just a few inches. The best place for growing the Corsican mint plant is in a sunny window where it will release its minty scent more easily. Simply brush your hand over the soft carpet of growth of the plant and get a burst of flavorful and lovely mint aromatics any time of the year.
Angels' Trumpet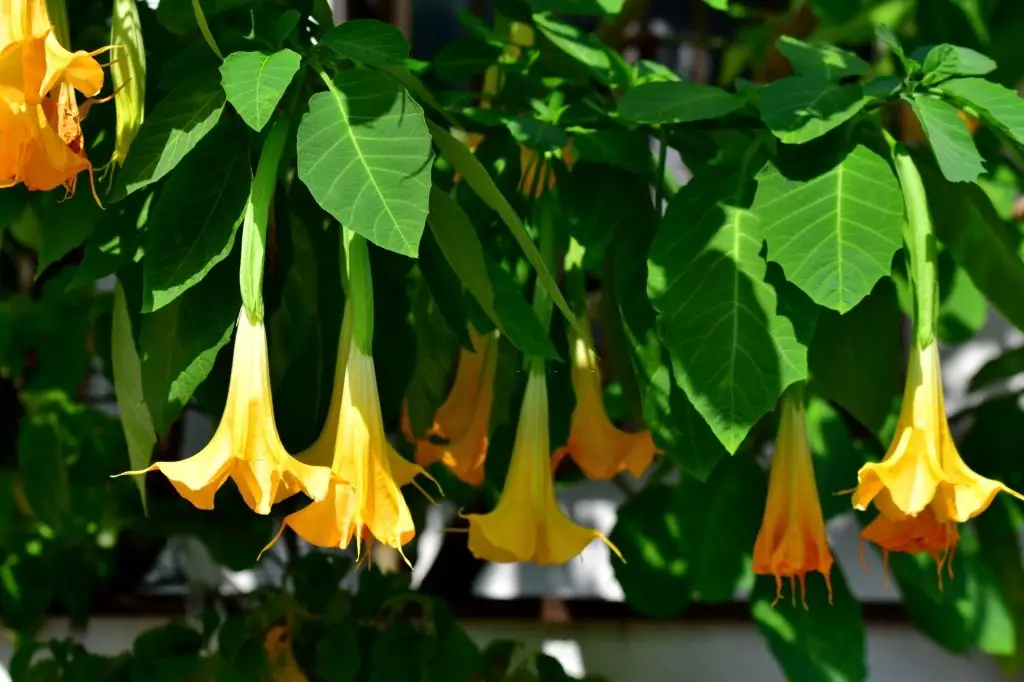 The angel's trumpet smells as wonderful as it is beautiful. This great-looking and smelling flowering bush has lovely red trumpets of flowers that hang down towards the ground. The angel's trumpet's multi-color foliage and its fast-growing nature make it a favorite for indoor growing and gardening enthusiasts.
The height of the angel's trumpet bush is problematic for indoor growing unless you have a high ceiling or corner space and grow from the ground up. The height of the angel's trumpet flowering plant grows from three to eight feet and sometimes with varietals that grow up to 20 feet.
The wonderful thing about the angel's trumpet is the almost tropical flowers that transform a space. The flowers are also known for perfuming the air after sunset and into the night with more fragrance than during the day. The scent of the angel's trumpet is great for indoor spaces and making your home into an island getaway vibe.
Ylang-Ylang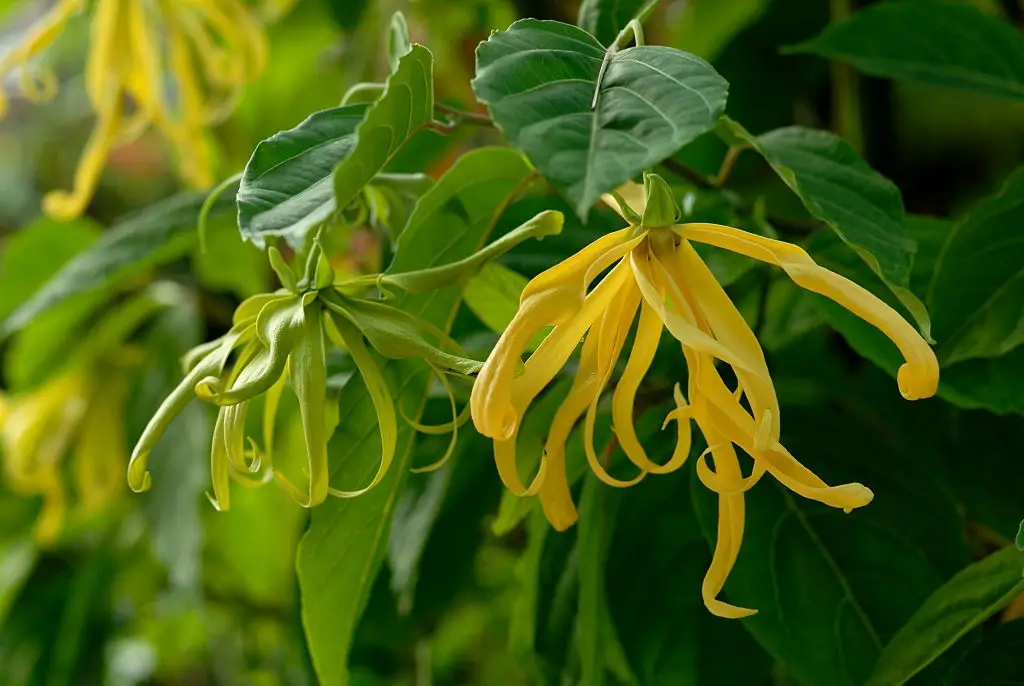 No longer known as the "poor man's jasmine," ylang-ylang flowers are treasured for their sweet and sour scent that offers an overpowering aroma that fills up a room or home. The ylang-ylang is indigenous to Asia and gets made into essential oils used as scent fragrances and for medicinal purposes.
The essential oils of ylang-ylang can offer some significant health benefits such as:
Mood enhancement
Relief from anxiety and headaches
Reduced depression
Reduced heart rate
The wonderful thing about ylang-ylang is that it is easy to grow inside and beautiful when it fully blooms, making it an excellent addition to any home or garden.
Ylang-ylang not only has lovely flowers that are aromatic and add sweetness to your home, but the leaves are even used as medicines for upset stomach, headaches, and even malaria. Suppose you want a flowering plant that has multiple benefits beyond simply pretty and sweet-smelling flowers. In that case, the ylang-ylang flowering plant might be the right fit for your home and family.
Best Smelling Flowers for Perfume
Flowers get used in perfume and personal fragrances all over the world and throughout history. Some of the most famous are from flowers that have become household names in the fragrance world. Scents from flowers like a red rose, gardenia, and jasmine are all used in some of the world's most famous and expensive perfumes. Below is a list of the best-smelling flowers for the perfume that both occur naturally and are bottled up and sold at fashion and department stores.
Jasmine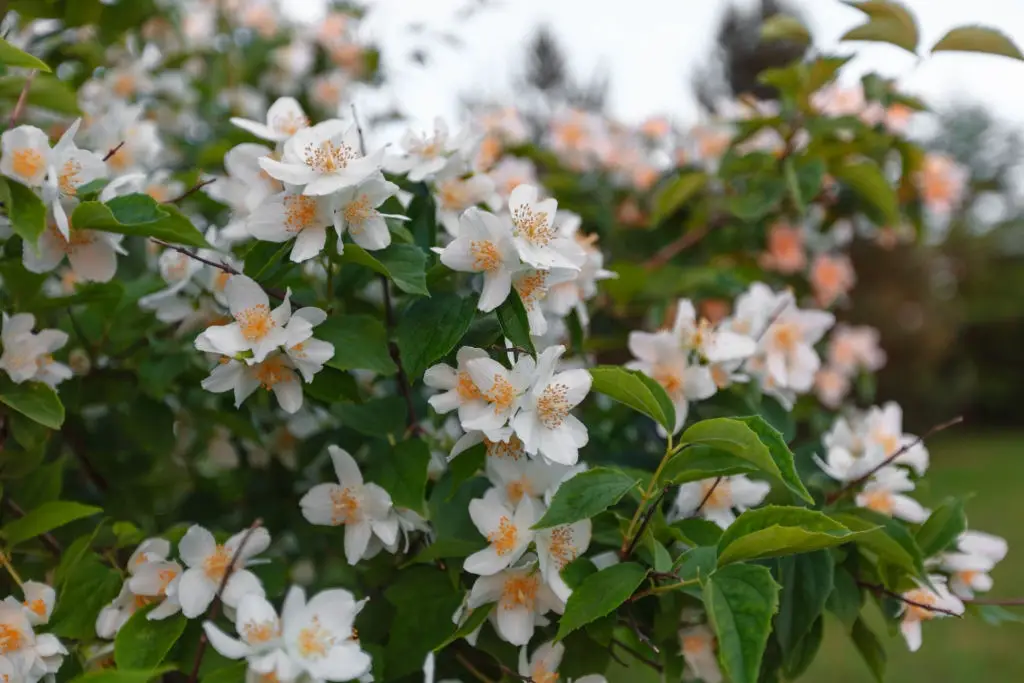 As we already stated earlier, jasmine has the honey-sweet scent of summer afternoons. The scent gets used in many different perfumes. The alluring scent of jasmine gets found in perfumes because of its well-rounded scent that draws attention but doesn't overpower.
Jasmine is also a calming scent that gets used in aromatherapy and even cosmetics. Make your home or table smell inviting with sweet and aromatic flowers from the many different styles of jasmine plants and flowers.
Lavender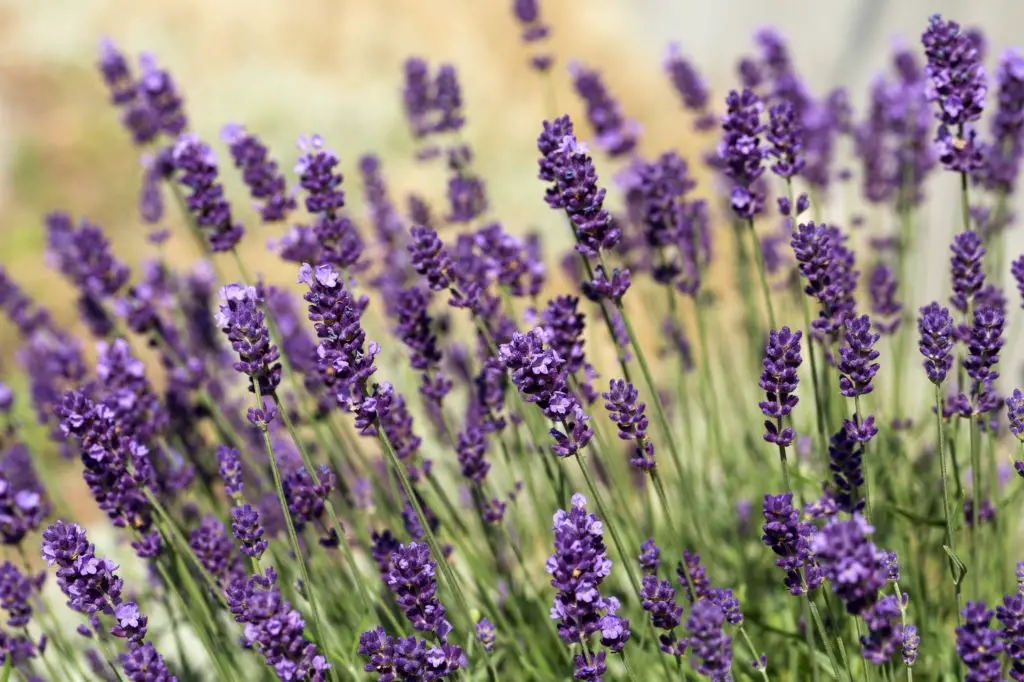 The lavender plant has very pungent flowers used in various foods, cosmetics, and especially perfumes. Room sprays are inundated with lavender oils because the lavender scent tends to mask and cling where other foul odors might get stuck.
The clean scent of lavender almost has an aromatic licorice scent that is both cleansing and refreshing. The calming nature of lavender is even used as bedding perfume and for a perfume that gets worn on a daily basis.
Lilac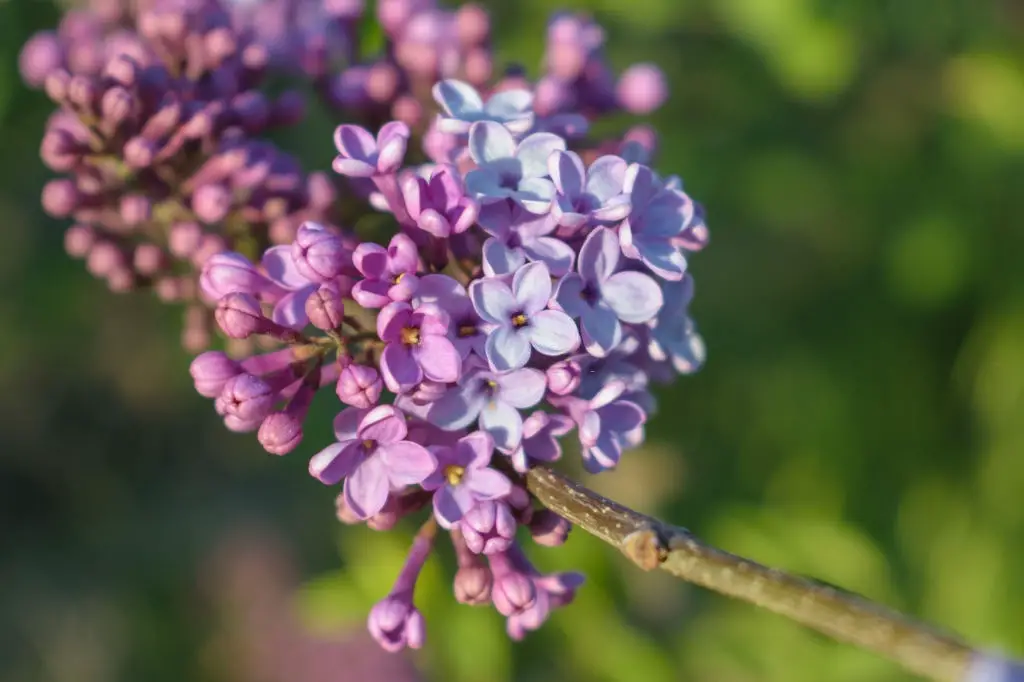 The lilac flower is a very complex and underrated scent. The flower is beautiful but is not hearty and hard for gardening. However, the perfume world latched onto the sophistication of lilac. It is used in some of the most top-end fragrances for sale on the market today.
The scent notes of:
Vanilla
Honey
Jasmine
Powdered freshness
Chamomile
Are all included in the sophisticated and wonderfully alluring scent of lilac. The overpowering scent of lilac is excellent for fashionable seasonal events or special occasions that will make you remembered.
Rose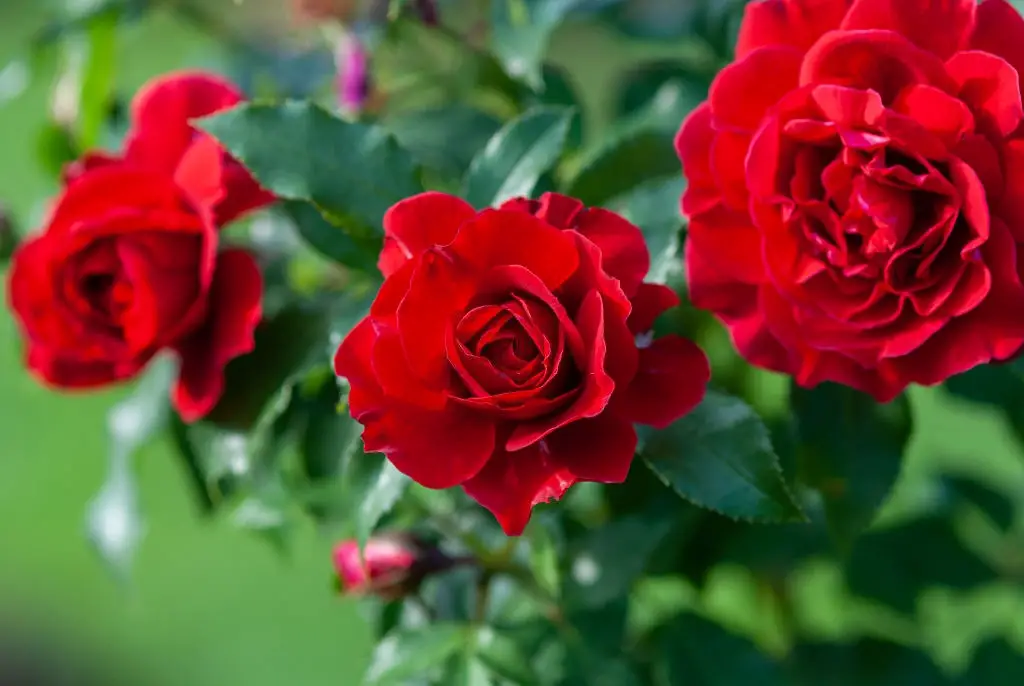 The eternal love fragrance comes from the rose petal. The sweet and soft scent that blends well with earthy tones and in almost every environment is a great scent used in many of the world's most famous perfumes.
Many body veils of mist for daily use and even refreshing laundry and room mists are also made with rose petal extract. The scent is not overpowering but will remain strong in the room even hours after being sprayed. Rose scents get equated with sophistication, passion, and clean freshness.
If you are looking to make a statement with your scent, rose is an abundant aroma that announces itself. Make sure you spray conservatively and allow air drying with any rose scented perfumes.
Some people even make infusions of rose petals and water in spray bottles and add the scent of fresh and natural rose into their lives and onto their bodies. These types of fresh and raw rose petal fragrances made at home are made to be worn every day and are a bit more subtle than the rose extract aromas present in professionally formulated perfumes.
Conclusion
The best scents come from nature, and flowers have always been the go-to for sweet, sultry, and wonderful smelling perfumes, environments, and centerpieces. Sweet-smelling fragrances like the legendary gardenia are always in fashion. Knowing which flowers are great for your garden and home, and the personal scent is an essential factor for every person looking for pleasant aromatics.
Hopefully, you will use some of these best flowers for their scent to increase your home or garden environment and increase the essence in your life.
Did you find this post useful? Would you like to get back to it later? Save THIS PIN below to your best gardening and flowers garden boards on Pinterest! Thanks 🙂