What exactly is a greenhouse? A greenhouse is an enclosed area where plant life is grown and studied in its natural habitat like environment. Greenhouses vary in size from smaller shed-type structures to large hanger-like structures depending on the needs of the plants.
Greenhouses are usually constructed of glass to allow the entry of lots of natural light. Some, however, also incorporate the use of artificial light to supplement and provide more intense light to plants that require 8 hours of direct sunlight.
The materials used in constructing a greenhouse are directly related to the environmental requirements of the plants being housed inside.
For example, if the building is constructed of glass or transparent plastic, this creates a rainforest-like atmosphere inside because of the heat from the solar radiation.
The plants inside, in turn, radiate the heat projected upon them, and this heat is retained within the structure. With this internal system in place, sufficient moisture is needed to prevent drying. This is where a very efficient irrigation system comes into play.
Different between Greenhouse Watering System and Sprinkler System
A greenhouse watering system differs from any simple sprinkler system because its water consumption is considerably greater, and the needs are more concentrated. Therefore, you need to have a system in place that will conserve water while helping to retain the moisture within the environment to promote healthy plant growth. What greenhouse watering system should you therefore choose?
Pick Your Choice
Two major factors that you need to take into consideration when making your final decision.
First is the water volume required for the plants. You need to measure how much water the plants needed without having over-watering or under-watering.
The second would be the maintenance and labor cost. To measure whether it is good to go for automatic irrigation or employ labor, you need to figure out how much you need to spend on your expenses.
Implementing an automated system correctly may cost you a huge amount in the first place will. You will enjoy the service for many years with minimum maintenance, and you will save a lot on labor costs.
Using Micro Irrigation or Drip Irrigation System
Although irrigation systems vary in design, effectiveness, and cost only, you can truly assess your needs depending on your house's type of plants and the water consumption needs. The most important factors, though, will be water conservation and proper moisture delivery.
Concerning the first factor, water conservation, a drip irrigation system would effectively address this need. A drip irrigation system consists of a ventilated hose ( one with many holes) that allows water to trickle to the root source of all of your plants.
You can easily extend the system to accommodate from one to hundreds of plants using strategically placed tubing and drip emitters. The advantage of this greenhouse watering system is that it conserves water, preventing overflow onto the floor and plant stands, and more water is delivered directly to the root source resulting in more lush foliage.
Misting Greenhouse Watering System
Alternatively, a misting sprinkler system can also effectively conserving water and delivering a sufficient amount of water. Although not designed to deliver a concentrated drip of steady water flow directly to the root source, it can provide adequate irrigation to keep your greenhouse plants lush and green.
However, when we initially think of sprinkler systems, we may think of flooding and water being spewed haphazardly into the air causing excess spillage onto the floors and plant tables.
The precise configuration of your greenhouse watering system is, therefore, necessary to prevent water waste. Installing small mini-nozzles that emit a mist instead of a concentrated spray will only deliver the necessary moisture to the plants eliminating waste.
The sprinkler heads can be strategically placed so that just the plants get the water and you are not wasting water on the plant stands or floor.
Automatic Greenhouse Irrigation
You can make automatic greenhouse irrigation with the use of a tensiometer. It is a device that measures soil suction and the amount of moisture in the soil. The alternative is, of course, to have people decide when the crop needs to be irrigated.
Using a tensiometer, you can put it in the crop and soil to measure the soil moisture, and so when the crop needs water, it will automatically be watered.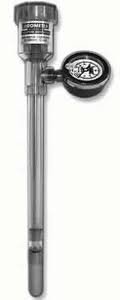 Generally, this device will have a ceramic tip at the base, which can absorb water. When the water dries from that tip, it makes a dire move and can control whether or not electricity should flow through the device.
When you get the device, the solution comes together. You can remove the cap of the device and syringe the solution down into the tensiometer tube. You have to use the same syringe to pull the air out of the tensiometer so that it contains mostly the solution in there.
You may pull very gently until you read about 35 center bars, then remove the syringe slowly to prevent the needle from getting bang against the stop. Finally, close the cap, and everything is ready.
You can then put the tensiometer into the pot where the ceramic tip is down in the soil, and you can have the tensiometer suspended on a wireframe where you can build by bending some wire.
The tensiometer can be wired between the solenoid valve and the transformer, where you can plug it into the wall. When the soil gets dry enough, it closes the switch on the tensiometer and allows the solenoid to open the valve for water to flow through the irrigation system.
Installation of DIY Misting system
Both of these greenhouse watering systems will work well for your needs. The cost will be determined by how large your greenhouse is and how extensive the moisture needs are. Whichever one you choose, planning well from the beginning will ensure that your greenhouse watering system works well for you and conserves water.
More article:
What is a Soil Moisture Sensor, And How to Use It?
Your Essential Greenhouse Watering Equipment
Watering is one of the most important things you will do for your plants, and you will need the correct equipment to be able to water effectively and efficiently. We have collected the watering supplies and tools you need to keep your house and patio plants and your garden and yard green, lush, blooming, and thriving all season long!
From the most basic of watering cans to the art of reusing rainwater, we carry a full assortment of watering basics and accessories. We also realize that this is an area that we will always strive to improve and bring you the best we can find in watering technologies, whether old-style or brand new.
Aqua Cone – Green – Set of 6
If you're tired of the hassle of everyday watering, then you will love the easy Aqua Cone Watering System. These six heavy-duty plastic cones are designed to fit a standard plastic bottle so you can use them for watering plants and gardens. These cones feature flow control holes that you punch out to tailor water to the soil type.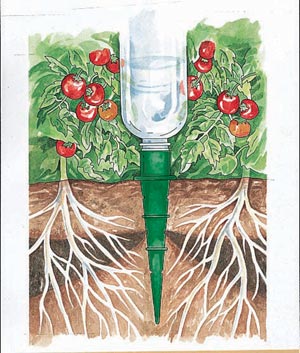 You will find the Aqua Cones very easy to use. You cut off about an inch of the bottom of a cleaned-out plastic soda bottle; remove the cap and plastic ring from the neck; insert the bottle; and place the cone in the soil next to the plant in the container, flower bed, or garden.
Once you determine the soil type, you will need to punch out holes accordingly; top punch out holes for sandy soil; middle holes for loam; and bottom holes for heavy clay. Fill the bottle with water, and you're ready to go. This is a simple but effective way for the water.
Remember, Aqua Cones adapt to most 1 and 2-liter plastic soda or water bottles and are designed to work in sandy soil. Loam or clay. There are 6 Aqua Cones per pack, and they come in green.
Brass Watering Can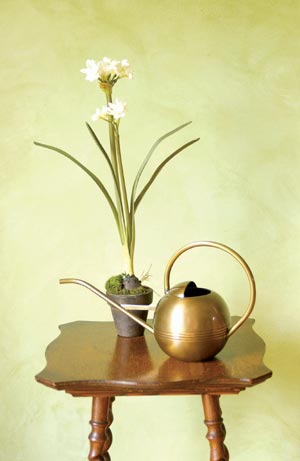 This lovely Small Brass Watering Can with a long spout is perfect for watering those hard to get to plants. With a capacity of 1 liter, this small watering can is easy to lift in those hard-to-reach areas that require dexterity to reach.
The little watering can make a wonderful gift for that hard-to-buy-for gardener that keeps plants in their home year-round and is so pretty. You can set it out to enhance any grouping in your decor.
Copper Plated Watering Can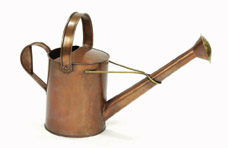 This exquisite Copper Plated Long Necked Watering Can is designed to replicate the cans of the 18th century. It has beautiful brass accents, and the long-necked spout allows you to reach the most unreachable plants. When you don't need that long spout, it is easily removed so you can water with a more traditional styled watering can.
The can's capacity is 1.5 gallons of water. Dimensions are 15″H x 23″L x 8.5″ W and will be a welcome gift to anyone who loves their plants.
Dainty Copper Watering Can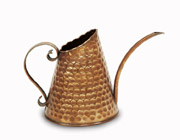 What a wonderful gift this Dainty Copper Watering Can makes! Made out of handmade copper with a hammered copper design that covers the entire surface, this watering can really stand out from the rest.
The can is 7.5″H x 6.5″ D and is as small and sweet as it looks. Give this to the lady that loves her flowers. She will enjoy using this dainty watering can every day!
Four Tap Distributor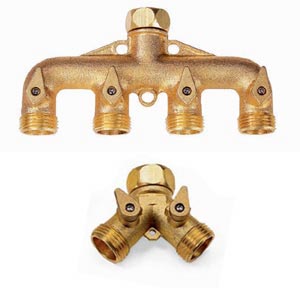 There are times when you need a Four Tap Distributor to distribute water to different places in your yard and garden. This is especially true if you have a series of soaker hoses for your plants. The ball valves stop any leaking, and each tap is individually controlled to regulate the water usage. This wonderful brass four tap distributor is perfect for the serious gardener.
The Beauty and Function of Garden Greenhouses
You might not remember the old-style greenhouses, but they were ugly, at least the ones I saw growing up in West Texas.
It seemed like they were built out of scrap lumber and covered with plastic that would rip and tear away from each winter and flap around in the wind until ripping completely off; or ripping to shreds right before they were repaired with another piece of plastic and continue the cycle into the following year.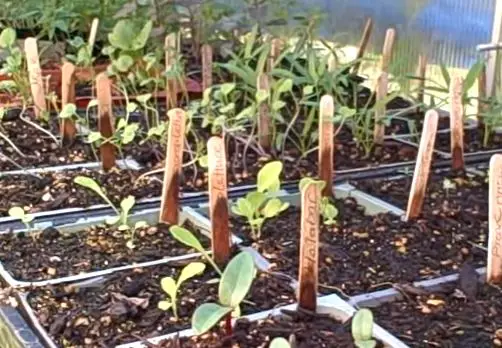 Well, I can tell you how much today's garden greenhouses and garden greenhouse kits are a far cry from the old wooden ones built with flimsy plastic wrap.
In fact, today's greenhouse is made of superior materials that are lighter than wood, stronger than plastic sheeting, and plenty sturdy due to the advanced tie-down anchor systems available.
They are tested for wind and snow load capabilities and come in various shapes and sizes, perfect for the beginner to the master gardener. And to top it off, they are really nice looking and visually add to any yard.
Greenhouse Kit
You can purchase a greenhouse kit and still get the satisfaction of building it and putting it together. If you like the clear, see-through kind, you can get it with an 8mm clear triple-wall polycarbonate covering that gives you protection but still allows you a clear, unobstructed view.
If you favor the diffused lighting that gives you optimum plant growth, you can get a greenhouse with the polyethylene blended covering; all of which come ready to put up and take about a day and a couple of people to do so.
You can also tailor your greenhouse to the climate and environment you live in to include coolers and fans, venting and heaters, and other greenhouse supplies from seedling starters to lighting kits.
There's no longer any excuse not to have at least a small greenhouse to grow some of your own fresh vegetables and herbs on a year-round basis. This alone will cut down on carbon emissions and some of the food tainting issues the US has had to deal with in the recent past.
You can fill your backyard greenhouse with fruits and produce to annuals and perennials any time you want to and are no longer limited to what season we're in.
Having a garden greenhouse makes sense these days because they add value to your home and family, and there is no better way to spend time together with those you love than playing in the dirt.
3 Tips Before You Buy Greenhouse Kits
When buying a greenhouse, you will want to consider many things before your actual purchase. It is always wise to read as much as possible and do the research associated with the type of greenhouse gardening you want to do and the space you have dedicated to the project.
Once you have all the information gathered and assimilated, you will be able to make a great decision on what type of greenhouse kit will work best in your situation.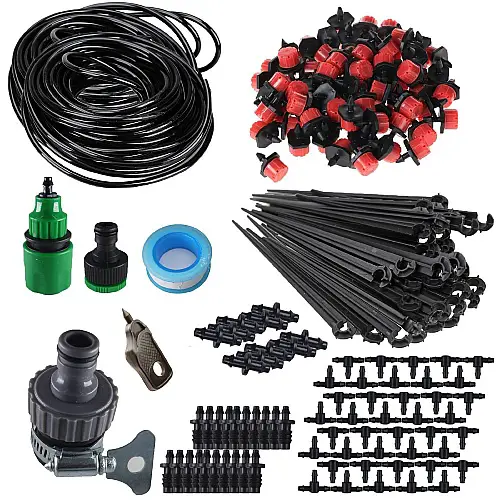 Greenhouse kits are building blocks for the construction of the greenhouse. You don't need to start with raw materials to build a garden. There are 3 elements before you select a commercial solution: cost, materials, and additional accessories. After reading this article, you will be more familiar with what kits are suitable for you.
Your Budget
It is a top priority for many people and is much related to your long-term objective of gardening. Do you want to build a small greenhouse or a commercial project? Kits come in various sizes and materials.
There are many costs involved in gardening, such as plants, maintenance costs, electricity bills, etc., on top of the tool kit itself. If you seek automation, the cost will be even higher.
However, if you plan to start small, you can find cheap solutions for below $100. In contrast, commercial alternatives can cost several thousand. It depends on personal preference.
Materials Used
If your garden is built in a very stormy area, you need to consider whether stronger materials are essential. Ventilation and strong support of your greenhouse are critical for the optimum growth of your plants.
In particular, effective insulation and temperature control systems will be essential when you build a large garden. You can also use salvage materials as building blocks. This can save on maintenance costs.
Additional Accessories
You may also wish to install water automation, lighting control, and an insulation system to provide an optimum environment. While they may be costly, this can save your time in manual labor, especially for busy people.