There are different types of greenhouse design, including detached and gutter connected. If your outside area is small and space is a priority, a lean-to greenhouse may be the answer, and there are other benefits apart from saving space.
Leaning against a wall means more protection and heat than glass can provide. The benefit of the wall being south facing is that fruit plants growing against the warm brickwork can thrive protected and sheltered, including fruits such as grapes, nectarines, and peaches.
Benefits of a Lean-To Greenhouse
Protection from the northern wind is an advantage of a south-facing installation. The wall may be that of your house, a garage, or an outbuilding. Some lean-to greenhouses have glass panels from the ground up, and some have wooden bases. Of course, the more glass there is in the structure, the more the plants will benefit from sunlight. For gardeners needing a bit more room, there is the three-quarter span greenhouse.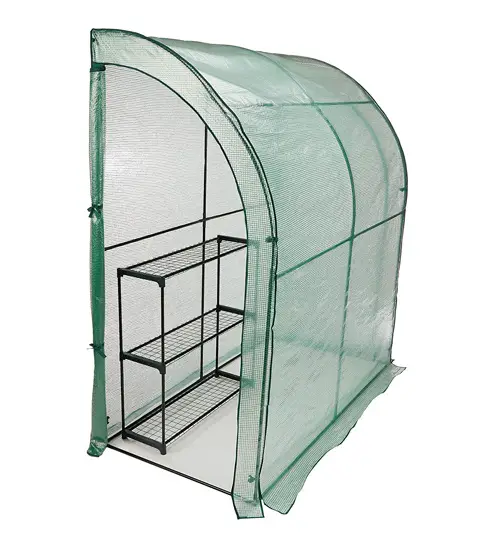 Choosing a greenhouse kit can save money, and this applies to the lean-to variety. As with any greenhouse, locating it to get maximum sunshine will bring rewards. Facing south or southeast will bring enough sunlight without exposure to hot, baking afternoons.
The greenhouse will come with roof ventilation and/or louver window vents, and the classic widths are four, six, or eight feet. Many have aluminum frames that will not rust or become warped, and toughened glass may be optional.
This greenhouse design is ideal for a kitchen garden with produce conveniently next to the house. Some people use the lean-to, not as a greenhouse, but as a sort of mini conservatory. Whatever the use, a lean-to is easier to put in gas, electricity, or water than a free-standing structure away from the house, which is another financial saving.
The lean-to can be designed to match the house's brickwork and look like an attractive extension, or it can blend in with a walled garden or courtyard. You can install a door at each end of the greenhouse. Placing a lean-to in the corner, using two walls, is referred to as an abutting lean-to greenhouse.
Even though it is not a free-standing structure, your lean-to greenhouse may require a permit and permission to build. Check the local building code for the requirements in your area. The work involved is worthwhile, as a well-constructed lean-to will add value to your property and give you lots of enjoyment.
The Polycarbonate Greenhouse
Polycarbonate Greenhouses are fairly new to the market. Made from a material typically used in DVDs and sunglasses, its use as an alternative to glass in the construction of greenhouses has slowly increased.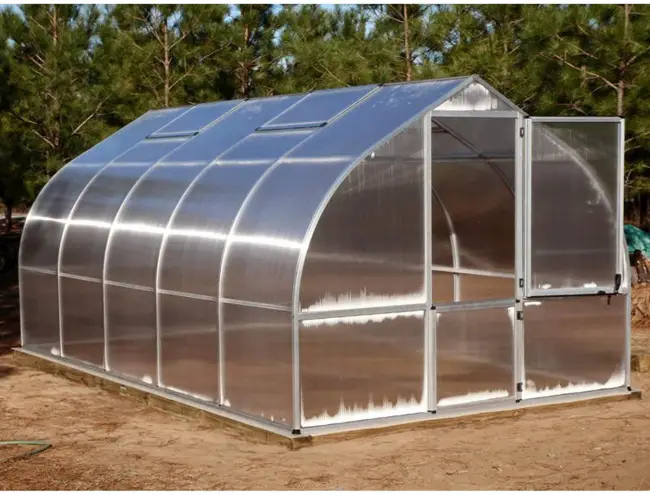 Manufacturers have improved the material's application, and its qualities and affordability have given it a sizeable share of the market. Many people prefer it to glass, and the appearance of polycarbonate greenhouses has improved too, with them now easily assembled in only a few hours.
One of the best-selling features of polycarbonate is its toughness. You will want to get this type of greenhouse if you don't want your greenhouse to be easily breakable.
Polycarbonate is virtually unbreakable. As for the question of insulation, so important in a greenhouse, single-layer sheets of polycarbonate don't retain heat as well as horticultural glass. There are ways to compensate for this, such as adding fleece to plants in the colder weather.
Alternatively, there is twin-wall polycarbonate on the market, and this type of wall is performing very well in retaining heat. Even though it is more expensive than glass material, you will save more on the heating cost in the winter.
It is also important that enough natural light penetrates the panels. Again, the single-layer polycarbonate is not quite as good as glass for light transmission, and the twin wall lets even less light through. There is more to this than straightforward light transmission, however.
The sunlight shine through the twin wall will get spread into each corner. Another benefit you can get with polycarbonate is that it can filters out most of the ultraviolet rays. 
The typical polycarbonate greenhouse comes with an aluminum frame and is quite lightweight. The standard sizes are 4′ x 6′, 6′ x 6′ and 8′ x 6′. The smallest of these can be placed on soil. They often come with a galvanized steel base and are sturdy enough for most climates.
Polycarbonate is a good example of a material that does the exact job needed but remains affordable. Gardeners are amongst those receiving the advantages of this multi-purpose technology, and a Polycarbonate Greenhousemight be just the thing for your summer vegetable endeavors!
Buying a Wooden Greenhouse?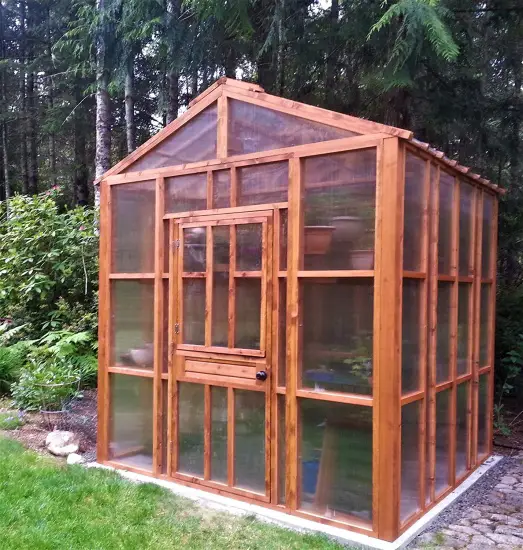 When deciding what type of greenhouse to buy, the materials used are an important factor. Aluminum framed greenhouses are very popular due to their availability and affordable cost. However, many people prefer the more traditional wooden greenhouse, which usually costs more. A wooden one is generally more attractive, and the best ones on the market are resistant to rot and don't need much maintenance.
Cedar or red cedar wood is the timber frame of choice for many manufacturers. Another material used is the steel frame greenhouse. This is usually the least expensive of all but needs prevention treatment for rust. It all depends on what your priorities are. Some designs incorporate some aluminum framing to strengthen the structure.
This also allows the owner to divide the greenhouse with glazed partitions to grow plants requiring different growing conditions, using a 'hot area' and a 'cool area.' Suppliers often fix the structure onto a brickwork base, but it will fix onto concrete or flagstones. You can also use the timber frame for lean-to and mini-greenhouses.
The workbenches inside the greenhouse, sometimes called the greenhouse staging, are usually made from aluminum or wood. Cedarwood benches complement cedar wood framed greenhouses. They are conveniently erected at waist height and are in a tray design or slatted. The slatted tops are good for ventilation and help to prevent disease, and encourage plants with stronger roots.
The Alpine House is a traditional timber frame design with louver vents across the sides, and it is one of the best greenhouses for ventilation. Most owners do not heat this type, and insulation is not necessary. The Alpine is only closed if winter temperatures drop too far.
Western Redcedar (correctly spelled as one word) is indigenous to the Pacific Northwest and is the preferred frame for many manufacturers because of its special qualities. This cedar contains natural oils resistant to wood-boring insects and deterioration caused by moisture.
It is a straight grain wood and doesn't warp. It also retains heat and insulates well, a combination ideal for wooden greenhouses resulting in warmer temperatures in the colder months and cooler temperatures in the hotter months. This wood is highly recommended for a long-lasting greenhouse.
The wooden greenhouse particularly suits a traditional cottage garden and an older house. If kept clean and tidy, it will add to the property's value and maybe be a good selling point. The frame is heavy enough to withstand strong winds, so it is practical and aesthetically pleasing. New materials may come and go, but wood is here to stay!
The Mini Greenhouse Option – for small growing spaces!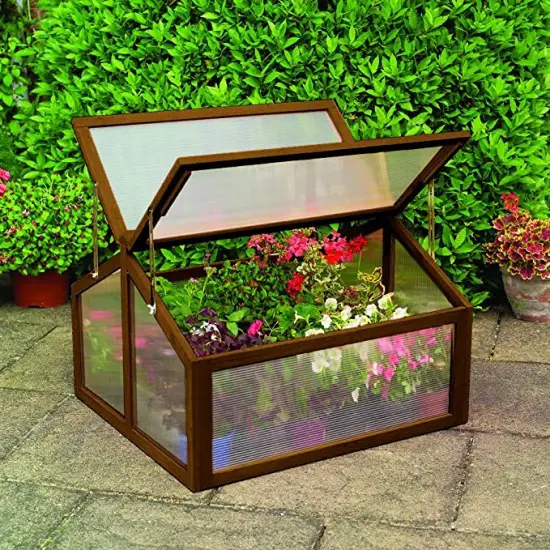 The mini greenhouse is a cheaper option than a full-size greenhouse, or you may want one to supplement your main greenhouse with extra space. If lack of space is an issue, the miniature version is ideal. There are various designs, but they all perform the same function as any greenhouse in protecting plants from the elements and pests.
Facing southeast or southwest is the best way of maximizing sunlight, and ventilation is essential against excessive heat. However, you can use a mini greenhouse just the same with some great growing results regardless of where you decide to put it.
Some gardeners only use them to grow plants in the winter. They are light and easy to move, and storage shouldn't be a problem for the other months. Some models come with wheels, and some are free-standing. You can place miniatures on a sun deck or patio.
The polythene mini greenhouse with a metal frame and zip door is the least expensive. It contains two to five shelves, and designs often allow the shelves to be removed to fit in tomato plants and other tall plants. Because they are lightweight, strong winds could damage them, so they need to be sheltered. Some are sold with guy ropes to address this problem.
The wooden framed mini-greenhouses are sturdier, and the windows are normally made from shatterproof polycarbonate sheets. They also usually contain movable shelves, and it's convenient to arrange pots and seedling trays where you want them.
Another version of the mini greenhouse is the lean-to, which is erected against a wall. The wall stores and gives off heat, so it is a very efficient system. The construction can be made to match the house resulting in an attractive extension.
You may also consider a box on the windowsill to be a miniature greenhouse of sorts. It's cheap low technology and easy to look after. Seedlings do well given enough sunlight and watering. Some of them have a cover, and some have a heating element. The window box can, therefore, be placed in the house or the garage.
Accessories for the mini include wall fixing rings and replacement covers, and some greenhouses are sold with a spare cover. The shelves are referred to as 'tiers.' Deciding on the size of your mini will depend on how much room you have and what you want to use it for.
A two or three-tier greenhouse will be sufficient if the sole aim is to start seeds off. However many tiers, make sure pots, and seed trays are not left standing on the floor where the frost can get to them. The mini is easy to assemble and easy to keep clean.
Families will enjoy tasty homegrown food from even the smallest ones available. If you look after them, mini-greenhouses will serve you for years.
Is An Indoor Greenhouse For You?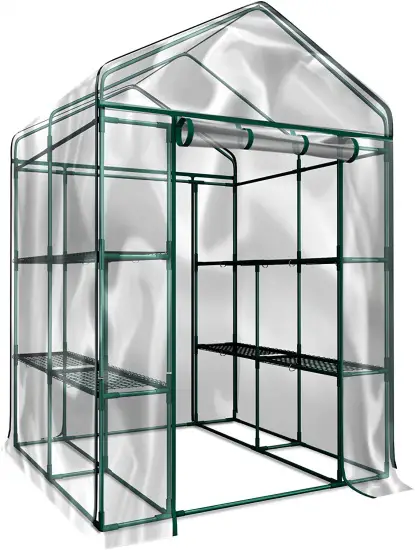 Thinking about an Indoor Greenhouse? Great news. The best way to stretch your growing season and to maximize the fruits of your labor is by putting up an Indoor Greenhouse. This is especially true in properties in colder parts of the country, where some plants may struggle to get a foothold in the soil.
A greenhouse with temperature control provides a fantastic opportunity to grow vegetables, fruit, and flowers throughout the seasons without the worry of an attack of frost or insects killing off your crop, so it's worth considering an indoor greenhouse when you come to choose your next indoor model.
It's quite easy for a DIY enthusiast to build one yourself, or you can buy a kit and assemble it at home. So you're probably wondering where you should put your greenhouse?
Some people install an indoor greenhouse in a basement or maybe even a loft space. Essentially anywhere there's the room will work so long as there's enough sunlight available for your plant growth.
You can purchase special portable greenhouses that will fit onto a patio or balcony with all the benefits of natural light but without taking up any of your usable space. This is especially ideal for flats or smaller homes.
Many people use these greenhouses for growing perennials in the winter to enjoy salads and herbs through the coldest months without resorting to the expensive and often aged supermarket options.
If care is given to heat, light, and humidity, tropical plants will thrive too, so tropical. Unusual plants can be if fruit and vegetables aren't your things! Some plants will yield more in artificial light than in natural light. If you have outside space, plants can be relocated in the garden from the greenhouse when the spring sunshine bursts through.
An important thing to decide is the type of coverage you want. The most popular materials are glass, fiberglass, or polyurethane. Glass greenhouses are the most efficient in capturing light and easy to heat.
A ventilation system gives good control over the humidity and temperature, avoiding the problems of overheating or exposure to frost. Glass is particularly suitable for short growing seasons, and you can start plants in early spring or late winter.
Greenhouses with a polyurethane covering are usually the cheapest option and are easy to install. This type of cover doesn't let the light through as much as glass, so it's not as appropriate for planting early in the season. Condensation can appear as the temperature rises.
This choice is a good general-purpose one and fits most budgets. The fiberglass option gives a more stable indoor greenhouse than polyurethane, but its light efficiency is less than plastic or glass.
If placed inside, fluorescent light will do the natural light, but it needs to be carefully monitored according to the growers' instructions.
Plants will grow through the winter at a night temperature of 55 degrees F. Too much heat in the summer can stop growth, as with the tomato, which stops growing around 90 degrees F. Hydroponics (growing plants in water with nutrients instead of soil) is a popular method for indoor greenhouses.
Whichever type of greenhouse and plants you choose, you will benefit from healthy and tasty produce at all times of the year, straight from your indoor greenhouse to your table.
Is A Portable Greenhouse For You?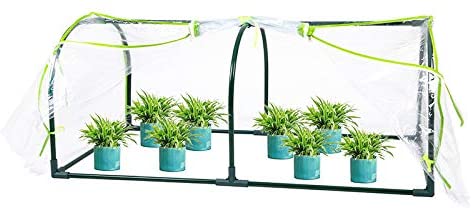 A portable greenhouse really can increase the beauty of your garden and ensure a fantastic yield of vegetables without the worry of poor weather or pests ruining your efforts! So why go with a portable greenhouse? There are two types of greenhouses; full-fledged and static greenhouses, fixed structures, and portable greenhouses.
Full-fledged greenhouses cost thousands of dollars to set up. Modern lifestyle demands smart and cost-effective ways to achieve the objectives. Everyone is doing things on the go. Gardening is no exception to this rule.
Therefore, gardeners prefer portable greenhouses as they are temporary and easy to carry wherever you go. If you want the benefits of a greenhouse without investing huge costs, you should definitely opt for portable greenhouses, which are much easier to set up and dismantle.
If you want the greenhouse effect in winter, just opt for a portable greenhouse and then remove it when you don't need it. Whether you move from one place to another very frequently along with the bag and baggage, a portable greenhouse is a right choice for you. However, you need to consider the type of greenhouse based on your requirements.
If you prefer to set up and dismantle the greenhouse without any hindrance, you need to choose the collapsible greenhouse versions, which come with an open bottom that will allow you to transport it around the garden however you please.
The size of the unit will also play a major part. A portable greenhouse can fit in any size or any part of the house that gets the sun. But we must measure the area available and choose the right size of a portable greenhouse according to our requirements.
Next, you need to think about the construction material. Good quality of material gives you the desired results. A greenhouse made of strong and tear-resistant plastic material makes a great greenhouse. Plastic material with UV inhibitions is the preferred choice of most gardeners.
You need to consider the option of a portable greenhouse if you need to grow your plants indoors instead of outdoors. Whether it is a basement or a corner of your house, you can use the portable greenhouse.
Portable greenhouses far outweigh the costs involved. They are the perfect choice for amateur gardeners. Even if you are a seasoned gardener, you can't deny the importance of time and cost involved in gardening and setting up a greenhouse.
You can beautify your garden with portable greenhouses and reap its benefits in the form of healthy plants. Seeing plants growing every day is a dream of all gardeners. Whether pretty plants or tasty vegetables are your things, a portable greenhouse will really give you an added edge over other gardeners.
If you keep in mind the above considerations, you should be able to find the perfect model to suit you, your needs, and most importantly, your garden!