Most herb gardening beginners start their herb gardening by growing basil from seed. Yes, they also grow other herbs, but basil, like rosemary, is one of the herbs that any aspiring herb grower has to grow, and any herb gardening enthusiast wouldn't be without it.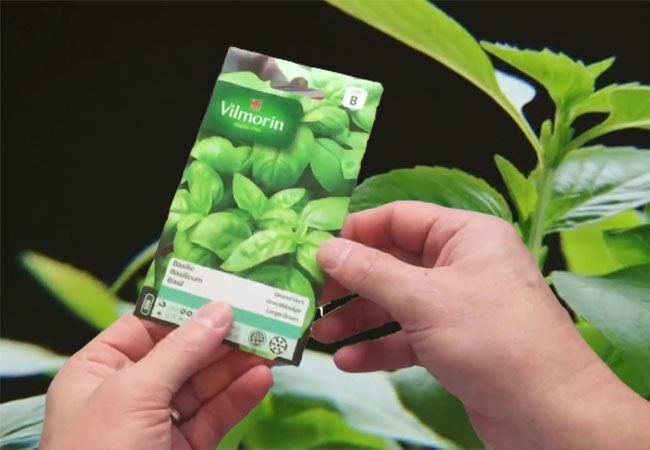 Basil was the first herb I grew when I started herb gardening (mainly because I use so much of it in my cooking), and my herb garden today wouldn't be the same without it.
Since I started growing basil, I have learned that it's not only a key ingredient of many excellent (even famous!) food recipes, but it also has many other uses around the home.
Basil can be used as a tonic and an aid to digestion. You can prepare herbal extracts from it and use them for aromatherapy. You can also use it to make soap and hand lotions.
I will go through with you:
Introduce you to some of the different types of basil.
Describe the steps involved in growing basil from seed.
Advise you on harvesting and storing your basil.
Provide suggestions on using basil around the home.
The Main Types of Basil You Can Grow from Seed
Basil, like quite a few herbs frequently found in the kitchen, has a long history. It has its origins in India, where it was regarded as a holy plant. This can probably be explained by the intense, almost mystical smell that it has when concentrated into an essence (when the oil from the plant is dissolved in alcohol).
There are lots of different types of basil, but the four varieties of basil you are likely to come across and might want to grow are:
Broad leafed green basil (see picture), which has large green leaves and white flowers.
Dark opal basil has crinkled leaves and pale pink flowers.
Lemon basil has aromatic, scented leaves and white flowers.
Sweet basil (the variety used in Italian cooking) has white flowers and a clove-like smell.
It's not difficult to buy different varieties of basil plants. Any good garden center or nursery is likely to have a selection of types. But you'll get more choices of varieties of basil if you grow basil from seed.
Growing Basil from Seed – Equipment & Materials
Basil can either be grown in pots and containers on your patio or in between your vegetables or flowers. It's an annual plant, so you must grow basil from seed each year.
As I mentioned above, basil seed isn't difficult to get hold of. You can buy several different varieties of basil seed on Amazon but go to a specialist seed merchant if you want to grow basil from seed using some of the more unusual varieties of basil.
I recommend that you start growing basil by cultivating several varieties of basil to find the ones you really like. If you want to keep things simple, start growing basil from seed using common basil.
After you have purchased your seeds, you'll also need to get hold of or buy:
Make a Success of Growing Basil from Seed
I said above that growing basil from seed isn't difficult. Follow the steps below, and you won't go wrong.
Step 1 – Prepare Your Seed Trays
Fill your seed trays with the compost.
Water the seed trays (but not too much).
Place several seeds in each cell of the seed tray.
Step 2 – Water and Label the Trays
Cover your seed trays with a later of wonderful soil-less compost (Don't bury seeds too deep).
Spray or water the trays lightly with water again, and then put the plastic covers on.
If you have different varieties of basil, label the seed trays with the appropriate names.
Step 3 – Provide the Right Growing Conditions
Put some black polythene or newspaper over the trays (this will help germination).
Place the trays on your window-shelf or in a warmish outhouse (make sure the temperature is above 5 degrees centigrade).
Keep the trays moist.
Step 4 – After Germination
When seeds have germinated (3 – 4 days), remove the black polythene/ newspaper covering.
Put the trays in a light place (but not direct sunlight).
Step 5 – Transplant the Growing Basil Plants
Transplant the seedlings into plastic pots when they are about 2 inches tall.
Place the pots in a light ventilated area and water them regularly.
Replant the basil in larger pots or your herb garden when they are 3/ 4 inches tall, and the weather is warm enough (try not to touch the leaves too much when you do this).
When you start growing basil from seed, it's important to remember that basil, like many other herbs, likes a little moisture and plenty of sunshine. Keep your basil plants under these conditions, and they will thrive and produce an ongoing crop of delicious fresh basil leaves.
Watch out for plant diseases. If the leaves of your basil wither and turn brown or spotty, there's not much you can do about it. Throw the affected plant away quickly so that it doesn't pass its illness on to the other plants and spoil your harvest of basil leaves.
Harvesting, Storing and Using Your Basil
Don't let your basil leaves get too big, and course. Harvest the young fresh leaves as they are produced. Also, to prevent the plants from growing too fast, nip out the flowers when they appear. If you do this, you will be able to enjoy your basil all through the summer months.
You should be able to harvest large crops of leaves during the growing season, and because of this, you'll find that on occasions during the year, you'll have more basil than you can use. But don't leave the leaves on the plant to grow large and course. Harvest them and store or preserve them.
There are several ways of storing/preserving basil. A common one is to paint the leaves with olive oil and freeze them in a bag. Another is to layer the leaves in olive oil in a big jar along with a little salt. You can take out leaves as you need them (they will store well like this for about six months).
When I've got a lot of basil available, I use it to make pesto sauce which I then freeze and use in my favorite recipes throughout the year. You can also use it to prepare a basil herbal infusion or essence, which has a beautiful smell. You can use it to soothe aches and pains.
Growing Perennial Basil
After the discussion, you may learn some great tips on how to provide the best conditions for growing perennial basil and how to care for this delicious herb whether you live in a tropical area or a cool mountain district.
Basil is a spicy, fragrant warm-weather herb that loves the sun and grows in several distinctive types. Most are annual, and only a few African Blue Basil and Thai Holy Basil are classified as perennial basil.
Given the right temperature, adequate sunlight, and water, perennial basil cultivation is fast and easy, allowing you to savor its fresh, aromatic leaves throughout the year.
If you live in a warm, tropical zone, you can enjoy fresh African Blue Basil in your salads, sauces, and gravies all around the year. In cold climates growing perennial basil may present a challenge, but it can be brought indoors, and given sufficient warmth, light, and water, it will grow perennially.
While most varieties of basil need to be planted afresh every year, African Blue Basil and Thai Basil grow year after year without replanting.
African Blue Basil
You can grow African Blue Basil from seed on the ground or in containers. If you live in a cold region, you want to grow perennial basil in containers so that you can move them indoors before the first frost appears. Wherever you grow your perennial basil, it has to be grown from seed because its seedlings are too fragile to transplant successfully.
African Blue Basil grows easily in a warm environment provided it gets at least 6 to 8 hours of sunlight every day, enough water, and the soil is rich and drains well.
One needs to weed and prepare the soil, then sow the seeds of the perennial basil sparsely and cover them with soil and mulch to retain moisture. In warm weather, the seeds should germinate within a week.
Once your perennial basil shows a few leaves, thin the young plants keeping them 6 to 12 inches apart from each other, and water the soil regularly, taking care to avoid wetting the stems and leaves.
Healthy plants normally grow 2 to 3 feet tall, and once at least 4 sets of full leaves appear, you can begin cutting a few gently from the top whenever you need them.
If you want better growth, harvest frequently and prune periodically, removing flowers that appear to ensure the leaves retain their aroma and to prevent the plant from becoming dry and woody.
Like any other basil grown in containers, Perennial basil needs regular watering and more care than grown on the ground. Use a nutrient-rich potting mix with a 6.0 to 7.5 pH and maintain the pH balance by adding organic fertilizer every few weeks. The soil should drain well, and you need to ensure that it doesn't become soggy.
Grow Perennial Basil Indoors
If you grow perennial basil indoors, remember to place it in a sunny spot such as a window sill because it needs at least 6 hours of sunlight a day or uses artificial lighting if your house doesn't get adequate sun. In the absence of sunlight, the plant needs at least 10 to 12 hours of artificial light every day.
Apart from slugs and Japanese beetles, perennial basil -like the annual variety- does not normally attract pests. Remove them by hand and treat this herb to some liquid plant food every fortnight whenever you see beetles. Basil is known to repel mosquitoes and fruit flies, so growing the plant indoors is a good idea.
While growing perennial basil round the year in cold climates does appear to be somewhat tricky initially, it is doable. With the right knowledge, patience, and care, you can create the conditions needed for this fragrant herb to thrive in your home throughout the year.
Easy Tips For Storing Basil
There are some types of basil such as hoary basil, basil thyme, lemon basil, Tulasi, mammoth basil, Rehan plant, cinnamon basil, purple leaf basil, lettuce basil, sweet basil, and sacred basil.
These varieties differ in their shape and significance according to where they originate from, and as an example, lettuce leaf basil is used as salads. In contrast, lemon basil is popular in Thai and Arabian countries.
It is relatively easy to produce most varieties, but you should remember that basil grows only during the summer months. Therefore, it is important to grow plenty to have a supply for the winter months.
Plus, you'll discover that storing basil is a straightforward process, and it can be done at home if you learn a few simple tips.
Kept in Dried Form
Basil can be preserved or kept in dried and frozen form, or you can preserve it in oil. A suggestion for storing basil is not to store it directly in the refrigerator as it does not keep well. Therefore if you plan to use the basil within a few days, keep the stems in water the same way for flowers.
On the other hand, if you wish to keep it fresh for two or three weeks, just fill the jar with three inches of tap water, place the stems immediately into the jar so that the stems are completely dipped in it then cover the leaves with a loose plastic bag from the top and keep the jar in a cool place.
It is important to change the water daily. This way, the basil will remain fresh for some weeks. In fact, the stems may start rooting and can be replanted in the garden or pot.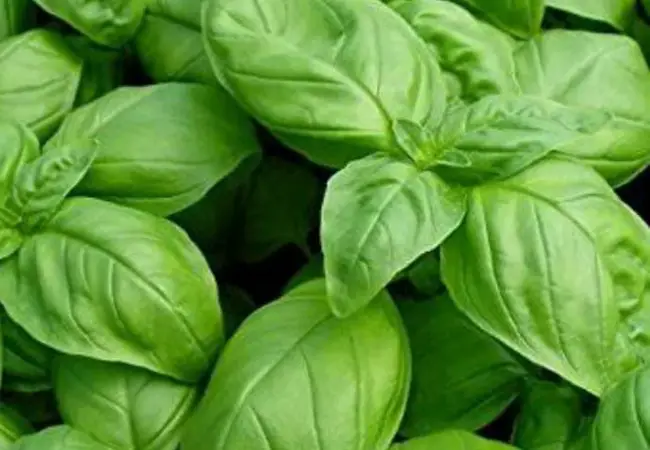 By storing basil unwashed in a Ziploc bag, it's possible to keep it for at least a week since the moisture content in the bag keeps the basil leaves fresh for days. Still, if too much moisture accumulates in the bag, you can put a few paper towels inside it, and the excess moisture is then absorbed and removed by disposing of the paper tissues.
A straightforward method for keeping basil is to collect long stems, tie a string to the end and hang the bunch in a cool, airy place to dry.
Because basil tends to lose a lot of its flavor when dried over a long period of time, it's crucial to dry the bunch quickly so that the leaves keep most of the aromatic oils. Then when storing basil, just place the leaves in a glass jar in a dark corner of the pantry.
Another way to preserve basil is to remove the leaves from the stem, rinse them thoroughly and dry them by patting them with a paper towel. Then stack the entire leaves above the other and roll them into a tube, finally cutting them into thin strips and freezing them in plastic bags.
An even simpler technique for freezing is to chop the basil leaves and make them into ice cubes which you can use in winter for flavoring soups and stews.
As you can see, storing basil does not require much effort, and with these few tips, you can do it easily and effortlessly.
You can watch this video on the complete guide on how to grow basil.
Read also:
How to Successfully Grow and Care for an Indigo Plant
Did you find this post useful? Would you like to get back to it later? Save THIS PIN below to your gardening, herb garden, or house plant board on Pinterest! Thanks 🙂