Trellises are a great addition to any garden. They are both functional and beautiful. In addition, trellises help keep vines healthy by allowing them to grow above the ground, away from the soil's moisture. Many varieties of creeping vegetables thrive well on trellises. The gardener, however, must ensure that a trellis is sturdy enough to support heavier vegetables and to last season after season.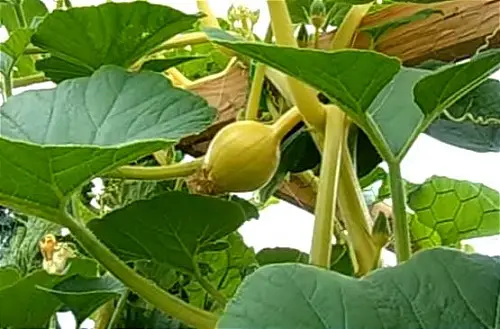 Wood is the ideal medium of choice when building a garden trellis. Pressure-treated lumber works well in most climates. Woods like cedar, redwood, and cypress are ideal for wooden trellises because they are naturally rotting and insect repellent.
Climbing Plants For Trellises
You may also make trellises out of wrought iron or metal poles. These trellises may sometimes be harder to maintain because climbing plants wrap themselves tightly around the metalwork. As a result, gardeners are left with woody residue after every season.
The best plants to grow on trellises include tomatoes, zucchini, peas, cucumbers, melons, squash, and beans. Non-bush or trellis varieties of these plants will work well on any trellis. Smaller fruit varieties such as acorn or butternut squashes are ideal. If fruits get too big, they may require support such as individual hammocks.
Planting vegetables in the appropriate gardening zones will also help ensure success. A majority of plants found in local nurseries are compatible with the gardening zone. Plant catalogs have tags to inform customers which vegetables grow best where.
A well-built trellis will last seasons and can grow a wide variety of creeping plants. They make growing plants and vegetables easier and add aesthetic interest to any garden.
Growing Cucumbers and Zucchini on Trellises
Cucumbers and zucchini are climbing plants that many people on trellises are planting. They are easy to grow by getting the appropriate seeds, direct seed them into your garden where the garden is receiving warm soil and warm weather.
You can't start them indoors as they need full sun for the majority of the day. For cucumbers and zucchini, the hotter the weather, the better these vegetables like it.
After growing them on the ground for a few months, once the plant grows to a certain mature level, you can start to transplant them to trellises. Trellises are especially useful to plant where you have limited space as they can be grown vertically.
Cucumber will climb up the trellises, and zucchini will spread over the soil. Cucumbers with the Beit Alpha species are super tender, have very thin skin, and are sweet. They are perfect for fresh eating. This will be really pretty and will give you a lot of production.
Other than cucumbers and zucchini, the best plants and vegetables you can grow on trellises include squash, grape, raspberry, and blackberry.
How to Make Trellis
This has been a fantastic idea for us because we grow so much food and if we try to grow all these on the ground, we wouldn't have enough space.
Here I want to show you how to construct all these trellises built from pieces of wood that are 8 feet long, and what we did is screw them into the box at the bottom.
From the inside, we attach some chicken wire, and that is an excellent material to use for your trellises because it helps your squash attached to the wire really well. This helps to keep them just growing upward.
What we did is, as they are growing when they are still small, we started attaching them with a little bit of help from little twist ties where you can buy from any hardware or gardening store. By doing so, will allow you to grow a lot more of the squash that you like.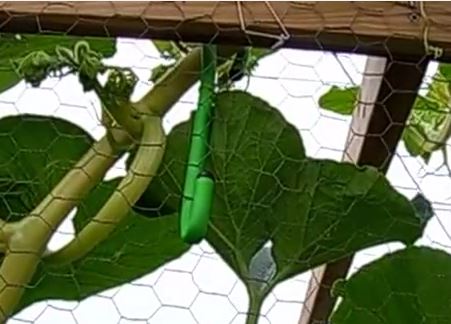 We also do some strings that go from one trellis to the next one. This is to help some of the vegetables to continue growing. These days we are going to have squash just hanging from the top of the trellis. By doing so, the squash will grow really well.
On the other side, you can grow cucumbers and cantaloupe at the same time on the trellises. It is quite a wonderful thing to see this.
Even this is new for you, but it is definitely worth trying out if you have limited planting space. Once you get used to growing fruits and vegetables on trellises, you will love to do it over and over because it's working up so well.
You can also make it easy for the beast to come and pollinate the flowers. They will grow naturally and nicely up from the trellis.
You will be able to enjoy your crop once they are ready for picking.
It is not a difficult thing to do at all. Our suggestion is to buy the chicken wires, screws, and twist ties to join all boxes with a middle piece just for added support, and now the squash and foliage can be heavy.
This is the right way for you to get good support by having no chance for them to fall. Make sure you buy the screws that will not rust. They should be good for years to come.
I hope this will inspire you, and you will try growing your own vegetables on it.
How To Build Grape Vine Trellises
If you have white grapes and purple grapes and lying on the ground, which have been propagated for several months, you may want to make a grapevine trellis so that you can put all the grapes in. By doing so, you will be able to enjoy jellies and jams for your meal for years.
Before anything is done, the first thing you need to do is build up some leg bolts. The bolt can be the fundamental structure and system for you to hang all your grapes on.
You may set them on a concrete floor and ensure sturdy before hooking them up with the cables. When the arbors are ready, you may put a brace up to make sure they are good and square.
Then you can have the cables hook on this arbor that is being buckled and tighten up. Finally, you can start to transfer all the grapes from the ground and hang them on this newly built grape vine trellis.
How to Build Hop Trellises
Brands
If you can't find the right trellis for you in the market, you may think of doing it yourself, or you can try to get a custom make one. Menards and Bunnings are among the leading companies that provide top-quality gardening products for the available brands on the market, including trellises.
Garden Trellises Add Support in Style
Used to grow everything from grapes, beans, flowers, and purely ornamental vines, garden trellises expand your garden up off the ground and into the air. Garden trellises can be free-standing or attached to a fence, wall, or building.
Although many plant supports are called trellises, a real trellis exists solely to support a vertically growing plant and keep it off the ground. They are erected in long rows in vineyards to support wine grapes or vegetable gardens to support peas or pole beans.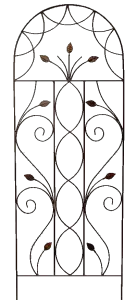 Utilitarian garden trellises are made by driving sturdy wooden posts into the ground at regular intervals along the row of grapes or a chosen row in the vegetable garden. Sturdy wires are attached to the tops of the posts and strung along the row.
Another wire is installed about 2 to 3 feet below the top one. As the grapes or other vining crops grow, they are attached to the supporting trellis.
A lattice-work trellis attached to the side of a home or garage is often used to support a climbing rose, clematis, or bougainvillea to add their beauty and scent to the home landscape.
Lattice-work garden trellises should be installed using brackets to position them 6 to 12 inches away from the structure's wall. This will help prevent the wall of the house or garage from being damaged by plant materials.
Trellises are often confused with arbors, which are intended to frame entryways to yards and gardens. Trellises, on the other hand, are meant solely to support plants most functionally.
New styles of trellises marry function with beauty and are as desirable in the landscape as the plants are.
In addition to the traditional lattice-work trellis, garden trellises made of metal, bamboo, plastic, wood, or recycled items are widely available and used by gardeners.
Garden trellises add beauty and style to your landscape while they serve a very utilitarian purpose.
Trellises – Your Garden Structure
If you have climbing vines, then you have to have a great garden trellis. There is nothing better than experiencing the beauty of a trellis, whether it be attached to a wall, within a fence, or in your yard or garden.
Trellises are perfect for tomato plants, cucumbers, other climbing vegetables, roses, and many climbing vines. Incorporating a trellis into a fencing structure and letting the vines create a natural barrier is a great and inexpensive way to put up a boundary around a yard or garden.
You can find trellises in wood, aluminum, wrought iron, and vinyl on the market, which has a large selection for you to choose from.
Leaf Tower I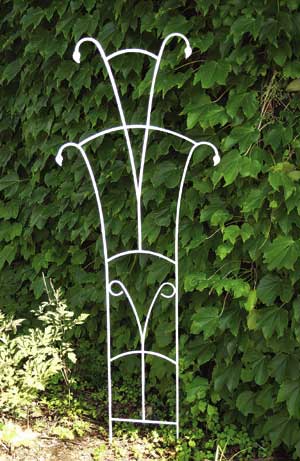 When you need a unique trellis, this Leaf Trellis I fits the bill. It is simple yet delightfully playful and will bring an air of fun to your garden. It is 22″W x 71″H and looks as if the water is squirting from one layer to the next. You will love this trellis!
Orangery Trellis
With the Orangery Trellis, you can establish a privacy fence out in your yard or garden. This charming trellis has multiple arches and lovely wrought iron designs throughout for you to enjoy.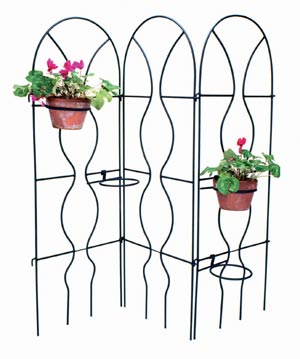 You can also add ring holders and add flower pots, and have climbing vines and plants growing up with beautiful blooms coming out of the pots. The trellis is wonderfully different and will deliver a unique look in your yard.
Palladian Trellis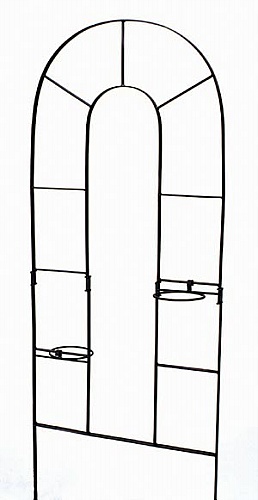 You can use the simple Palladian Trellis with its high arch against the side of your house or as a stand-alone in your garden. You can add pot rings to hang multiple flower pots throughout the trellis and give it a wonderful new look.
This black wrought iron trellis is perfect for places where simple is superb.
Quatrefoil Trellis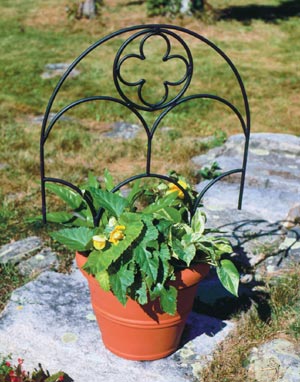 This little Quatrefoil Trellis is perfect for your flower pots and planters. You won't be afraid to plant those lovely climbing vines and vegetables in pots now that you have a great little trellis for them to climb on.
The small black powder-coated frame, 24″W x 48″H, is sturdy, and you will get several years to use out of this one.
Square on Squares Trellis I
This exceptional geometric Squares on Squares Trellis I design goes well in a traditional garden and an oriental style garden. Wrought iron and powder coated with juniper, this trellis stands out from all the others.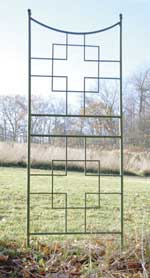 Standing at 86″H x 31.5″W, this trellis is perfect for any climbing vine you have in mind. Designed to be joined together, this trellis can cover a huge wall or area.
Square on Squares Trellis II
Looking for something different, unique, or rare? Well, check out the Square on Squares Trellis II with the squares on squares design with flanges on either side to hang gorgeous floral baskets to the delight of any gardener.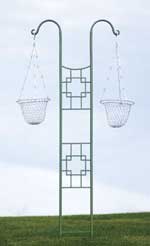 Tall and sleek, 31.5″W x 83.5″, with a juniper powder coat to give this trellis that little extra something to set it off from the rest. Combine that with the ability to hang plants, lights, or party favors from the flanges, and it will fit in with any function or fun.
Cedar Trellis

These are natural wood cedar trellis panels. These outdoor garden trellis' are made of solid red cedar and include an intra-grid construction guaranteed for a lifetime.
The slats are 1 ½" wide, ¾" thick, with a 4" opening on all wood trellis panels. These gardens and building trellis panels are very easily installed with basic hardware and tools. They are lightweight, so it only takes one person to carry and install.
All wood trellis' are sold and come in a natural state. They will require a sealer to be applied BEFORE they are installed to ensure a long lifetime of use. You will find these trellis' to be of the finest quality and be beyond compare.
Waves Trellis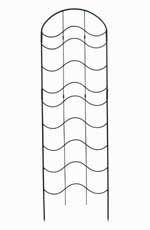 The playful wave pattern throughout this vine trellis is inviting and fun. The Wave Trellis is mounted in the ground and provides stable support as your climbing vines rise from wave to wave. Finished in powder-coated black, this trellis is designed to last through the seasons for many years.
You will love how this looks in your yard and how versatile and easy this trellis is to move and use. Just pull up the 12″ ground stakes, and you will be ready to go to a new location.
Jardiniere Trellis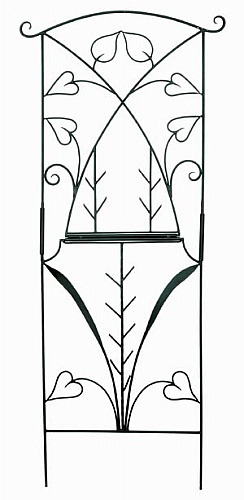 This beautiful Jardiniere Trellis stands out among trellises with floral and heart filigree woven into a charming design. A 27.75″W x 86″H rectangle looks great up against a wall or fence. Black powder-coated to last, you won't find a more suitable trellis anywhere.
The Benefits and Uses of the Vineyard Crossarms
There are certain techniques and tools that farmers can use to boost or improve their harvest. One of the most used items these days for grape farming is none other than the vineyard cross arms.
Most farmers would install these cross arms to make removing the used bird netting a lot easier. Bird netting is usually placed to cover or protect the ripe fruits from birds. Because of this, using vineyard cross arms is very important.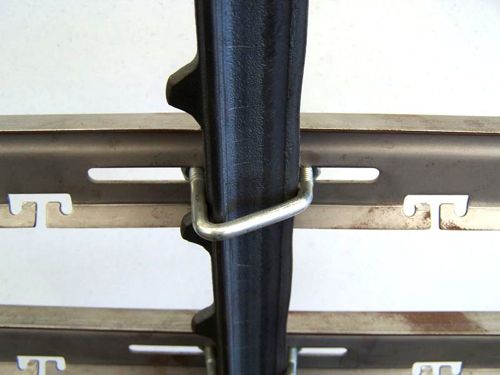 The Benefits of the Crossarms in Grape Farming
Before, most vineyards are attached to different trellises to support the fruits. However, using trellises can sometimes impede or block the needed sunlight of the plant.
This can greatly affect the plant and can also reduce or degrade the quality of the grapes. Nevertheless, with the help of the cross arms, you can provide proper sunlight and other necessities to fruits.
Choosing the Best System in the Market
These days, there are already a lot of vineyard systems and cross arms available in the market. Nonetheless, not all models are suitable for any vinery. This is why farmers should determine the appropriate kind of cross arm to be used for the farm.
Nowadays, one of the most popular is the simple trellis with cross arms. This type of system is considerably cheaper compared to the overhead trellis system. Aside from this, it is also considered the best trellis system to support the growth of table grapes.
Aside from the simple trellis, there are also other types of systems that farmers could choose from. One of these models is called the V shape system. The systems that are shaped like a V are usually developed with the use of the latest technology.
One of the primary reasons for using a V-shaped system is to provide enough space for the fruits to grow. Providing space can effectively enhance the taste of the fruits.
In addition to the V trellises, another type of system is the adjustable V product. Adjustable products are very in demand these days because you can easily adjust the space between the fruits.
This type of system is also very easy to adjust, and you can also install it similarly to the old pruning designs of the vineyard. Another model farmers could choose the premier products. The premier products are easy to fit vines of any height.
Most people would prefer using premier systems since they are very durable and flexible. A particular example of a premier product is the Lyre system. This type of system is highly recommended to farmers with crops that are grown higher in height.
The farmers who would like to use robust and long-lasting systems can always rely on the L-Type products. The L-type products are manufactured using strong and sturdy materials like iron or steel.
Aside from this, the L-type system also has a ribbed design that provides superior strength. This gives the L-Type products an edge over the other trellises or vineyard cross arms.