Gardening tools are an important weapon in a gardener's arsenal. Imagine trying to dig without a shovel or rake without, well, a rake. It wouldn't be easy. So why use garden tools that are rusted, have lost their edge, and are warped? It doesn't make sense.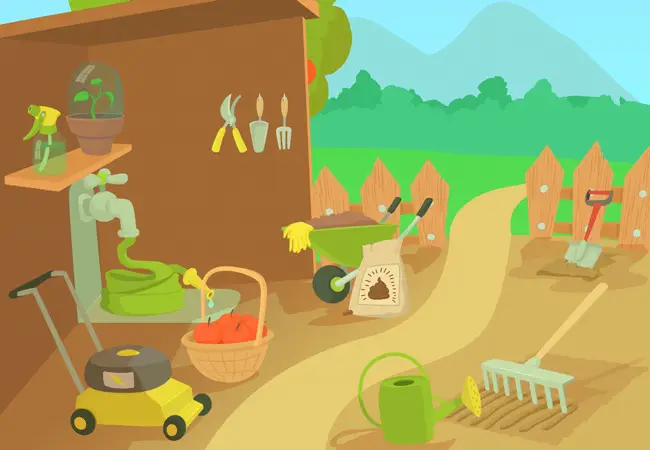 Spring and fall are garden clean-up times. Drag out those tools and give them a good cleaning before you get started on the landscaping. You might want to take inventory of what tools you need to purchase.
The basic gardener's tool kit should contain a grass rake, hard rake, straight edge, and rounded shovels, plus a pickaxe. Add several sizes of trowels, a cultivator, and weed remover. You'll also need cutting tools, pruners, hedge clippers, and a saw. If you think there will be lots of tree trimming, add an electric or gas-powered chain saw.
A few buckets make it easy to tote soil, mulch, and compost around. Outfit one bucket with an apron specially made to hold tools in the pockets—the apron ties around the bucket.
A knee pad and gardening stool make the work a little easier. It's painful to kneel on a rock. The knee pad prevents that. A wide-brimmed hat keeps the sun off your face. Wipe the inside of the brim with insect repellant to keep flies and gnats away.
Some gardeners don't like to wear gloves, but they're necessary when pruning roses or other bushes with thorns. They should be worn when digging or handling fertilizer as well. A pair of clear safety goggles are a good idea when using a tiller, weed eater, lawnmower, or any equipment that throws back debris.
Other tools that may be required are based on the size of your property and how much maintenance is required. A lawnmower and edger are a must-have. For large expanses of lawns, a riding mower cuts down on labor and gets that weekly chore out of the way faster. Electric pruners make short work of trimming the hedges. And if you plan on revitalizing flower beds or installing new ones in, a tiller cuts the job in half.
Now that you have the tools, you need to keep them in working condition. Put them away after usage. For tools with an edge, like trowels and hand shovels, plunge them in a bucket of builder's sand with motor oil added to it. The sand keeps the tool sharp, and the oil prevents rust.
Garden Tools For Easy Garden Care
When gardening, the proper tools are equally as important as what you are planting. Proper garden tools are essential for cultivation and soil conditioning. One mistake commonly made more often than one might think is using the wrong tool to perform the job.
Layout your garden designs either in your mind or on paper before making that trek down to your local garden center. Knowing where your garden will be located and what you plan on planting are your next steps.
Garden tools are not cheap, and cheap ones don't usually last long. When you buy the right tool for the given job, you will be sure that it can handle it. There are 10 must-have basic garden tools to begin your garden, and they come in different sizes. Knowing the difference can prevent you from buying something you don't need, won't use, or is too big or small.
Check the list below for the essential Must Haves:
Pruners: Use for light shrubs, pruning roses, and cutting back perennials in the Fall ( a must-have)
Lopping Pruners: Optional pruners but makes cutting down thick branches and shrubs easier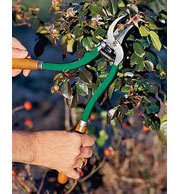 Spades and Shovels: Spades are meant for working, prying, and loosening dirt, a good tool to have when edging a garden and firming down soil more of a precision digger than a shovel. Buy rounded shovels for digging and planting trees and shrubs.
A small hand spade is ideal for working soft, loose soil in your flower beds. If you prefer spades and shovels with wooden handles, make sure they have a varnished finish and are a comfortable fit in your hands and don't feel too heavy, and always try to buy the ones that have forged metal heads and handle and fit snugly and securely into the shaft they're always a good choice.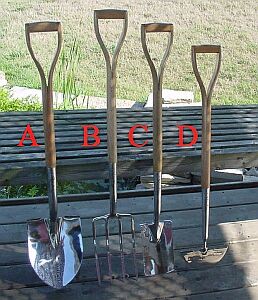 Soil Rakes: an ideal tool for leveling soil and removing small pebbles and stones.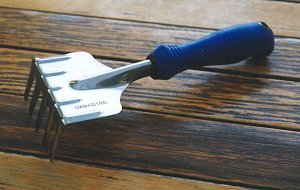 Garden Rakes: Another optional tool that is extremely useful when breaking up clods of dirt and cleaning out vegetable gardens and dead annual flower beds and gardens.
Fan Style Rake: Excellent choice for fall leaves. Opt for the newer larges plastic leaf rakes, which are lighter in weight and easier to use.
Cape Cod Weeder: This tool has a knife-like blade for slicing weeds and loosening hard soil. Use the pointed tip to work in tight areas and remove grass and weeds from cracks in sidewalks, patios, and driveways—Weeding Knife is an optional tool but excellent for uprooting dandelions.

Wheelbarrow or Garden Cart: For removing dirt, plants, shrubs, flowers, and tools around the yard while doing larger-sized jobs. Always place 2/3 of the load you are moving towards the front to help keep it balanced.
Trowel: A small scooped shaped tool used for digging up the dirt and set in small plants.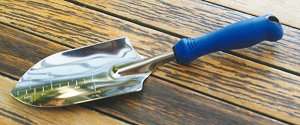 Wire Garden Fork: Another optional tool but very useful for breaking up clods of soil, and Garden Gloves are almost necessary when working in a garden.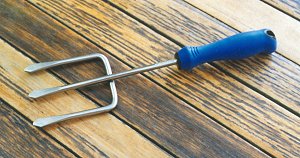 Garden Tool Totes, Carry – All's & Caddy's
Looking for an easy way to carry your gardening tools straight from the garage or tool shed without going back and forth before getting started? Simple, get yourself a Garden Tool Tote, Caddy, or a Carry-All.
These ingenious little inventions are a gardener's dream come true. Just pack the tools you'll be needing and get ready to start gardening. Most have individual sections for small hand tools and are made out of strong, durable materials. Listed below are only a few that may be of interest.
Gardening Tool Kit: Tools come in a carrying case with each piece in its own section along with gardening gloves. This particular kit comes with 3 towels ( 1 large wide, 1 large narrow, 1 small narrow ), 2 pairs of small pruning shears, 1 large pair of pruning shears, 2 handheld rakes ( 1 large, 1 small ), 1 planter, 1 weeder, 1 edger a ball of twine and a plastic spray bottle and gardening gloves.
Garden Tool Tote: An easy way to garden all day, this handy garden tote has huge inner pockets and 14 outside pockets, all made of heavy-duty nylon, and comes with leather straps.
Garden Tote: Conveniently carry your gardening tools from spot to spot with this roomy tote with 3 interior pockets and 6 outside pockets for seeds and accessories.
Garden Tote Bag: This one is handy for keeping small gardening tools together. Made of open-weave material that will not mildew, it has a molded bottom with drainage holes. The bag itself is a capacity of 5 cubic feet and has 16 roomy pockets for bulbs, seeds, and tools.
Spring Garden Tote & Tool Bag: This bag comes with 2 stainless steel gardening tools consisting of a transplanted rake and a hand trowel, each with the ergonomic handled design
Collapsible Garden Bin with Tools: A large 9-gallon capacity bin with a telescoping extension pole that comes with a trowel, mini rake, cultivator, and pruning shears, this one collapses for easy storage.
Gardeners Folding Chair with Detachable Tote: The chair has a steel frame with a tote that attaches directly to the chair. The tote comes with 5 gardening tools.
Dolly Cart Garden Caddy: This caddy not only gives you an easy way to carry and organize your tools, it can hold up to 18 long-handled tools, a trash bag or barrel, and it can also be hung on a fence rail and stores easily in your garage or on a shelf.
Read also: