Many people are having a problem getting a reliable sprinkler hose. Also, many found that leaky sprinkler hoses are the number one contributing factor to water waste.
If you want your lawn to be lush, green, and healthy, you need a sprinkler hose that will stand the test of time and resist the elements to provide durable and dependable performance.
Who wants to keep replacing their garden hoses every few months? No one, that's who. The first step to purchasing a sprinkler hose is realizing that cheaper is not always the ticket.
While most of us need to be cost-conscious, a cost-effective solution may also include a hose that is a little more expensive but made of such durable material that it lasts for five years. Once you've come to terms with this realization, you can now assess the needs of your lawn or garden and weigh that against the hoses available within your budget.
How to Pick the Right Sprinkler Hose
Choosing the right sprinkler hose depends on the size of your space, the amount of moisture that the plants require on your lawn or garden, the particular climate in your area, and the logistics of your garden or lawn.
Since there are so many choices on the market today and the cheaper ones seem to dominate, you should take much care to avoid wasting time and money on a sprinkler hose that isn't worth its weight—features such as fixed-head or oscillating head, single-shot water projection and mist delivery capability.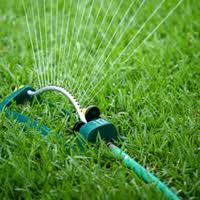 For example, if you're looking for a solution that offers optimum coverage in one rotation, then oscillating head sprinklers with a 360-degree rotation would be just what you're looking for.
Oscillating sprinklers consist of tubing with numerous holes that move backward and forwards in a fan-like movement that provides full coverage of the designated area. There are impact sprinklers that make wide circular rotations and expel a single stream of water during its rotation.
This method is less effective than the oscillating sprinkler in covering large areas but extremely effective when dealing with a small patch of ground that requires a concentrated blast of water.
Rotating Sprinkler Hose
Rotating sprinklers, similar to impact sprinklers, disperse moisture in a circular pattern via several arms. They are ideal for use in medium-sized gardens and lawn areas. You can also adapt the water flow to disperse in more of a misting spray to decrease water waste.
The last type of hose to consider is the traveling hose. A traveling sprinkler hose resembles miniature tractors that maneuver through the yard or garden. It is ideal for use in yards where the logistics aren't so cut and dry, and obstructions make a clear pattern irrigation system impractical.
When deciding on a good sprinkler system, you need to consider your needs and the space you're working with to find a solution that will work with you and not against you. Also, choosing the right sprinkler hose is quite important as it will prevent you from having the water waste or leakage problem.
Should I Install a Sprinkler Timer on My System?
A sprinkler timer is a miniature device, probably not bigger than your hand, that can be programmed to turn on your sprinkler system automatically. In addition, some may have the capability to run more than one timer cycle for various types of plants within the same garden.
When trying to determine whether or not you should install a timer on your system, there are several factors to consider. These factors include how you will ultimately use the timer and whether or not the garden or lawn has plants that require moisture delivered at certain times throughout the day.
There are some pretty sophisticated smart systems, but one would do well to assess their needs to avoid spending a lot of unnecessary money.
Control Water Sprinklers with Sprinkler Timer
A simple sprinkler timer, ideal for most residential properties, will allow you to control the time of day that the sprinklers come on, the interval and which the sprinkler oscillates, and the watering session duration.
For many residential and small businesses, this option works the best. However, professional landscapers and large industrial-sized lawn owners may want a timer that is a little more complex than the start and stops beginners model. These may wish to program several parameters like watering only on certain days or with no rain forecasted.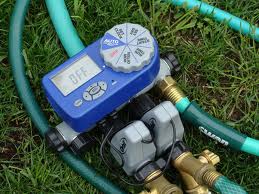 The precision with which the timer has to operate requires sophisticated programming. These more sophisticated timers also may require a more powerful power source and professional installation to pull everything together.
You can even make smart technology sprinkler timers to sync with a computer increasing its capabilities and even allowing it to detect patterns through a computer uplink.
You can program the sprinkler to follow water conservation protocols improving the overall efficiency of the unit. With so many possibilities, it is so easy to get caught up and carried away.
Before Buying Sprinkler Timer
It is, therefore, imperative that you conduct a full analysis of your individual needs so that you can purchase a timer that caters only to your needs. If you are a tech enthusiast, the fascination will result in time and money wasted on services that you will probably never use. Logic must dominate so that you can stay on track when deciding whether or not to expand your sprinkler system by adding a sprinkler timer.
You can also consider making your garden become a water fountain by installing the solar water fountain. Since it is using solar to generate power, it will not increase your electricity bill. At the same time, you can still enjoy the harmony scene with the solar water fountain with the installation of a sprinkler timer.
Are Rainforest Sprinklers the New Revolution in Garden?
What are rainforest sprinklers? Rainforest garden sprinklers are the name that is used to describe an innovative sprinkler that uses a fine mist-like spray to saturate your garden. Its ability to mimic the fine mist or dew of the rain forest causes it to be extremely effective.
These innovative sprinklers are famed for their water conservation through the low usage requirements. But what makes them so revolutionary?
Rainforest Sprinklers as Garden Sprinklers
The garden sprinkler is made from 100% recycled components, plastic, that possess unique qualities that actually help conserve water; one of the company's trade secrets apparently.
The sprinkler system can deliver controlled coverage of an area encompassing 1900 square feet and is designed to perform beautifully even under low water pressure conditions.
Because of its ability to work well under low and high water pressures, it is excellent for professional growers who require power to deliver irrigation to acres of land or the novice gardener nursing a patch of garden in the back yard. Rainforest garden sprinklers promote a strong ecology-friendly ideology which makes them an essential tool in the green movement.
More About Rainforest Sprinklers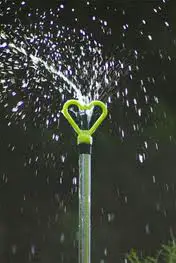 Its creator, Mark Loran, a plant enthusiast himself, designed the system to contribute to the beautification of the planet without indiscriminately wasting precious natural resources. The sprinkler itself uses one-third less water than its oscillating counterpart.
The gentle mist that it emits targets the root base while protecting seedlings and delicate foliage, and it contributes to less evaporation and runoff because the stream is so fine that it is more like dew than an actual spray. The design is simplistic yet revolutionary in that it has only one major moving component, which is the actual sprinkler head.
The design is rugged and durable, making it excellent for private use and use in commercial applications. Because of its natural resistance to clogging, it works great in areas where there is hard water, no need to worry about calcium and lime build-up.
The garden sprinkler itself is a marvel. Its design is user and ecology-friendly, and its application is highly efficient. It provides the perfect way to turn your garden into an exotic rainforest, encouraging lush green growth and protecting tender shouts and new plants.
So if you're looking for a cost-effective and earth-friendly solution to keeping your garden lush and green, try out the rainforest sprinklers and water smarter, not harder.
H2O-6 Gear Drive Orbit Sprinklers Review
For over 40 years, Orbit Irrigation has been providing the tools to create gorgeous lush green lawns all over the United States and in 40 countries.
Their commitment to quality and water-saving irrigation solutions has resulted in indevelopingf innovative products that provide excellent lawn coverage and considerable cost savings, and environmentally conscious solutions.
This article will review the effectiveness of one such innovation, the H2O Gear Drive Orbit sprinklers.
Orbit Sprinklers
The H2O Six Gear Drive Sprinkler by Orbit is an innovative six-position adjustable spray head that rotates into varying positions without tools. The built-in diffuser is equipped with three pre-programmed positions that provide a spray of up to 30 feet of coverage.
Some tabs slide, allowing you to rotate the pattern from 25 to a 360-degree angle since its introduction on the market. Consumers have responded well, noting one of the biggest selling points as the 360-degree coverage that the system offered.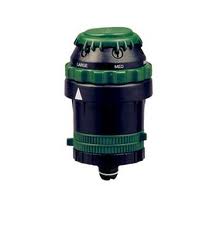 Over 95% of the area is covered in one rotation which presents significant cost savings for those with smaller areas because of not having to buy more than one system. You can also customize the coverage area depending on the size of your lawn.
For example, you can set the start and end rotation to cover a 50-degree angle or a 10-degree angle. This feature helps conserve water by directing the flow to areas requiring moisture instead of watering the sidewalk during a rotation.
Additional Features of Orbit Sprinklers
Additional features that are consumer-friendly and approved include the ability to change the range of water flow and the type of flow.
This feature is especially appealing to environmental conservationists because you can set the flow to mist and create a dew-like effect that saves water by eliminating puddles, reducing runoff and water loss due to evaporation.
The angled head also allows you to position the spray to avoid areas devoid of vegetation or foliage, such as the gutter, the sidewalk, or the fence next door. More water is directed onto the plants, and less is lost due to improper positioning, as with some stationery units.
The H2O Orbit sprinklers system is a great money-saving unit that is consumer tested and approved in the final analysis.
How to Choose the Best Sprinkler System Repair Service
Sometimes it can be an exhausting task when you are looking for a sprinkler system repair service. Therefore, a reliable sprinkler system is essential for the health of your lawn.
A good system represents a significant investment and should not be easily dismissed if something starts to work outside of normal operating parameters. If you notice excessive leaking around the joints of your piping or the sprinkler head that, once oscillated without a hitch, is starting to stall, you may need to contact a professional.
With so many claiming to be professionals finding the right repair service is not an easy task. Here are some tips on choosing the right service for your needs.
Sprinkler System Repair Service
The internet is a wonderful tool, but the numerous choices available can create a lot of pressure and even be overwhelming at times. What should one look for when attempting to choose a repair service? The first thing would be to assess the problem.
If you can't tell what the problem is, it will be near impossible to describe this problem to a professional, and then you will be left at their mercy which is not a good feeling at all. Since the issue may not be readily apparent, it may require some digging on your part to discover what has gone wrong with your system.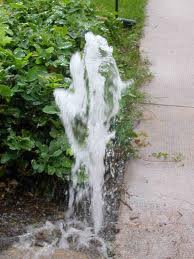 Doing some preliminary investigation serves a two-fold purpose. It helps you understand what has failed in your system before seeking sprinkler system repair. It also allows you to help yourself and fix it if it's something simple.
You will still be charged whether a repair person comes out for a simple blockage problem or a corroded piping system. If you can aerate the system and blow out the blockage, you might very well be able to save yourself some cash.
After you've determined or had a pretty good estimation of the problem and came to the realization that it requires the attention of a professional, the hunt begins.
Fact is, anyone with a little creative flair can create a website advertising professional services these days. There is no internet police checking licensure and credentials of individuals advertising services on the net. So you are required to use some really keenly honed investigative skills to weed out the jokers.
Qualified Sprinkler System Repair Technicians
Look for technicians that are certified by the Irrigation Association or by the EPA Water Sense Partners. These two certifications show that a certain level of skill has been attained. Next, compare pricing.
There is no need to pay twice as much for a professional that has the same amount of qualifications as their lower-priced competition. A high price doesn't always reflect better service.
You should always call to screen the service. After all, it is your right as a consumer to decipher whether or not these people know what they are talking about.
Ask if they offer a free estimate and probe deeper to ensure that it is truly free, and they are not just saying that to win your business and then taking the consultation fee onto the back end.
Above all, take your time when screening potential technicians. When you have found your own best sprinkler system repair service, you will find it right for you. It will have been worth all of the digging.
Read also: