One of the most frequently asked questions by many people are: should I cut or trim my lilies when they have finished flowering? When is the right time to cut them back?
As what you are going to observe is that your lilies will fully dry back and all the stems will be turned brown after they have finished flowering. When this happens, it is time for you to take your clippers or secateurs to clip them back.
Clean Your Tool First
I would suggest you disinfect your clippers or secateurs first before you use them to prune your plant. You can wipe them by using a clean towel that is soaked with alcohol. The purpose for you to do this is to prevent the spread of diseases between plants.
When cutting, you need to leave the plant about an inch showing and just cut them back right away through. Just making sure that there's no green left on the stems or whatsoever. With this, all the goodness is now fallen back into the bowl.
You can then give the bowl a little clear up and take any excess foliage off the pot. Then top the pot up with a nice new compost. You can also replant your lilies into a bigger pot or separated your lilies into different bowls.
Good Practice
It is always a good practice for you to give your plant about two inches tall of fresh compost every year. You are doing it by giving them a nice freshen up and have your pot ready for winter.
Making sure that you have got plenty of drainage in the pot. You can let the pot stay outside and it doesn't need anything to protect. if you have got a cold greenhouse that's also fine but it won't need any heat and they already good enough to regrow the next year.
How To Deadhead Reblooming Lilies?
The first thing you're going to have is a couple of lilies in the pots. You can then go ahead to deadhead these lilies so that it can make your garden look a lot nicer.
The tools that you need are a pair of pruning shears. What we are going to do is go to the garden and take a look at your lilies plants. You may found some of your lilies have got some spent blooms.
You need to remember that lilies only bloom for one day. The next day they are gone. So it is always a good idea to remove those old heads so that when your plants are come to bloom the following day, you don't have to worry about those going to seed.
If your plants go to seed, they will take away a lot of nutrients from the plant itself. So what we are going to do is to cut off any of the old blooms from the previous day. It will just take you a few minutes to do so.
You should go ahead and do that. One thing I also like to do when I am deadheading my lilies is to go through and remove any diseased leaves or even diseased old stems from the plant that they have already finished blooming.
Most of the lilies that grow in the garden will have many flowers. So what you need to do is to get your pair of pruners and prune right at the base of the stem. You can go ahead and prune the lily head off.
Make sure you have a sharp pruner with you. It can be very handy if you don't have a sharp pair of pruners to do the proper cutting. By cutting properly, you won't injure the stem. Also, we want to make sure that we remove any of the old stems that are in the plant.
If you found any old spent leaves, just go ahead to pull those together and clip them off. If you see any browning tips on tops of your plants, you can cut those tips off as well.
You can do a quick cut through and remove some of these old dead-looking tips to make your plant look nice and crisp. Your lilies will look a lot nicer with a nice clean look in the garden.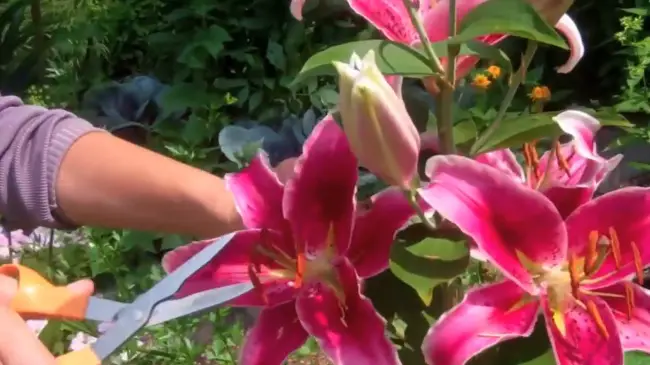 Should Lilies Be Cut Back After Flowering?
Yes, they should. I have a lily plant in a pot that's nicely trimmed back. Any old growth has been cut back, there are no dead blossoms anymore you can find in there.
After they have bloomed, they are start to die back. At that point, what you want to do is to have some sharp shears. If it has multiple blossoms, once that first blossom has started to die, you can grab the top of it and at the base you want to cut and remove the dead or dying blossom.
What I normally do is I will reach down to the plant, cut the stalk and pull it off. After trim back, the rest of the lilies will continue to be vigorous. The energy will be focused on the plant and the leaves.
So this allows the plant to grow up again and have a nice shoot. They will blossom again later in summer. By cutting back your lily in this way, you will have a longer growth cycle.
The other thing that you want to do is during the fall or winter, if your lilies start to die back particular for the leaves, you will definitely want to cut them all back. By doing so, the plant will have a chance to continue to grow and flourish again.
Diseases
If you found your lily plant get soft rot, this can be a disease that is caused primarily by over-watering occasionally or poor drainage. Such disease is incurable and you will need to remove the entire plant.
Sometime you will spot a cavity at the root part or you may also see some dark spots on your bulb. All these are caused by bacteria. When your lily is infected by bacteria and you see these symptoms, you know your plant is gone.
So you need to destroy the bulb quickly before it infects other plants.
Did you find this post useful? Would you like to get back to it later? Save THIS PIN below to your gardening or flowers board on Pinterest! 🙂